Best Google Pixel 3 and Pixel 3 XL Deals
Google's Pixel 3 and Pixel 3 XL have plenty to offer and are two of the best Android phones available. If you're planning on buying one but don't like the high price, these are the best Pixel 3 deals and discounts we've found so far.
This year Google made the screen bigger on both of its flagship phones, improved the camera, and delivered a well-rounded smartphone that can compete with Samsung and Apple.
These phones are still somewhat new but if you know where to look you can save a lot of money. Whether that's a buy one get one free deal, a free Pixel Stand wireless charger and headphones, or 24-month no interest. Then, once you save a few bucks use those savings to buy a nice Pixel 3 case.
Verizon Pixel 3 Deal ($300 Off)
As usual, The only carrier in the US officially offering the new Pixel is Verizon Wireless. And lucky for you, they're offering the Pixel 3 for $100 off if you upgrade, or $300 off for those switching to Verizon from someone else, plus trade-in offers.
If you combine a trade-in with switching carriers you could save over $600 on either phone. We recommend using that extra money for a screen protector.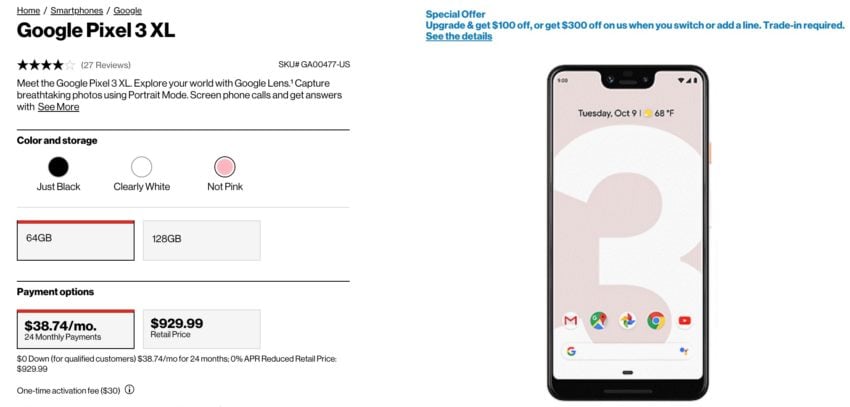 Best Buy Deals
While Best Buy is no longer offering the $200 off discount or a free gift card, they do have both the Pixel 3 and Pixel 3 XL for $150 off. They simply cut that off of your monthly payments, making it cheaper than if you went to Verizon.
Best Buy wants you to agree to a 2-year payment plan, but you'll save quite a bit of money on the phone.
Plus, Best Buy will let you stack deals. That way you can save $150 off the phone AND get a free Pixel Stand wireless charger and earbuds from Google. More information on the free charger is available below.
Google Store Pixel 3 and Pixel 3 XL Deals
Most people will buy Google's new Pixel 3 or Pixel 3 XL from the Google Store. It's sold unlocked, free of carriers, and they want $30 less than Verizon, too. Then, starting on December 3rd, when you buy the Pixel 3 or Pixel 3 XL you'll get a free Pixel Stand wireless charger and USB-C earbuds absolutely free. And as we said above, this deal is available in Best Buy stores too, instead of waiting for Google to ship it.
Plus, If you buy your phone from Google you'll get a premium subscription to YouTube Music free for 6-months. And if you can't afford $800-$900 you can finance it with zero down and 0% APR. Make your monthly payments and you're all set. Plus, when most stores like Verizon only give you $300 for a qualifying trade-in, Google is offering up to $400-$550 on select devices. So give that a try too.
Google Fi Pixel 3 Deals
Last but not least, for now, Google "Project" Fi has one deal worth considering. Not only is Google Fi extremely affordable and offer the same no-interest options for buying the phone, but Fi will give you one month free and $100 back when you get a Pixel 3.
In the last month, we've seen Google Fi offer buy one get one free deal, a free $1,000 airfare credit for new customers and a few other deals. Basically, keep checking Google Fi's homepage over the next month or two for a good deal, and snag what looks best to you.
Other Details
Did you spot another deal we missed? If so, drop the information in our comment section below. Then, we'll keep an eye out for more discounts and continuously update this post as new deals emerge.
Keep in mind that these phones are still fairly new, but that doesn't mean that we won't see tons of great deals throughout the holiday shopping season. So, stick around and buy one when you're ready.