Best iPhone 11 Pro & iPhone 11 Pro Max Cases You Can Buy
This list includes my favorite iPhone 11 Pro and iPhone 11 Pro Max cases that can protect your new iPhone. There are excellent options from clear cases to colorful options, slim cases to those that offer great drop protection and specialized cases with wallets and extra features.
The best iPhone 11 Pro Max cases range from $11.99 to $49.99, so there is something for every budget. You can get many of these on Amazon with next day delivery so you don't need to wait to keep your iPhone safe.
A great iPhone 11 Pro case can help keep your screen off hard surfaces to avoid scratches, but you still may want to consider our best iPhone 11 Pro screen protectors and best iPhone 11 Pro accessories.
I've tested nearly 300 iPhone cases in the last several years and almost 100 for the 2019 iPhones, but these are the ones that make the cut.
Best iPhone 11 Pro Cases You Can Buy
BodyGuardz Momentum – $44.95
The BodyGuardz Momentum is an amazing iPhone 11 Pro and iPhone 11 Pro Max case. I love the soft fabric material and the ridges that make gripping the phone super-easy. The case also features cut-ins for the buttons, so you can easily tell if your phone is in your hand in the right direction and easily find the buttons even in the dark. You get a lifetime warranty, removable wrist strap, and great drop protection. If you create an account at BodyGuardz, you can save 20%.
$44.95 at Amazon and BodyGuardz
Case-Mate Tough Speckled – $39.99
The Case-Mate Tough Speckled looks so good and it offers 10 feet of drop protection. This is a beautiful and slim option that features a matte clear back so the color of your iPhone Pro shows through and it looks very much like the iPhone 11 Pro back. The sides are grippy plastic and feature paint speckles that look cool. I can still use my iPhone 11 Pro Max in the DJI Osmo Mobile 3 with this case on, which is a plus.
Mous Limitless 3.0 – $49.99
The Mous Limitless 3.0 is a beautiful and insanely protective case for the iPhone 11 Pro. With walnut, bamboo, aramid fiber, black leather and white leather options and a slim overall design this is a case you can use every day, but it's protective enough for those once a year drops so many of us have.
With Airoshock technology, this case will keep your phone safe from even major drops. It's a must-have if you skip a warranty.
Moshi SnapTo Altra – $44.95
I love the Moshi SnapTo system that puts small metal peices inside the case so you can easily use with a magnetic wireless car charger mount, a magnetic wall mount and other SnapTo accessories.
I'm a huge fan of the Altra design, which looks and feels great in my hand. There is a small loop that you can connect the included wrist strap to, or you can buy a crossbody strap.
Smartish Kung Fu Grip – $11.99
The Smartish Kung Fu Grip is a minimal iPhone 11 Pro case with a grippy exterior that makes it easy to hold onto. While it is thin and light it packs in protective air-cushioned corners to help prevent damage when you drop your phone. If you want a thin case that's easy to hold onto, this is the one you want.
Case-Mate Twinkle & Waterfall – $39.99
The Case-Mate Twinkle and Waterfall iPhone 11 Pro cases offer 10 feet of drop protection, resist scratches and come with flexible sides for easy grip. Even with the confetti and sparkles these work with wireless charging. You get a lifetime warranty on the case.
This is one of those iPhone 11 Pro cases that will get attention anytime you take your phone out and is sure to be a conversation starter.
Casery Agate – $32
The Casery Agate iPhone 11 Pro case combines a clear case with a beautiful agate crystal design that shows off the iPhone 11 color you choose as well as letting you customize your look with a beautiful accent.
The matte finish offers scratch-free protection and it is available in several different color options.
Speck Presidio Stay Clear & Presidio Pro – $39.95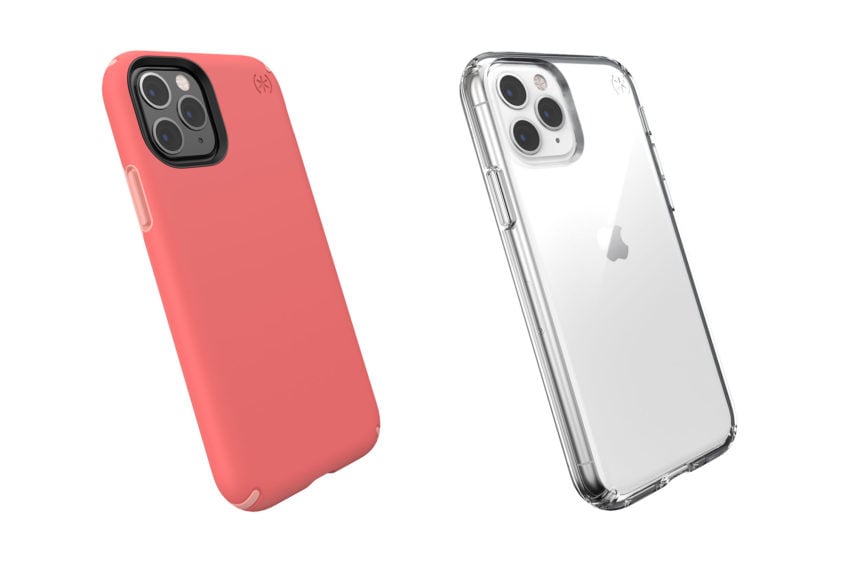 The Speck Presidio Stay Clear is a great option if you want to show your iPhone color off and still keep your device protected. The Presidio Pro is available in a range of colors and with this option, you get an Anti-microbial coating to keep germs at bay. Both of these cases offer 13-ft of drop protection without adding much bulk to your new iPhone.
$39.95 at Speck — $24.95 and up at Amazon
Totallee Slim – $29
The Totallee Slim iPhone 11 Pro cases are super-thin, offering you an excellent option to protect your iPhone 11 Pro from scratches while adding a grippy matte or clear finish to your new phone.
Apple Silicone iPhone 11 Pro Case – $39.00
The Silicone iPhone 11 Pro case from Apple is slim and easy to grip, without being so grippy that it's hard to get out of a pocket. The soft-touch finish looks good and it works with wireless charging. The interior is microfiber to prevent scratches.
Released in a limited number of colors initially, the iPhone 11 Pro silicone cases will eventually be available in new colors.
Apple Leather iPhone 11 Pro Case – $49
Apple's leather iPhone 11 Pro case is one of the best leather iPhone cases you can buy. While there are great options in other colors and with other options, this is a perfect fit, it wears excellently over time and the metal buttons are a nice touch.
Launching with a small selection of colors, expect to see more options arrive in the coming months.
Peel Minimal iPhone 11 Pro Case – $29
The Peel Super thin iPhone 11 Pro case is a minimal case with no branding that is perfect for scratch protection and a little bit of grip. You can get the Peel case in a variety of colors or a clear option that lets the color of your iPhone shine through.
Smartish Wallet Slayer Vol 2. Case – $24.99
Are you looking for an affordable iPhone 11 Pro wallet case that is easy to hang onto and has room for three cards and cash? If so, this is the case for you.
Available in an array of colors, this case is protective and it still works with wireless charging.
Snakehive Leather Wallet – $36.99
Snakehive makes beautiful leather iPhone 11 an iPhone 11 Pro cases in a range of colors from traditional browns and blacks to beautiful blue, green, yellow and plum. This case folds closed to cover the screen, protecting it from scratches. You also get space for three cards and another slot for cash. You can use this as a stand for your iPhone as well. These are made of top-notch materials and hand-stitched in Europe.