31 Best iPhone 7 Cases & Covers
Here are the best iPhone 7 cases you can buy. You don't need to spend a fortune to get an amazing iPhone 7 case. From the best protection to stunningly beautiful iPhone 7 cases we have you covered. We'll also show you the best iPhone 7 wallet cases, leather cases, and wood cases. If you need a slimmer protection, check out the best iPhone 7 skins.
Our favorite cases add new features to your iPhone, turning it into a wallet or adding a battery to help your iPhone last through a busy day and protect your iPhone from big drops without adding a lot of bulk.
Most iPhone 6 and iPhone 6s cases will not fit the iPhone 7. Although the phones are similar size and shape, the camera opening is not big enough on most cases and there are other small fit and sizing issues.
There are many iPhone 7 cases available but these are the best cases to spend your money on. Simply put, here are the best iPhone 7 cases you can buy.
Jimmy Case iPhone 7 Wallet Case
The Jimmy Case iPhone 7 wallet looks amazing thanks to the combination of a black bumper, real mahogany and a colorful stretch pocket that can hold your cards and cash.
Unlike many iPhone 7 wallet cases you can store six cards and cash. Most iPhone 7 wallet cases only hold 3-4 cards. We love the look of this case in black and with the stripe color options that we use on our iPhone 7 Plus.
The wallet will not stretch out and you can choose from a wide range of colors. A bumper protects the phone from drops and keeps the screen off of tables.
$39 at Jimmy Case
Speck Presido iPhone 7 Cases
Speck chose to deliver a new line of iPhone 7 cases that look and feel amazing. The new Presidio iPhone 7 cases use upgraded material to deliver better shock protection while arriving in a thinner design.
The Presidio Grip, Inked and Wallet can protect your iPhone 7 from a 10 foot drop while the Presidio Clear, Clear + Glitter and Clear + Print are tested for an 8 foot drop.
We already have these iPhone 7 cases on our iPhone and love the look and feel that they offer.
$39.95 to $44.95 at Speck
Apple Leather iPhone 7 Case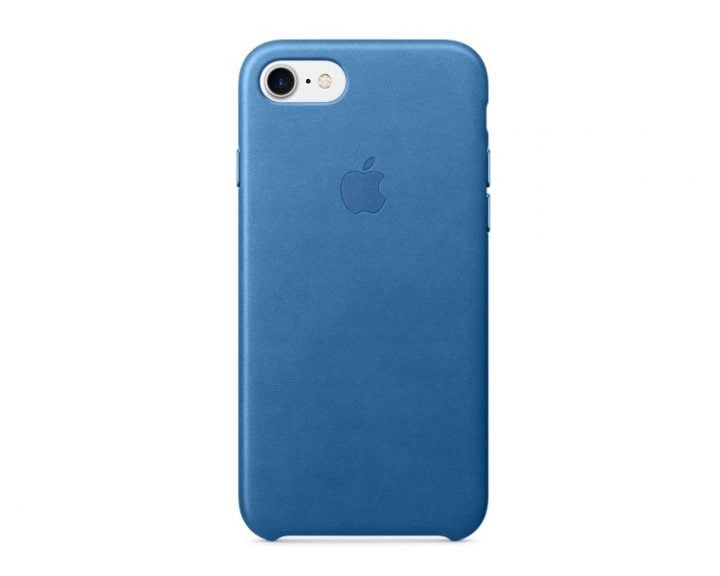 The Apple iPhone 7 leather case looks very much like the iPhone 6s option that we love. Apple's official leather iPhone 7 case will wear slightly as you use it, giving your iPhone 7 case a unique look that changes over time.
You can buy the official iPhone 7 leather case in 10 colors including a Product(RED) option. In addition to the new red iPhone 7, you can buy the Sapphire, Taupe and Berry leather iPhone 7 cases.
The case is made from European leather and finished inside with Microfiber so that your iPhone 7 remains scratch free.
$45 at Apple
Tech21 Evo Mesh iPhone 7 Case
Tech21 makes stunning iPhone cases that provide amazing protection. There are many Tech21 iPhone 7 cases but the one that stands out the most is the Tech21 Evo Mesh.
In addition to the eye-catching speaker grille-like look this phone users a 3 layer impact system that promises to keep your iPhone safe for drops up to 9.9 feet.
There are also some great looking Tech21 iPhone 7 cases like the Evo GEm, Evo Elite and Evo Tactical Extreme that we'll be taking a close look at soon.
$39.95 at Tech21
Carved iPhone 7 Case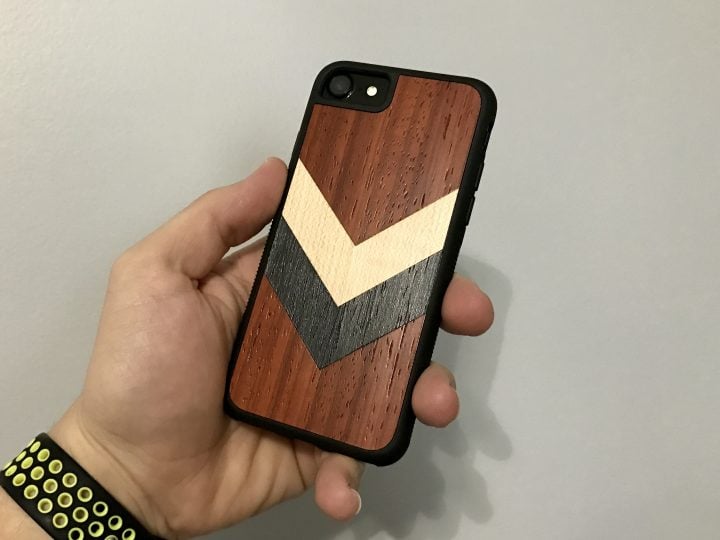 If you want an iPhone 7 case that stands out with an amazing design, premium materials and protection check out the Carved wood iPhone 7 cases made in the U.S.A.
Designed and made in Indiana the Carved wood iPhone 7 cases include real wood matched with beautiful materials including shells, colorful resin and inlay designs.
The Traveler wood iPhone 7 case from Carved includes a a soft outer layer to wrap around your phone and a real wood back. There are other designs including all wood cases available.
We've been testing the Corporal Inlay wood iPhone 7 case from the Traveler line at Carved and love that is is thin while still offering real wood that feels great. You can lightly feel where the wood is matched up to create the multi-color and grain design. The case is thin, it's still very light and you can easily access all the buttons and the lightning jack.
Cases start at $29 and go up to $52 for a mother of pearl inlay at Carved
Moshi iPhone 7 Napa Leather iPhone 7 Case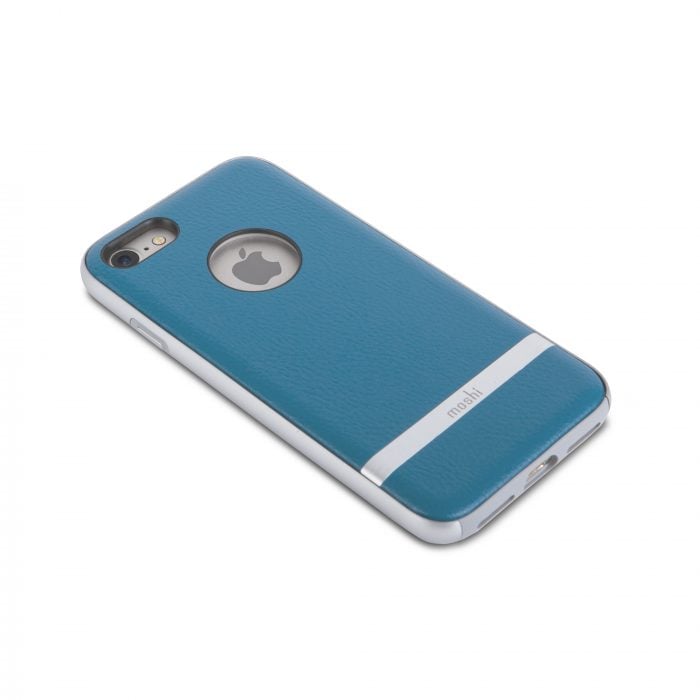 Moshi is well-known for making high-end iPhone cases and the Napa Leather iPhone 7 case stays true to this.
Unlike some leather iPhone 7 cases that don't offer a ton of protection, Moshi combines a shock absorbing inner layer with a vegan leather outer and includes a brushed aluminum component to tie the whole look together.
Available in blue, black and pink, this is a stunning looking iPhone 7 case and it includes an opening to show the Apple Logo, which could make it a popular choice to go with the iPhone 7 in Jet Black.
$45 at Moshi
OtterBox iPhone 7 Cases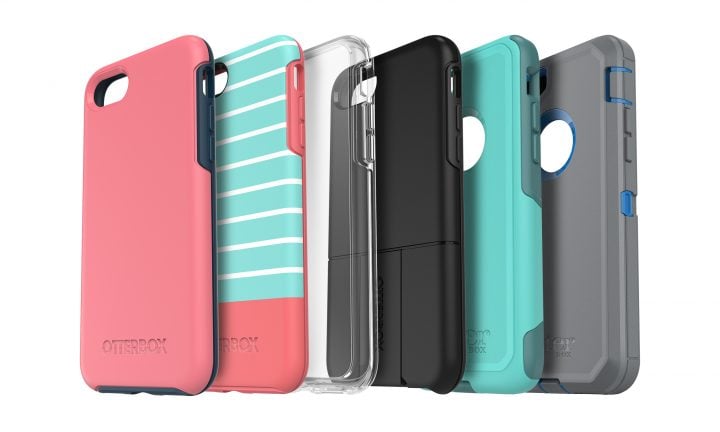 OtterBox iPhone cases are well-known and well-tested with over 238 hours of testing through 24 tests to make sure your iPhone will survive the day. The OtterBox iPhone 7 cases include many options that will help keep your iPhone safe, without adding a ton of bulk.
This includes the OtterBox iPhone 7 Defender case that is the OtterBox style most users know and love. The three layer design combines soft and hard protection into a resilient cover for your new iPhone.
OtterBox also includes slimmer and more stylish options like the Strada Series Folio and the Symmetry Series for iPhone 7. If you need to add-on to your iPhone 7 with cool accessories the OtterBox uniVERSE case includes connections to add all kinds of functionality.
$39.95 and up at OtterBox
LifeProof iPhone 7 Case
The iPhone 7 is waterproof, well water-resistant, for 30 minutes at 3 feet. That's great for an accidental drop into water or a splash when you are at the pool — but it's not going to help if you go swimming or are around snow and water every single day.
Read: What You Need to Know About the iPhone 7 Waterproof Feature
LifeProof offers the LifeProof FRE and is working on the LifeProof Nuud cases that  offer drop, dust, snow and water protection for your iPhone. The Nuud case leaves the iPhone 7 screen open and the Fre covers it with a built-in screen protector.
You can count on protection in up to 6.6 feet of water for an hour and drop protection up to 6.6 feet in the case. If you purchase the Lifeproof Fre or Nuud from Verizon Wireless you can enroll in free Total Water Protection which includes one year of coverage in case your iPhone suffers water damage while in the case.
$89 to $99 at LifeProof
Apple iPhone 7 Smart Battery Case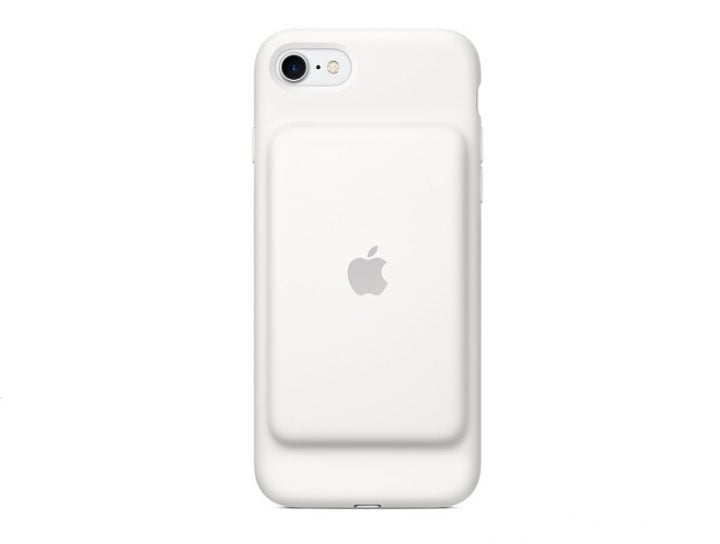 If you think you will need to make the iPhone 7 battery last longer, the official iPhone 7 battery case is your only real option at this time. Thankfully we loved the iPhone 6s Apple battery case option and this looks the same.
The iPhone 7 Smart Battery Case is available in black, white, and red and adds up to 26 hours of talk time or 22 hours of Internet browsing on LTE.
One reason this option stands out today is that it features a lightning port instead of Micro USB like most battery cases. This means it will work with Lightning headphones and the Lightning to 3.5mm adapter as well as the Apple iPhone 7 dock.
$99 at Apple
Distil Union iPhone 7 Wallet Case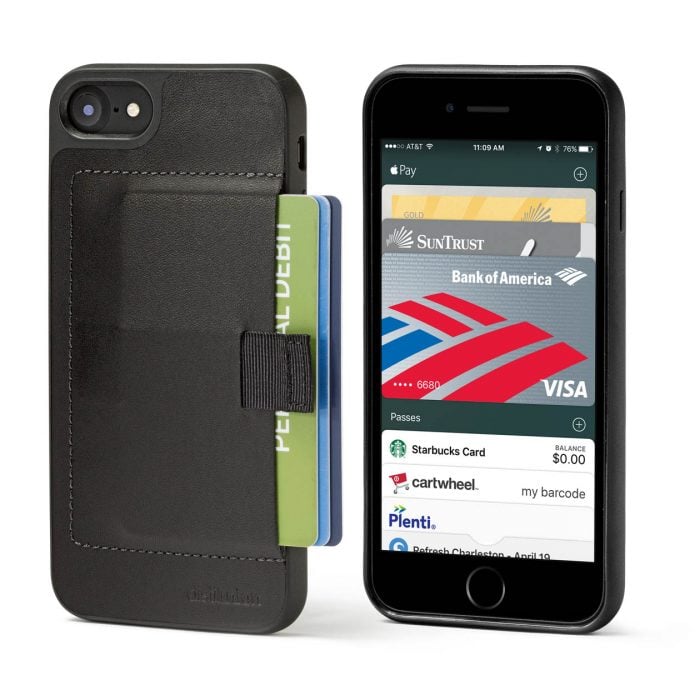 The Distil Union Wally iPhone 7 wallet case is a beautiful hard and leather combo case that allows you to store several credit cards with your iPhone 7.
The case protects your iPhone and when you need the cards you simply pull out on a small slide to bring the cards and identification out of hiding. We loved the Distil Union Wally iPhone 6s case and expect a similarly great experience with this new iPhone 7 wallet case.
You can fit up to four cards and two folded bills in this case, and it doesn't look like a traditional iPhone wallet case.
$49.99 at Distil Union
SlickWraps Spigen iPhone 7 Cases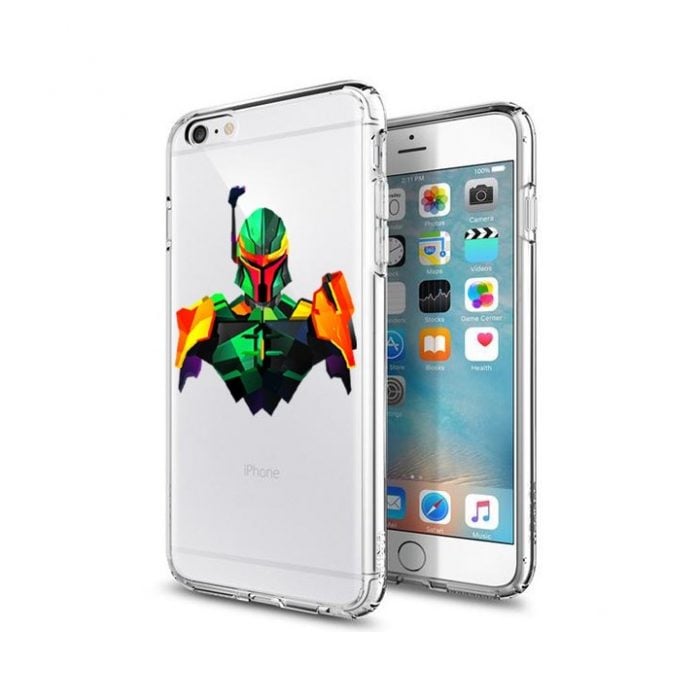 If you want an amazing iPhone 7 case that lets the world know how much you love superheroes, Star Wars, classic villains and amazing portraits of comic book superheroes this is the case for you.
SlickWraps partnered with Spigen to offer Hi-Def prints from Justin Maller on iPhone cases. These look stunning and include multiple superhero and science fiction universes.
The otherwise clear case shows off the iPhone 7 color and includes better grip as well as a raised bezel to help protect your screen.
$32.99 at SlickWraps
Sena Ultrathin Snap-On Leather iPhone 7 Case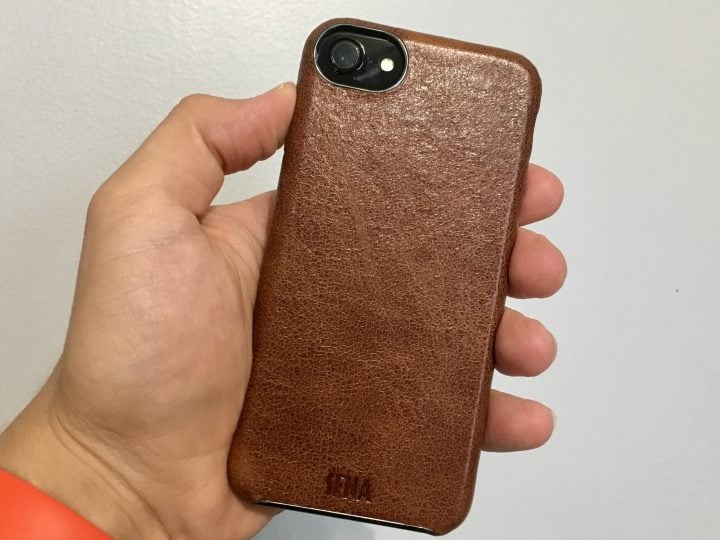 The Sena Ultrathin Snap-On is a a beautiful iPhone 7 case that combines rich leather with a stunning gunmetal trim that delivers an incredible look with the new iPhone 7 colors.
After using the Sena Ultrathin Snap-On iPhone 7 case we love the look of the tumbled Heritage leather and the feel of the case which combines grip with a soft feel that is tough to achieve. The leather button covers are solid and don't impede in any tactile feel from a click.
$31.95 on sale, regularly $39.99 at Sena
Olixar Ultra-Thin iPhone 7 Clear Case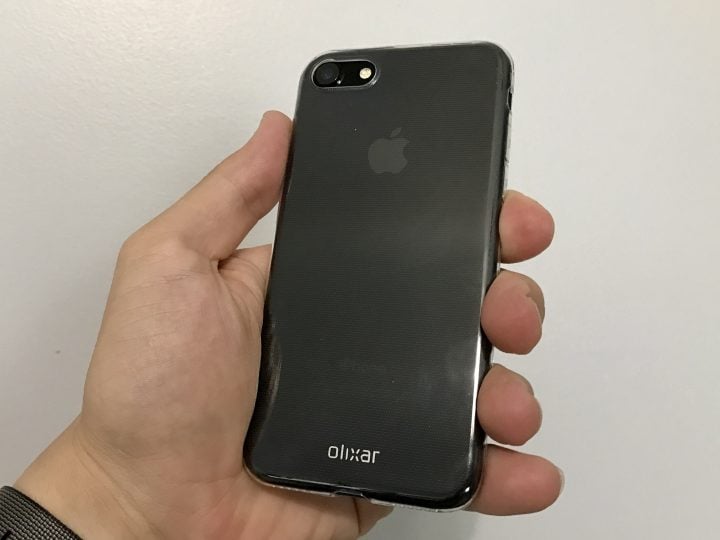 When you want to show off the look of your iPhone 7, add some grip and not spend a lot — the Olixar Ultra-Thin iPhone 7 Gel Case is the solution.
This is a very thin case that lets the color of the iPhone 7 show through. It is quite grippy, but won't get caught on your pocket when taking the phone out or putting it away. It does tone down the gloss of the Jet Black iPhone 7 a little, but you still see that it is a Jet Black model — and this protects it from scratches.
$8.99 at MobileFun
Mophie iPhone 7 Cases
The new Mophie iPhone 7 case is finally here and it's like nothing you've ever seen from Mophie before.
Yes, this is an iPhone 7 battery case, but you can do much more with this case system that lets you keep spare power nearby but only connect when needed.
With the Mophie Hold Force iPhone 7 case you get a thin iPhone 7 case that includes magnets that can attach modular accessories to the iPhone 7. You can choose 10 color options for the base case that starts at $39.95.
From there you can choose the Hold Force Powerstation Plus Mini, a Hold Force Folio and a Hold Force Wallet.
The Hold Force Powerstation Plus Mini is a 4,000mAh battery that connects to the back of the iPhone when you need it and includes a switch-tip cable that alternates between Lightning and Micro USB so you can power your iPhone or your headphones.
The Hold Force Wallet lets you hold a few cards on the back of your iPhone while the Hold Force Folio protects the screen and lets you carry cards inside the case.
When you buy one of the backs with your base case you save $10-20 on the standalone retail price. The folio and wallet are $19.95 each or $9.95 with the base case. The Powerstation Plus Mini is $59.95 alone or $39.95 with the base case. You can buy all the backs at once and get the discount or choose only the ones you want.
$39.95 and up at Mophie
Tumi iPhone 7 Cases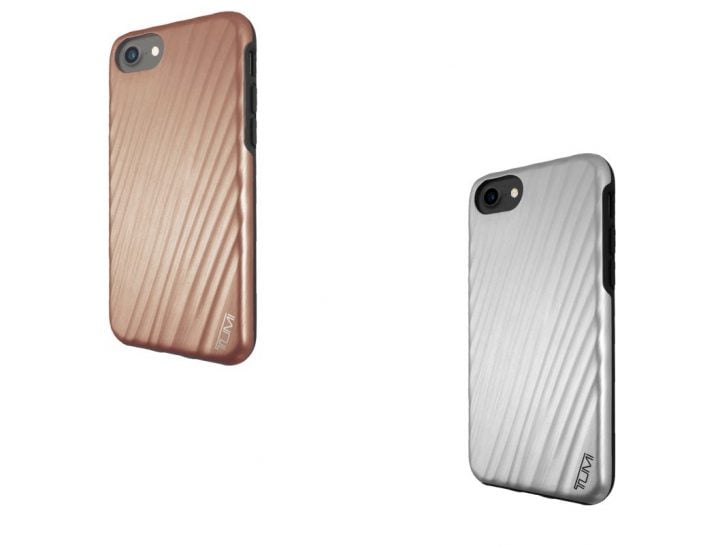 We love the Tumi iPhone cases that deliver the amazing craftsmanship of the Tumi luggage to your iPhone.
This is not the first iPhone case from Tumi, who impressed us with the iPhone 6s and iPhone 6s Plus cases and continues to do so with new and more affordable iPhone 7 cases.
Designed to match the latest Tumi 19 degree luggage connection, this new iPhone 7 case is available in Rose Gold and Silver. The back is a reflective metallic finish that wraps over the front edge to add screen protection as well.
$40 at Tumi
Kate Spade iPhone 7 Cases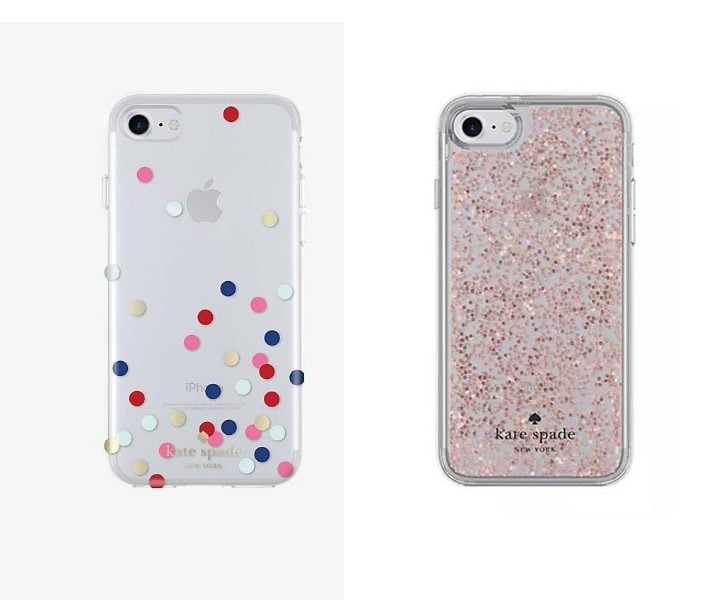 If you want fashionable iPhone 7 cases you need to check out these Kate Spade iPhone 7 cases that are available in a number of colors and styles.
The Kate Spade Flexible Hardshell iPhone 7 case comes in several variations includes a standout Confetti Dot Clear iPhone 7 case that promises to look stunning with a Jet Black iPhone. Kate Spade also sells one direct that is a perfect match for the Rose Gold iPhone 7.
The Kate Spade New York Wrap Case for iPhone 7 is a slim, textured black case with gold accents that looks stylish when you need to class up your constant companion.
Other Kate Spade iPhone 7 cases include a Glitter Clear iPhone 7 case and a Chevron Gold Foil iPhone case that you cannot miss.
$40 to $50 at Verizon and Kate Spade.
iPhone 7 Ollo Case and Lenses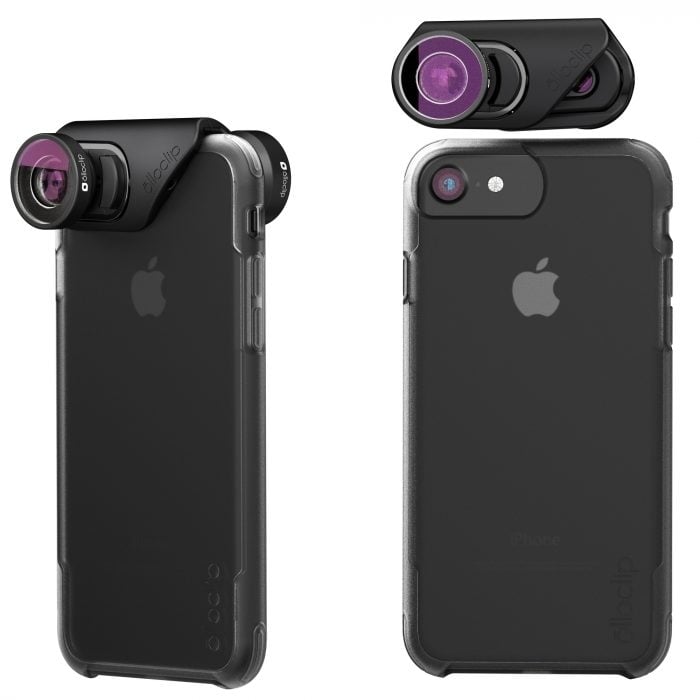 The Ollo Case and Olloclip iPhone lens sets allow you to protect your iPhone 7 and connect a variety of lenses to the phone to record bette videos and take better photos.
The Olloclip Lens sets are $79.99 to $119.99 and include a range of options to expand your iPhone 7 camera abilities. These connect directly to the iPhone 7 or if you prefer to the Ollo Case
With the Core Lens kit you get a Fisheye, Super Wide and Macro 15X lenses. The Active Lens kit includes Telephoto 2X and Ultra Wide. The Macro Pro Lens kit includes Macro 7x, Macro 14x and Macro 21x.
$29.99 at Olloclip + Lenses
Mozo Wood iPhone 7 Case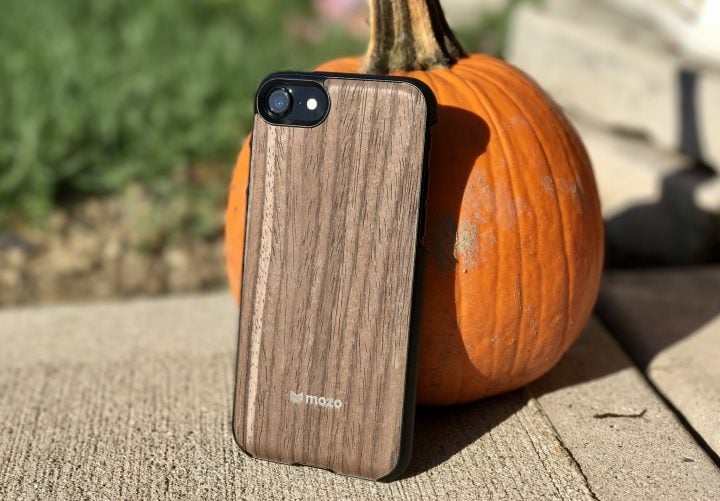 The Mozo Wood iPhone 7 case looks great, feels amazing and is just $25
The back of this case is made from real wood and you can feel the grain. This version is made with Black Walnut, which looks stunning on the Jet Black iPhone 7.
Mozo's wood iPhone 7 case is slim and snaps securely to the iPhone 7 adding a small beveled edge to the front to keep the display off of tables.
You still have access to all your ports and controls, while adding a slim layer of protection.
$25.49 at MobileFun
Skinit iPhone 7 Cases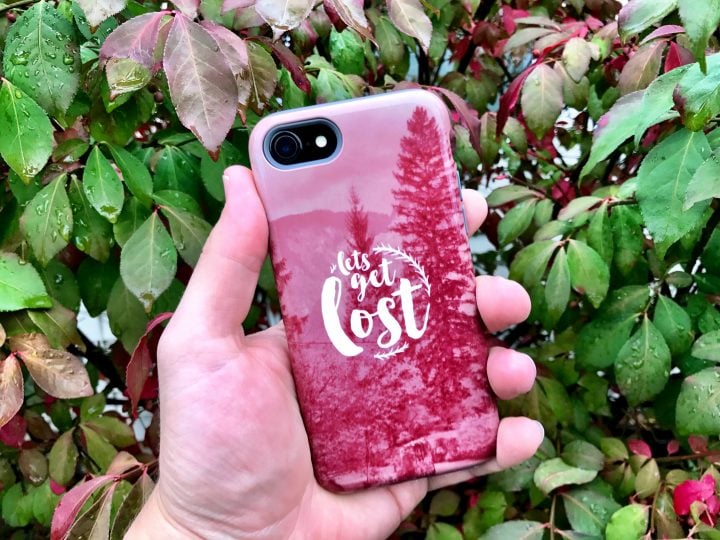 The Skinit iPhone 7 cases come in a variety of styles and options. We enjoy using the Skinit iPhone 7 case to protect our Jet Black iPhone 7. These cases comes in a wide range of styles including NFL teams, superheroes and you can even create your own design.
This case includes a protective layer underneath the design you've chosen and it creates a nice lip to keep the screen safe when dropped and to keep the screen off flat surfaces when you put it down on a tablet. The lighting port opening is large and so is the opening for the switch above the volume buttons. Buttons are covered in a soft rubber and are easy to find and press.
$24.99 at Skinit for Fall cases and $34.99 for Pro cases at Skinit
Nodus iPhone 7 Case – Access Case 2
We love the Nodus Access Case 2 for the iPhone 7 Plus and are confident that it is just as good on the smaller iPhone 7.
This is a folio style case that includes a slot for your credit card, ID and some cash and you can use the folio to prop up your iPhone to watch a video or make a video call.
The Nodus Access Case 2 is slim, the leather feels amazing and it is available in a variety of color options.
Oh yeah, there is a magnet in the back so you can mount the iPhone to magnetic docking systems to put the case right where you need it in your office, kitchen or workshop.
$66.87 at Nodus
Casemade iPhone 7 Leather Wallet Case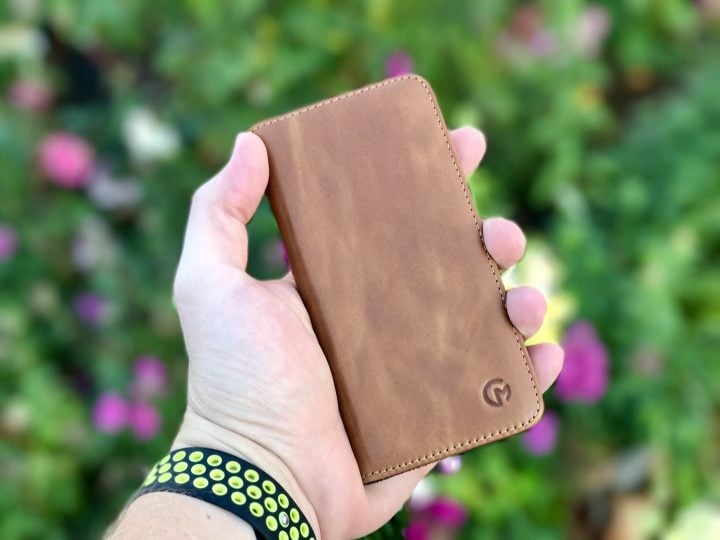 The Casemade iPhone 7 leather wallet case is phenomenal. This genuine Italian cowhide leather looks and feels incredible.
For leather iPhone cases, and especially folio style ones, the material needs to be soft enough to open and stay open when you are using the phone. This supple leather is luxuriously soft, and we expect that it will wear nicely over time.
The iPhone snaps into a polycarbonate shell that protects the phone if you drop it and also secures and provides some added structure to the case.
A magnet keeps the folio closed until you are ready to use the iPhone. The same magnet keeps the folio open while in use. Inside the folio includes three slots for cards and a small opening that can hold an additional card or some folded cash. You can prop the case up to use it as a stand for watching videos or making calls.
After using this case daily it's clearly a winner and one of the best leather iPhone 7 cases money can buy. Available in tan and black, this is an awesome case.
£24.90 at Casemade
SCOSCHE MagicMount PowerBank iPhone 7 Battery
The SCOSCHE MagicMount PowerBank is a detachable battery that you can use with any iPhone 7 case or without a case to add extra power to your iPhone.
It features a 4,000 mAh battery that can recharge your iPhone 7 fully two times on a single charge.
The PowerBank attaches to a small magnetic mount that you attach to your iPhone or to your iPhone case. This lets you connect the battery to your iPhone when you need it, but not carry bulk around when you don't need power.
The case includes a built-in Lightning charger so you always have a charger handy. The battery charges with Micro USB.
$59.99 at SCOSCHE
Pelican Adventurer iPhone 7 Case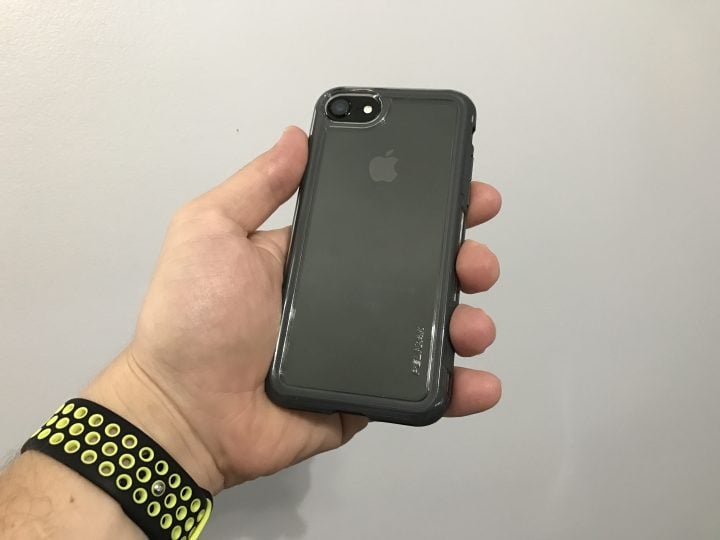 The Pelican Adventurer iPhone 7 case is an awesome case that packs in a lot of protection without adding bulk. Too often you need to trade a slim iPhone for a bulky combo, but with the Pelican Adventurer iPhone 7 case that's not the option.
The clear back shows off the color of your iPhone, in our case the Jet Black iPhone 7, and protects it from scratches and scuffs. The edges of the case offer excellent grip and protection from drops.
You can use the Lightning port and use all the buttons without any issues. The case is available in five color options that allow you to match or accessorize your iPhone 7.
$27.66 at Amazon and available at AT&T
Grovemade iPhone 7 Wood Bumper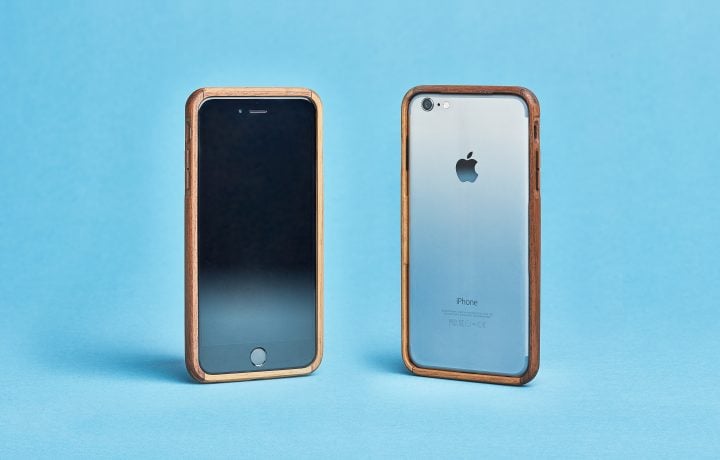 The Grovemade iPhone 7 wood bumper case is a minimal iPhone 7 case made of maple or walnut that wraps the edges of your iPhone in wood while leaving the original design to shine through.
Hand made in Portland the case is machined and hand sanded before a finishing treatment of vegetable based oil. The charging port is 0.42″ x 0.22″ which will fit most Lightning cables and the Lightning to headphone adapter. Grovemade includes wood power and volume buttons for a completely wooden edge for your iPhone.
You can also buy full wood iPhone 7 cases, wallet cases that combine wood and leather as well as a wide range of desk accessories that match the walnut and maple finishes.
$59 at Grovemade
Twelve South RelaxedLeather iPhone 7 Case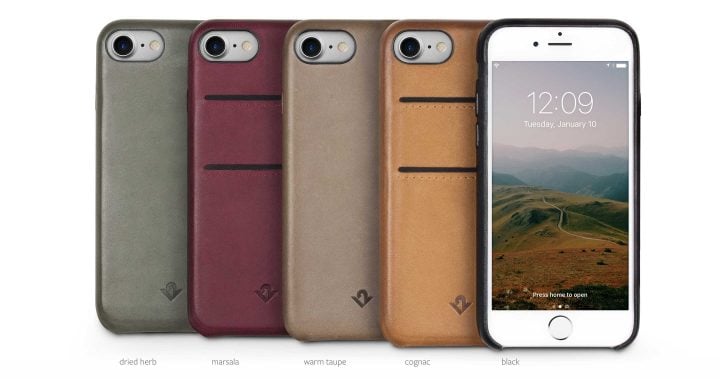 Twelve South now offers a simple relaxed leather case that can match your style — dressed up or dressed down. The new RelaxedLeather iPhone 7 case is available with pockets and without, allowing you to choose the look and the style that you want.
This leather iPhone 7 case comes in five warm color options that can match in with your style and like many cases it will change over time. Twelve South shows the slight changes in the case that come after just eight weeks of use.
In addition to looking good, this case includes a raised bezel to keep your screen safe and overall protection to keep your phone safe during day to day use.
$39.99 without pockets and $49.99 with pockets at Twelve South.
Mous Limitless iPhone Case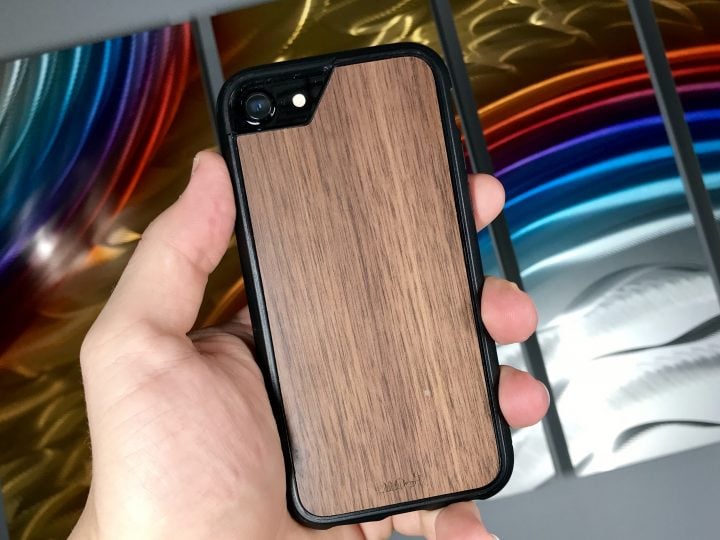 The Mous Limitless iPhone 7 case is insane. We've thrown our iPhone 7 across the room onto the hard floor multiple times in this case. Not accidental drops but legitimate hard throws onto hard surfaces and the only damage is a very small scratch to the wood grain on the case.
This case can protect your iPhone 7 from drops up to 45 feet. All while looking like a fairly normal size iPhone case. This is not a giant brick that you need to wrap around your iPhone to protect it. It looks like a normal size wood back iPhone 7 case.
The Mouse Limitless iPhone 7 case is the perfect case for users who drop their iPhone often.
Apple Silicon iPhone 7 Cases
The Apple Silicone iPhone 7 cases are available in 12 colors now that Apple added three new color options to the iPhone 7 cases in March 2017.
This silicon case is slim and simple, with the Apple logo on the back. Unlike the leather case, this won't wear over time like leather does. Some of the lighter colors may darken around the edges depending on your environment.
$35 at Apple and in Apple Stores
OtterBox Pursuit iPhone 7 Case
The OtterBox Pursuit iPhone 7 case delivers the drop protection you expect from OtterBox in a surprisingly small and thin package. This case is not a step down from the traditional OtterBox, it's just ready to go with you in a smaller package.
OtterBox runs this case through 24 different tests to certify that it is ready to go where you do and survive drops. Our limited testing of drops onto a hard surface from waist high left our iPhone 7 in the same condition it was before the test. An impact liner around the edge helps absorb the shock of a drop so that your iPhone remains safe. This seal helps keep dust, mud, dirt, and snow from getting into ports and speakers on your iPhone 7, adding to the water-resistance that the iPhone has right out of the box.
Slide the port cover open for easy access to the Lightning port. The opening there is wide enough for most cables, even many third-party cables. There is a small slot that you can connect an included lanyard so that you can hold onto your phone at all times.
The front of the case is open with no built-in screen protector, but you can pair this with an iPhone 7 screen protector for more protection in the elements. We like the easy to use mute toggle that lets you engage the switch above your volume controls easily.
$69.95 at OtterBox
Caseology Parallax iPhone 7 Case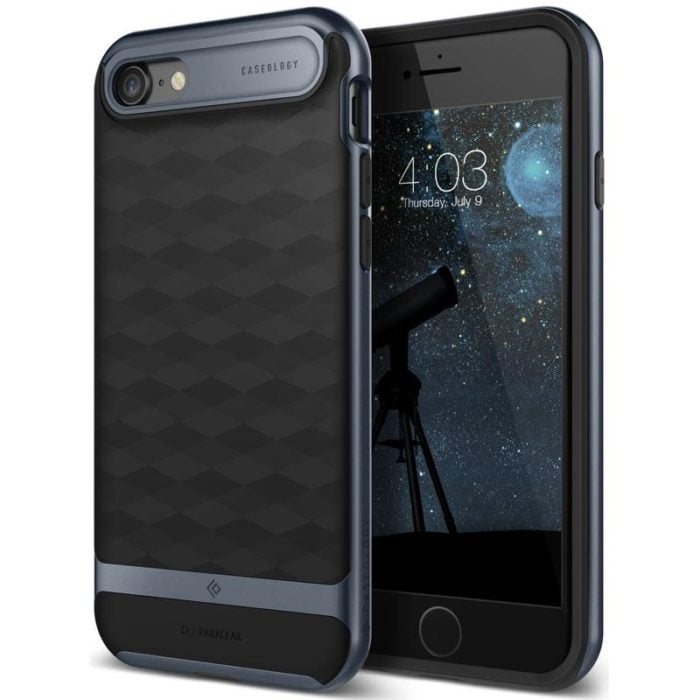 The Caseology iPhone 7 Case Parallax is a slim, fashionable case with a really cool design. Available in an array of colors, the patterned back really catches your eye and the two piece design combines to deliver better protection.
With great grip-ability and excellent protection, it's a surprise that you can get this case for under $20. It's tough to find great cases at such a discount, which is what makes this a special find.
$19.99 at Caseology
Skinit Custom iPhone 7 Folio Case
Have you ever wanted your best Instagram photo on your iPhone case? Or maybe you want your pet, BFF or your soul mate on your iPhone 7 case.
If that's the case, you need to check out the Skinit Custom leather Wallet case for the iPhone 7. You can upload your own image or you can import them from Facebook or Instagram and Skinit will place them on a leather folio style wallet case. You can adjust the placement and even add text to the case.
The colors and details are awesome, and the leather is soft to the touch as well. A plastic case holds your iPhone 7 in place and there are two card slots as well as a small opening or another card or cash. There is a elastic band to keep the case closed and you can use the case to keep your iPhone titled up to watch a movie or take a video call.
$49.99 at Skinit
iOS 12 vs iOS 11: What's New in iOS 12.4.1
iOS 12.4.1 Features and Fixes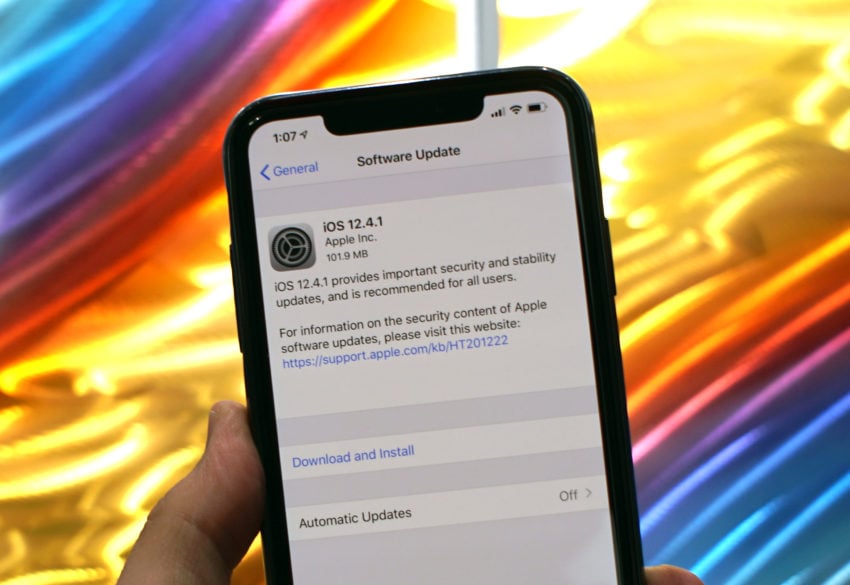 The iOS 12.4.1 update focuses on security fixes for a major bug that Apple fixed once before, but that is back in iOS 12.4. This security issue would allow an app to essentially gain full control over your phone.

Available for: iPhone 5s and later, iPad Air and later, and iPod touch 6th generation
Impact: A malicious application may be able to execute arbitrary code with system privileges
Description: A use after free issue was addressed with improved memory management
This is what allows people to jailbreak iOS 12.4, which is a plus for some users, but most users will want the security that comes from iOS 12.4.1.