Best of CES 2019: 15 Things You'll Want to Buy This Year
Here are our picks for the best technology from CES 2019 in Las Vegas, Nevada. We've gone hands-on with hundreds of new products and services, but these are the standouts from the show and the devices that have been given Gotta Be Mobile's Best of CES Excellence Awards for 2019.
We've been on the ground for a week on the hunt for the best products of the new year. There were a ton of worthy candidates, but these are the devices and services that stood out from the rest on CES 2019's showroom floor and the various suites we've visited on the strip.
The products we've listed here are the gadgets and services we would recommend to family, friends, and our readers without hesitation.
These are the products that have potential to become best sellers in 2019 and beyond. They're also the products we think deliver the most value to our readers.
Best of CES 2019
The Gotta Be Mobile team and its editors recognize the recipients of these 2019 CES Excellence awards and extend our congratulations to the teams behind these outstanding products.
Alienware Area-51m
The Alienware Area-51m is a new breed of gaming laptop that is portable, but also the most upgradeable gaming laptop we've seen. You can upgrade the CPU and the GPU later to expand the life of this system and get the best gaming solution possible.
Inside you get discrete NVIDIA GeF0rce RTX GPU options and 9th Gen Intel Core i7 and Core i9 processors. This gaming laptop supports 8-core processors, 2.5Gbit ethernet, 64GB of RAM and a narrow bezel display capable of 144Hz G-Sync tech.
The Alienware Area-51m goes on sale January 21st starting at $2,549.
Optoma Smart 4K UHD Laser Cinema
The new Optoma Short Throw Laser Projector is an awesome option to get up to a 120-inch 4K image on your wall without the need to mount a projector at the back of a room. You place the Optoma Short Throw 4K Laser Projector inches away from the wall and get an amazing image.
With 3,000 lumens, smart features like Alexa control and IFTTT integration as well as apps, it's ready for your living room or your media room. The integrated NuForce soundbar, you get a projector that allows you to enjoy the entertainment experience without a complicated setup.
The Optoma Short Throw 4K Laser Projector should arrive in Q2 around $2,999.
Griffin PowerBlock Wireless Fast Charging Pad w/ Apple Watch Dock
We still don't know when Apple will release its AirPower accessory and those sick of waiting would be wise to check out Griffin's new PowerBlock Wireless charging pad with Apple Watch dock.
Griffin's new gadget features Qi wireless charging pad on the left side with Apple's fast 7.5W wireless charging and an Apple Watch charging puck on the right side.
It'll be out sometime in Q1 for $80.
Mophie Juice Pack Access
Mophie, the company behind some of our favorite iPhone cases, is back with another winner.
The new Mophie Juice Pack for iPhone XR, iPhone XS, and iPhone XS Max can extend the battery life of the iPhone XS Max and iPhone XR by up to 31 hours and the iPhone XS by up to 25 hours making them perfect for people on-the-go. They can be charged via USB-C cable (included) or wirelessly on an Qi-certified mat.
When they arrived they'll be priced at $119.95 in the United States.
Arlo Ultra
The Arlo Ultra is a 4K outdoor security camera that can live stream and record 4K HDR footage. It can also intelligently zoom in on action like a person or a car to make sure you get the right footage.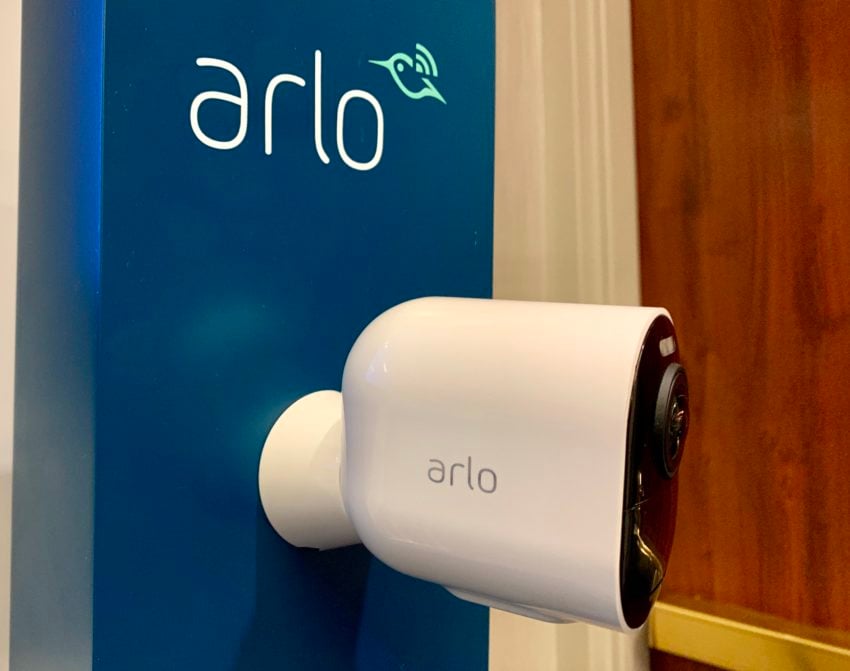 This works with the Arlo Smart Hub, which is also available as part of the Arlo Security System, You also get a year's subscription to the Arlo Smart Premier service.
The Arlo Ultra and SmartHub are $399 for one camera or $599 for two cameras and arrive in late January.
Brydge iPad Keyboard
Brydge makes some of our favorite iPad accessories and the company's new Brydge 12.9 Pro keyboard for the 2018 iPad Pro doesn't disappoint.
Brydge's solution is better than Apple's and it's the keyboard you'll want to buy if you want to transform your iPad into a MacBook-like workstation.
They ship in early Spring.
NVIDIA GeForce RTX
NVIDIA's new GeForce RTX graphics cards with ray tracing technology bring some amazing capabilities to both PC's and laptops. We were blown away after seeing several demos at CES 2019.
NVIDIA's RTX series is great for gaming, but will also greatly improve performance and experiences for Twitch streamers, graphic design, video rendering, artists, students, business users and more. Even laptops with the RTX 2080 (announced at CES) are more capable than even the latest GTX-powered desktop computers.
Lenovo Yoga S940
The new Lenovo Yoga S940 is one of the prettiest laptops you'll ever see with razor-thin bezels around its beautiful 14-inch 4K HDR display and a unique contoured glass edge that blends into the aluminum chassis.
It no longer features a 360-degree folding design but the stunning screen is still the star of the show.
Lenovo outfit the Yoga S940 with the latest Intel 8th Gen Core processors, 8/16GB of RAM, and up to 1TB SSD storage. All of that is inside a premium laptop that's only 0.48" thin and weighs just 2.64 lbs.
The new 4K HDR display is great, but it's the baked-in Lenovo AI Smart Assist software that you'll truly enjoy. Get the new Yoga S940 in May for $1499.
Razer Blade 15 Advanced w/ Razer Raptor
The Razer Blade 15 Advanced is an amazing upgrade to the Razer Blade 15, which now includes the latest Nvidia GeForce RTX graphics and will bring exciting new screen options later this year. It also pairs up nicely with the Razer Raptor gaming monitor.
The Razer Raptor is a e-sports ready 27-inch gaming monitor from Razer with Chroma, epic cable management and other smart features. The one in the video is a concept, but it is coming later this year.
The Razer Blade 15 Advanced is available on January 9th for $2,299.
OtterPop Phone Case
The "Otter + Pop" Symmetry cases from OtterBox and PopSockets are both practical and stylish and you should have your eye on them if you need a new iPhone case in 2019.
OtterBox's new cases combine the company's well-known protection with a built-in PopGrip that's compatible with PopSockets removable PopGrip.
The cases will arrive later this year via OtterBox and PopSocket and they'll start at $59.95 in the United States.
ThinkPad X1 Carbon (2019)
The Lenovo ThinkPad X1 Carbon 7th Gen is back and better than ever. It's still incredibly thin, weighs less than 2.5 lbs and is super powerful. Plus, Lenovo's added subtle refinements buyers will appreciate.
The new ThinkPad sports a new coat of paint where you can actually see the carbon fibers. On top of that you get the latest Intel 8th Gen Core processors, 8/16GB of storage, up to 2TB of SSD storage, and a 4K HDR Dolby Vision display or a super bright FHD screen.
Lenovo's also added a new quad-speaker array with two top-facing tweeters and two bottom-firing speakers. Not to mention four far-field microphones that work with both Alexa or Cortana.
This is a feature-complete commercial-grade laptop you'll absolutely love. It'll be available in June starting at $1,709.
Vizio M Series (2019)
The Vizio M Series comes with a whole host of upgrades for 2019 that bring the P Series features down to a TV that way more people can afford. These include Quantum Color and more active dimming zones. While the P Series Quantum X is mind-blowing, the Vizio M Series looks amazing and is the TV that you and I can put into our living rooms without breaking the bank.
Pair this up with the SmartCast 3.0 software that brings access to 100 channels of free streaming content, your favorite apps like Netflix or Hulu, smart connectivity to control with Alexa, Siri or Google Assistant and the epic new AirPlay 2 integration and this is a clear winner for your living room.
The Vizio M Series arrives later this year with pricing similar to the existing models.
Jabra Elite 85h
The Jabra Elite 85h is a noise cancelling headset that uses eight microphones to deliver better active noise cancelling, AI to tune the headset while you wear it, allowing it to switch between noise cancelling, hear through and other modes based on your surroundings.
The Elite 85h also includes hands free access to Siri, Google Assistant and Alexa. You get 32 hour battery life, rain resistance, and a two-year warranty that covers water and dust.
You can buy Jabra Elite 85h in March for $299.
Anker ROAV Bolt
Upgrade your vehicle in 2019 with the new Anker ROAV Bolt, a USB car charger with Google Assistant built-in. This $49 device plugs into your cigarette lighter and instantly upgrades your car for the modern world.
Plug it in and you'll have the Google Assistant ready and waiting to help make hands-free calls, use voice controls, send messages (or read them aloud), play playback, and navigate.
The ROAV Bolt is still your typical dual USB port fast car charger. They've also added Bluetooth 5.0, the Google Assistant, and an AUX 3.5mm port for wired connectivity on older cars.
It's available for pre-order today for $49.
Dell XPS 13
After years of upgrades, Dell's perfected the ultraportable notebook with the 2019 Dell XPS 13. This thin and light notebook packs more than enough power to be productive and now you get a webcam up top where it should be without giving up on the InfinityEdge bezels.
Dell put a lot of effort into the display with Dolby Vision, which means brighter brights and deeper blacks. The display is simply stunning to look at, and it's hard to believe this 4k HDR display is in such a portable package.
The Dell XPS 13 is now available in three colors. It starts at $899 and is on sale today.

As an Amazon Associate I earn from qualifying purchases.