Best Smart Home Gifts for 2018
Are looking for great smart home gifts to give or ask for this year? We have you covered with the best gifts to give and get to upgrade your smart home or smart apartment this year. Whether you are setting up a smart home from scratch or building out from the one room and one switch that you got started with earlier this year or last Christmas — we have you covered.
We'll cover easy the gadgets you need to control a smart home, our favorite smart home gadgets that can turn any room into a smart space. These are our favorite gifts, and they are throughout the homes of Gotta Be Mobile team members.
One word of caution when gifting smart home gadgets. If someone already uses a specific device to control their home, or already has some smart home lighting; it is a good idea to consider what they are already using. Some people will want to keep their smart home controlled with the same
Lutron Caséta Smart Lights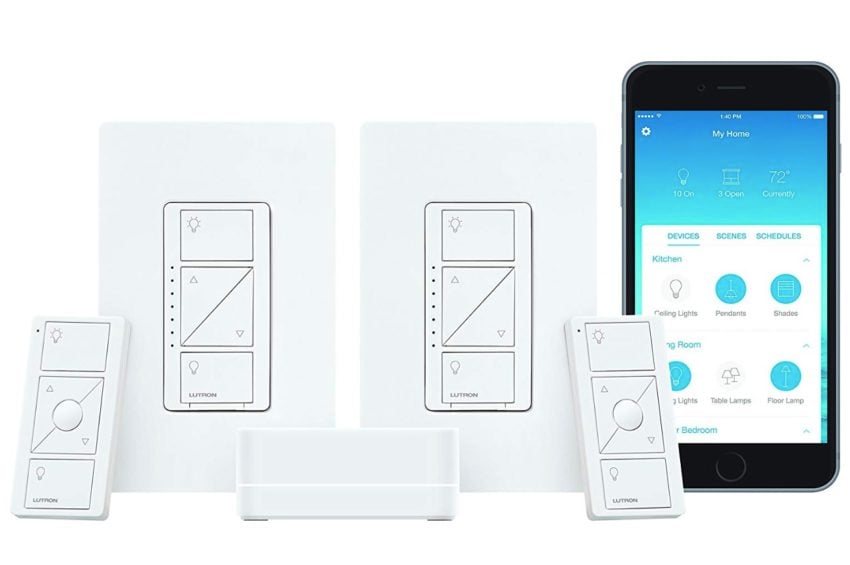 The Lutron Caséta smart lighting system is the best way to connect a whole room to a smart light system that you can control with your voice or your phone. It replaces the switch instead of relying on a lot of smart lights. This is often cheaper the buying a lot of smart bulbs and it is easier for people in your house to adapt to, since they can use a switch when it is most convenient.
This is how my home office lights are controlled and how our kitchen lights are controlled. With an open floor plan the voice control makes shutting off the kitchen lights from the couch or the door easy. I can also turn my office lights off as I'm walking out the door or tie them into another system. This works with Siri, Google Home and Alexa.
The Lutron Caséta system starts at $99 at Amazon, Lowes, Best Buy and other retailers.
Philips Hue Lights & LightStrip
When you need individual light control or you are looking for colorful options, the Philips Hue Lights and LightStrips are at the top of our list. These can get pricey, but during this time of year, there are a lot of discounts.
I use the light strips in my office for accent lighting and behind the TV in my media room. I also use the Philips Hue lights in all the other lights in the media room so that I can add a splash of color and easily set up scenes that only feature certain lights when watching movies or gaming.
The Philips Hue systems start at $99 for white and $199 for color. Additional bulbs and Lightstrips are available from $29.99 and up. During the holidays you can find great deals on Hue Starter Kits at Best Buy from $139 with color and a switch. Look on eBay for great deals on LightStrips.
Serena Smart Shades
Serena Shades are the best smart home upgrade I installed in 2018. These amazing shades are available in a wide range of styles and materials. They are more expensive than most of the items on this list, but they are the perfect upgrade for a bedroom, home office or living room.
Once you install these shades, you can control them with your voice, an app, a schedule or with a remote that you can mount anywhere. I link mine to a routine on Alexa and start work by opening them. They are also set to automatically close five minutes after I typically quit work to keep my office hidden from anyone looking in.
You will need to custom order to fit your window, so these are a great gift to each other. Learn more at Serena Shades.
Ring Video Doorbell 2 & Floodlight Cam
The Ring Video Doorbell 2 and the Ring Floodlight Cam are both amazing gifts to give. The Ring Video Doorbell 2 is simple to install and the Floodlight Cam is also easy if you are replacing a floodlight, but a little more involved if you are installing it from scratch.
The Video Doorbell 2 keeps an eye on your front porch to see when deliveries arrive, and to let you talk to someone when they ring your doorbell. It is equal parts convenience and security.
With the Floodlight Cam, you can keep an eye on the garage, backyard or anywhere else you need to see. Motion alerts, a spotlight and a siren round out the package.
The Ring Video Doorbell 2 is $169 at Amazon and Best Buy and the Floodlight Cam is $249 at Amazon and Best Buy. Also check Costco for deals.
Canary All-in-One Security System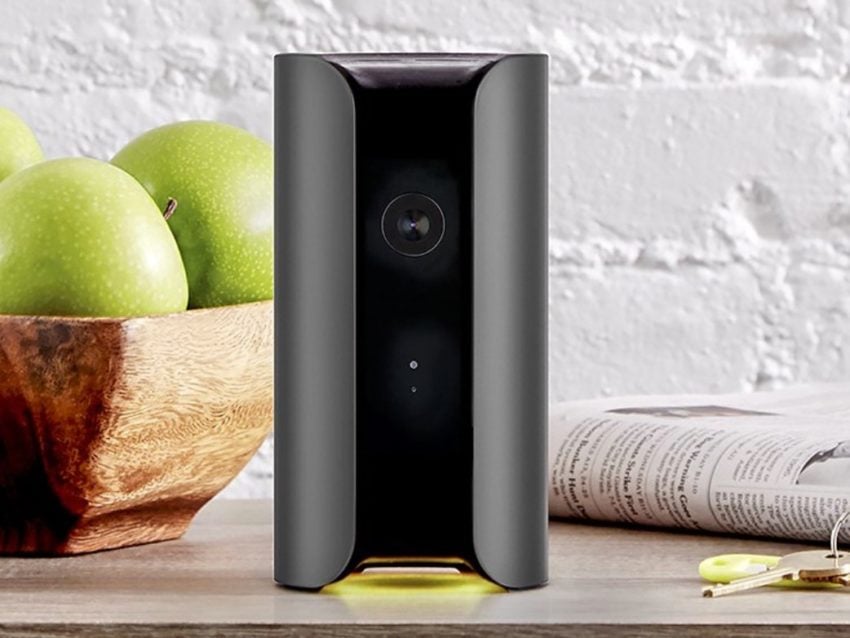 The Canary All-in-One is a smart home security system that you can easily place in your home to keep an eye on things inside. Ideally you would place one or two in key places, but since all you need is power you can move this around the home easily if you decide you need it in another place.
One of my favorite features is that it can configure the Canary to not record when someone in your house is home. This is a major reason I chose to test this system out and I love the feature. When we are away, it can detect movement and even tag it as a person, which is a very good alert option to have when you are away from home.
You can get the Canary All-in-One from $109 at Canary, Best Buy and Amazon.
TP-Link Smart WiFi Plug Mini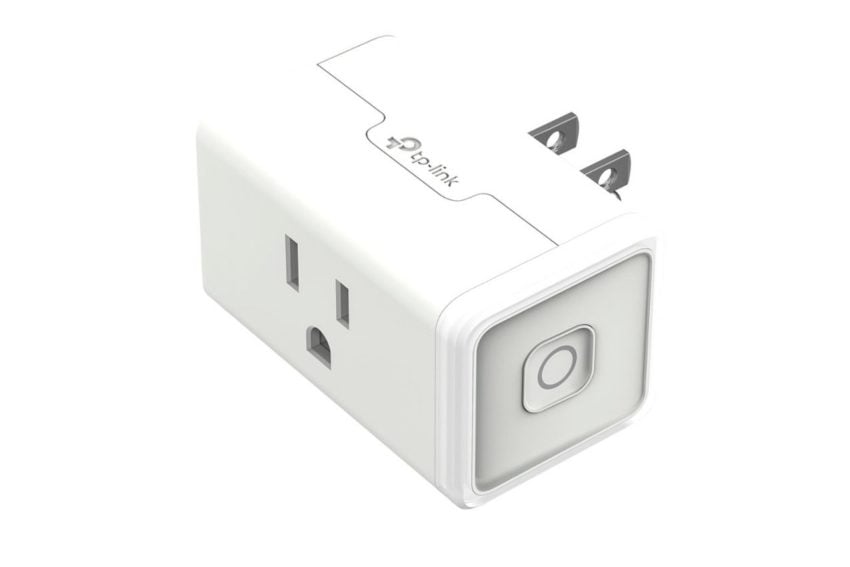 The TP-Link Smart WiFi Plug is one of the best options if you want to control a lamp, Christmas tree or other gadget with your voice. This works with Alexa and Google Home. We are using it to control our Christmas Tree.
I had been using this to turn on a space heater with my voice, but after learning that space heaters and surge protector don't play nice I decided to stop using this between such a high draw device until I find out more about that.
Chamberlain WiFi Garage Door
The Chamberlain MyQ Garage Door opener is an epic smart garage feature, and it is the smart home gadget my wife uses the most. She will open the garage door from her phone every morning before she goes to work, so that she doesn't need to stand in the cold or rain waiting for the door to open or to fumble with a keypad while her hands are full. Check out our full review here and more on the Bridge that lets Siri control it.
Expect to spend around $200 for a MyQ unit, but you can find them on sale.
Amazon Echo Dot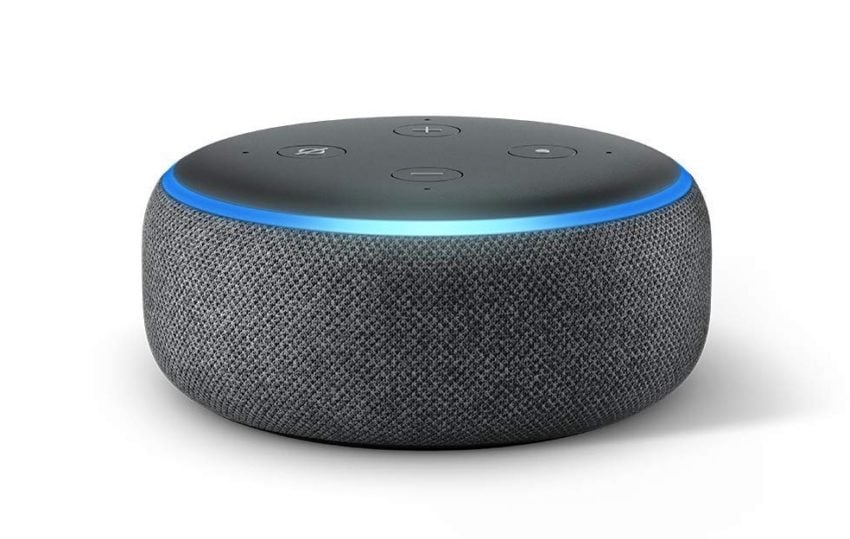 The Amazon Echo Dot is a great way to control your smart home or office, and it connects in with lots of accessories and other items to make it useful at in any room of your house. It's the hub of our smart home office turning on the lights and even opening the blinds.
It can help with handy conversions, quick searches and it's the key to controlling many smart homes. There are also skills that can connect into a wide range of devices and it can even turn on your coffee maker.
$29 at Amazon
Lenovo Smart Display
The Lenovo Smart Display is like Google Home, with a screen. You can use it to control your smart home and do other fun things with Google Assistant. I like the screen because I can use it to make video calls and to watch videos.
You can play quick games with it, but the best parts are using it to connect to your home or others by video. You can flip a switch to block the camera lens if you don't want it enabled. This is really handy in the kitchen as you can pause and resume recipe videos with your voice. It comes in 8-inch and 10-inch models.