Call of Duty: Advanced Warfare 5 Supply Drop Details
The Call of Duty: Advanced Warfare release adds a new type of rewards and upgrades that will change the way you play multiplayer with special gear, weapons and one-time use upgrades.
XP is still a major part of Call of Duty: Advanced Warfare, but this year gamers can also unlock Supply Drops that deliver Loot. When you get a Call of Duty: Advanced Warfare supply drop you'll gain access to better weapons, cool gear that makes you a better player or enhances the look of your character and everyone will also enjoy special upgrades that can help even casual players go on a kill streak.
This isn't the first time we've heard about Call of Duty: Advanced Warfare Supply Drops, which are a part of the new multiplayer upgrades that you can unlock, but a new Call of Duty: Advanced Warfare video shows us the Supply Drops in more detail.
In this new video Michael Condrey, co-founder of Sledgehammer Games, walks through what you can get in the Supply Drops and why they are good news for veterans and new players who will both benefit from the unlockable supplies.
Here are some key details that answer the main questions we've heard about the new Call of Duty Supply Drops, that will appear in Advanced Warfare later this year.
The Call of Duty: Advanced Warfare release date is November 11th and it arrives on PS4, PS3, Xbox 360 and Xbox One as well as on PC.
Supply Drops vs XP
Call of Duty: Advanced Warfare rank progression still uses the XP system that allows players to upgrade. Michael Condrey tells gamers that XP is, "still is the backbone of our rank progression system."
You earn XP by playing the Call of Duty: Advanced Warfare multiplayer mode and hitting in game goals as well as coming out on top of the competition. You can also level up faster on Double XP weekends and with other XP enhancements.
Supply Drops are part of a new Loot system that delivers more rewards to players.
What is in a Supply Drop?
Supply Drops deliver more than 1,000 items that include weapons loot, character gear and reinforcements. On top of the three types, you'll also see a variety of rarities including enlisted, professional and elite.
With Weapons Loot you'll be able to earn custom weapons that look different and include modified stats, allowing you to pick the weapons the support the way you play. You'll get nearly 350 custom weapons out of the box on release day and you can customize these with your weapon attachments. Be on the lookout for fast fire SMGs or long-range sniper rifles and even heavy weapons like directed energy weapons.
Character gear delivers customization of your multiplayer character. This includes helmets, exoskeletons, load-outs, pants gloves etc., to let you customize the look of your Call of Duty: Advanced Warfare player.
The Reinforcements are one time use items that you can use during pre-determined times during a match for perks and more.
How do I Earn a Supply Drop?
Condrey explains how you'll unlock Supply Drops saying, "In addition to ranking through XP, Supply Drops will be rewarded for time played and in-game challenges."
Although there are no more details this means you'll work towards new Call of Duty: Advanced Warfare Supply Drops every time you play multiplayer and you'll be able to unlock them faster if you take on certain tasks in the multiplayer mode. Expect more details about those as the release approaches.
What are One Time Supply Drop Items?
You won't be able to call in all your reinforcements at once, based on this video, but you'll unlock powerful upgrades that Condrey says, "These one time use reinforcements can bring some real excitement to a match. Whether it's additional perks or score streaks for those who don't often earn them."
This is part of the Supply Drop that is great for new and old Call of Duty: Advanced Warfare players, and one we can't wait to try.
Where Else Can I Get Supply Drops?
If you need more Supply Drops you can earn them by drinking Mt. Dew and eating Doritos. There are special Call of Duty: Advanced Warfare packages of Doritos and Gamer Fuel from Mt. Dew. You'll earn codes towards Supply Drops and double XP with these packages.
The special gear includes, an exoskeleton, heavy vest kit, helmets, goggles, boots and more. You can see a sample of the items in the promo material above.
Top PS4 Games to Buy in 2014
Call of Duty Advanced Warfare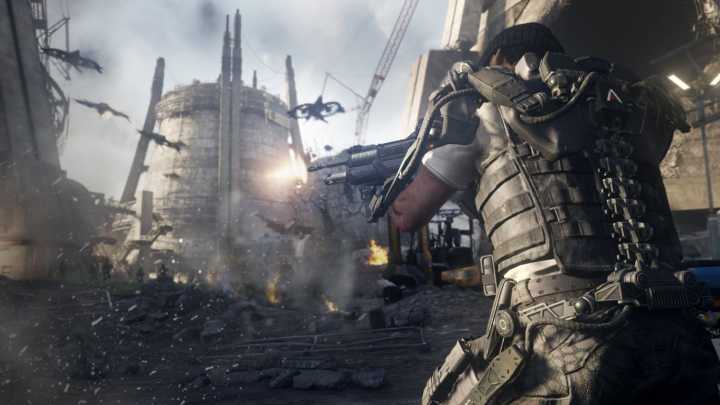 PS4 Call of Duty Advanced Warfare Details:

Call of Duty Advanced Warfare Release Date: 11/4/14
Pre-Order Bonus: Brass exoskeleton, EMP Weapon
Special Editions: Yes
Exclusive: No

Call of Duty Advanced Warfare is one of the top PS4 games to buy in 2014 not only becuase it is a new Call of Duty game, but because it is ready for a PS4 lacking fun shooters.

Yest it arrives into a fall filled with Destiny, but Killzone didn't live up to the excitement and there is no Titanfall for PS4.

Instead gamers get this Kevin Spacey filled Call of Duty Advanced Warfare release that delivers a super soldier with smart weapons and access to technology like never before including drones and hoverbikes.

Call of Duty Advanced Warfare Gameplay Video

As an Amazon Associate I earn from qualifying purchases.