6 Common Face ID Problems & How to Fix them
Here's what to do if you run into Face ID problems on your iPhone X. Face ID is the new way you can login to your iPhone by looking at it. It's a new method and there are some issues that users are running into, including kids unlocking parent's iPhones.
We'll show you how to fix Face ID problems on the iPhone X without waiting for Apple to issue an update to iOS 11 or without waiting for the next generation iPhone with Face ID to ship.
Face ID is the name for the scanner on the front of your iPhone that uses a camera and sensors to verify your identity and unlock the iPhone. In addition to logging you in, you can use Face ID to make purchases, use Apple Pay, verify yourself with apps and more.
How to Fix Face ID Not Working
When all things are working great, you should be able to look at your iPhone X and it will use Face ID to unlock. That doesn't always work. If you recently dramatically changed your look, you may need to retrain Face ID.
The system learns over time, so if you grow a beard or your hair grows out, it will adjust to it over time, allowing the iPhone to unlock when you have half a beard. Face ID also doesn't get confused by makeup or glasses.
If you run into problems, you have two options. First of all, you can continue using Face ID for a week or two longer. Since the system learns as you use it, you should see improvements over time, simply by unlocking your iPhone X in a variety of settings. If your iPhone doesn't unlock with Face ID, enter your passcode and it will learn that it is you.
Another option is to set Face ID up again. There is no option to do additional training in settings, but you can start over. You may need to do this if you undergo a major change overnight or if you simply have a lot of problems.
Go to Settings -> Face ID & Passcode -> Enter your passcode -> Reset Face ID.
Once this is active, you will need to train Face ID again and you may be able to get it working better than before.
How to Stop Face Kids From Unlocking Your iPhone With Face ID
There have been a number of stories about kids unlocking their parent's iPhones with Face ID.
In the most public one, the training was done in bad lighting and once the mom re-trained the iPhone in good lighting this fixed the problem. Apple warns that twins, siblings and kids under 13 may experience more false positives, the latter due to facial features that aren't fully developed.
If you find that your kid is able to unlock your iPhone X, you should re train your iPhone X in good lighting and if you often hand your phone to your kid, you should unlock it first.
When you let them look at the iPhone X and it tries and fails to unlock with Face ID, but you immediately enter the passcode it can cause learning issues with the system.
How to Fix Face ID Taking Too Long Or Not Working with Sunglasses
If you have trouble using Face ID because it takes too long to unlock, you may need to change Face ID settings. By default Face ID requires Attention, which allows it to make sure you are giving the iPhone attention before unlocking. This is what stops Face ID from unlocking when someone holds the iPhone in front of your face.
Unfortunately, it doesn't always work with sunglasses and it may take too long for some users.
You can go to Settings -> Face ID & Passcode -> Enter your passcode -> Require Attention for Face ID -> Off.
This makes the iPhone X slightly less secure, but it may simplify your use of it.
How to Fix Face ID Not Working in the App Store or Apple Pay
You can use Face ID to by things in the App Store, or for Apple Pay, but you need to turn this feature on. Setup should enable this by default, but if it doesn't you need to follow these directions.
Go to Settings -> Face ID & Passcode -> Enter your passcode -> Toggle on Apple Pay, iTunes & App Store or Safari Autofill.
You can change what Face ID works for on this screen, including using it to unlock passwords and to make purchase.
How to Change Face ID App Settings
You can use Face ID to access some apps, and you can turn off this access if you don't want an app to use your face for access.
Go to Settings -> Face ID & Passcode -> Enter your passcode -> Other Apps.
Now you can toggle the settings off for apps you don't want to use this. Keep in mind that the app cannot use your Face scan for anything other than verifying who you are. This data stays on the iPhone, and is not used by them in any other way.
How to Fix Face ID Problems While in Bed
One of the areas we have had the most Face ID problems is in bed. This isn't a problem with it being too dark, but it appears to be with the shape of our face while laying on our back or a pillow obscuring part of the scan.
You can try training your second Face ID scan during setup while laying down. this may help, but you may have to wait for this to improve over time as Face ID will when you perform successful scans.
If you are laying on your side, Face ID may fail because part of your face may be obscured by a pillow. Try lifting your head slightly off the pillow and see if that works.
Another thing to keep in mind is that Face ID needs to be at the same orientation as your face. You cannot use the iPhone X in landscape mode to unlock when you are sitting up.
The Best iPhone X Cases
x-doria Defense Lux iPhone X Case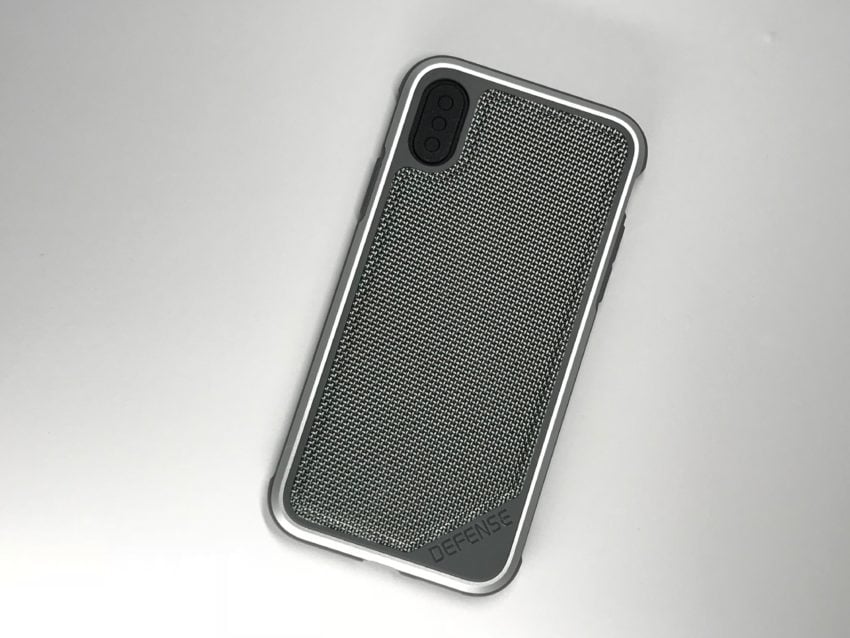 The x-doria Defense Lux iPhone X case is amazing. This case looks great, feels awesome and offers military grade drop protection without adding much bulk.
We love the look of this case in Ballistic Nylon and Black Carbon on the iPhone X. These cases not only offer a cool look, but the back is actually textured like the material listed. The Ballistic Nylon case has a soft, but grippy feel to the back just like you'd expect from looking at it. The Black Carbon feels like textured carbon fiber and looks awesome.
We didn't mean to, but we did drop our iPhone X in this case and our doorbell camera caught it on video. The case iPhone survived without any problems.
x-doria designed this case to protect your phone from drops up to 10 feet on concrete and there is . sound channel to direct the speaker towards you instead of straight out the bottom. The raised edge keeps the screen safe when setting the phone face down on a table.
$34.99 at x-doria

As an Amazon Associate I earn from qualifying purchases.