7 Common FIFA 19 Problems & How to Fix Them
This is how to fix FIFA 19 problems on the Xbox One, PS4, Nintendo Switch and PC so you can get back to playing FIFA.
FIFA 19 is here with loads of new features, important FUT upgrades and other changes, but one thing that hasn't changed is the appearance of FIFA 19 problems that stop you from enjoying the game.
In most cases you can take steps to fix FIFA 19 problems on your own and get back to playing without waiting for EA Help on Twitter or waiting for the next FIFA 19 update.
Occasionally we see errors and bugs that only a patch can fix. This is especially true during the first month of the game. We also typically see more FIFA 19 server problems during the first month as EA works to balance the load and handle the influx of players.
While some errors are out of your control, you can fix many of them on your own without much work. Common FIFA 19 problems include missing FIFA 19 FUT packs, slow downloads, connection issues and other bugs.
An example of an error that is out of your control is the "We are sorry but there has been an error connecting to FIFA 19 Ultimate Team." on PS4 and PC. This is a frustrating problem for users and it remains an issue going into October.
Here is a rundown of the current FIFA 19 problems and how you can fix them so that you can keep playing FIFA 19.
How to Fix FIFA 19 Download Problems
@EASPORTSFIFA my pre order for fifa19 ultimate addition has been taken from my account but only the standard edition is installing. I therefore can't play the game early which is the whole point!!

— Marc (@Intelligenthuh7) September 24, 2018
The FIFA 19 download problems aren't widespread, but we are seeing reports from users who cannot download the game, or who are only getting the standard version instead of Champions. When this happens you cannot play early.
On the Xbox One, you may need to try this trick.
Press the Xbox button  on your controller to return to the Home screen. Or say, "Xbox, go home."
Pull the right trigger to scroll down, and then press the A button  to select My games & apps.
Highlight the game for which you have an add-on, and then press the Menu button  on your controller.
Select Manage game.
Scroll right to the Ready to Install section.
Highlight the add-on or game content you want to install, and then press the A button  on your controller.
On the PS4, you can see if there is an option to download the Champions Edition, but make sure you don't accidentally buy the wrong one.
If the download is slow, try pausing it and then restarting it. If you are out of space you may need to clear room by deleting the demo or older games.
How to Fix FIFA 19 Installation Problems
Common FIFA 19 installation problems are running out of room, or trying to install to an external drive that is acting up.
Try restarting your console or PC before you do anything else. This fixes the problem in more cases than you'd expect. Even if it is an error with the disk, a reboot can solve a lot of problems.
If that doesn't work, clean out your storage to make room for the game. You may want to try installing to the internal storage if you can't get it to install to the external drive.
Another thing you can try is clearing the local game cache. Make sure your game saves are backed up to Xbox Live and then follow these directions.
Go to Settings -> All Settings -> System -> Storage -> Clear local saved games. Once this is done, go to Settings -> All Settings -> Network -> Network Settings -> Go offline. Now restart your Xbox One by holding the power button for 10 seconds. Now put the FIFA 19 disk in and install and then go only and install updates.
On the PS4, you can clear the cache. To do this, turn your PS4 off, unplug it for a full minute and then plug it back in. If that fails, delete FIFA 19 and try installing again
How to Fix Missing FIFA 19 Pre-Order Bonuses
No matter how much time they have to make this work, we always see problems with missing bonus content. This time many users are complaining about missing FIFA 19 FUT items and pre-order bonuses.
EA says, "If you've pre-ordered the game, you might not get your stuff right away. We're working out some issues with delivering bonus content, and we'll make sure you get it by September 28."
Users are reaching out to EAHelp on Twitter, but at this stage you may simply need to wait until Friday to get your bonus items.
https://twitter.com/EAHelp/status/1044580858303139840
EA is also still working to figure out what is going on with FIFA 19 Daily Gifts in the FUT 19 web app and the companion app.
We're still working on restoring FIFA 19 Daily Gifts in the FUT 19 web app and companion app. We'll update on @EASPORTSFIFA as soon as rewards are back. Thanks for sticking with us!

— EA Help (@EAHelp) September 24, 2018
Expect these issues to be ironed out over the next few days. There is no way to fix this on your own other than to try restarting your console to see if that prompts the download.
How to Fix FIFA 19 Disconnecting Errors on PC
If you use Alt-Tab or get a notification while playing FIFA 19 on your PC, you will get disconnected from the match. It's annoying, but you can avoid this by using the Windowed Borderless mode.
Here's more on what to do so that notifications on your PC and switching windows doesn't disconnect you from a match in FIFA 19.
How to Fix FIFA 19 Connection Problems
If you have issues playing FIFA 19 online with other players or against friends, you should first check to make sure the FIFA 19 servers are online.
If they are online, along with Xbox Live, PSN or Origin then you need to troubleshoot your own network.
The first steps are to;
Restart your console.
Restart your router.
Restart your modem.
Try a wired connection.
Move the router closer to your console.
If you don't solve the issues with those steps you may need to get more involved. EA offers up a useful guide to finding ports and checking other parts of the network.
How to Fix FIFA 19 Points Transfer Problems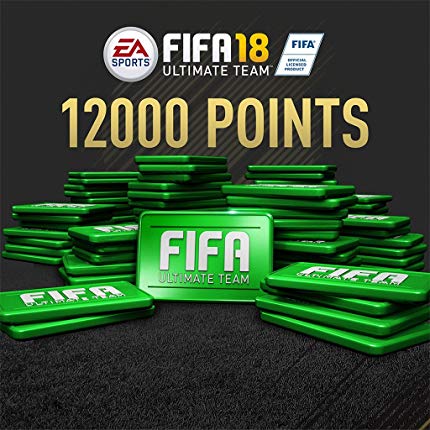 You can transfer FIFA Points from FIFA 18 to FIFA 19. This is a one time process that only goes from FIFA 18 to FIFA 19 and that you must complete before the end of 2018.
You cannot send points back to FIFA 18, so make sure you want to do this. When you login the first time, you will see a prompt to transfer, but you can also do this at a later date.
You can only transfer from the same console to the same console, so no jumping platforms or even going from Xbox 360 to Xbox One. If you run into problems you should reach out to EA and create a support ticket.
How to Fix "An error occurred and your online stats reporting failed" in FIFA 19
Some users report that when playing FIFA 19 Pro Clubs they get the error, "An error occurred and your online stats reporting failed" after finishing a match.
EA says that power cycling the console should fix this problem. If that doesn't fix it, users report success with the following steps per Chuca79;
Other users report this isn't fixing the issue completely, suggesting you need to change the pro position, but it's not clear if that will solve the problem for all users. Ultimately you can try these steps, but you may need to wait for an update.
FIFA 19 Pre-Order Guide: 3 Reasons to Buy & 3 Reasons to Wait
Pre-Order If You Want an Edge in FUT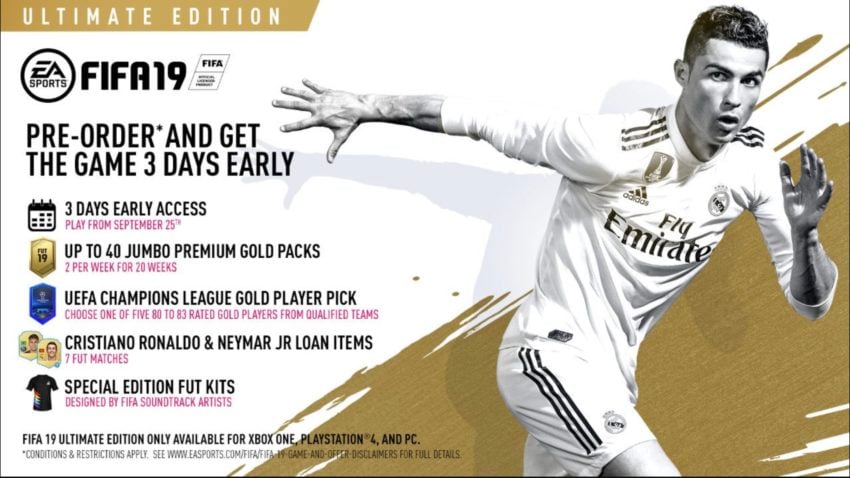 Do you love playing FIFA Ultimate Team? If you want to get a head start you should plan on buying the FIFA 19 Ultimate Edition which lets you play three days early.
This also comes with a ton of FIFA Ultimate Team extras. While you won't get the FUT Jumbo packs all at once, you can still benefit from the early access.
You can build up your team and start checking the auction house where you might be able to pick up some players early to help get a better team.
At the end of the day, if you are buying FIFA 19 Ultimate, you should pre-order at some point, even if you wait until September to do so.

As an Amazon Associate I earn from qualifying purchases.