Common Madden 16 Problems & How to Fix Them
The Madden 16 release date is finally here and our Madden 16 review found the game is one of the best from EA in a long time, but there are a number of issues frustrating users who want to play Madden 16 on Xbox One, Xbox 360, PS3 and PS4.
Here is a look at common Madden 16 problems and when possible the fixes for these Madden 16 problems. Most of the issues and bugs with Madden 16 will clear up as servers adjust to the added strain of Madden 16 players, but you can fix some of these on your own.
For gameplay bugs, you will need to wait for EA to offer up a  Madden 16 update. There is no word from EA on a Madden 16 patch release date, so any of these Madden 16 problems that we cannot fix on our own are things we will need to live with for some time.
Madden 16 is a major upgrade for the series with new player controls at QB, Receiver and on defense. Some users are not happy about the power of the aggressive catch option, but this is not a problem like missing MUT packs, connection issues and camera problems.
With any new game release we see a vocal group of users bring attention to the problems, bugs and issues that are present and Madden 16 is no different.
Here are the common Madden 16 problems and fixes that you need to know about.
How to Fix Madden 16 Installation Problems
One of the most common Madden 16 problems is installing the game. We saw problems pre-loading the game and we continue to see users complain about slow downloads and stuck Madden 16 install progress.
Lol finally can play madden after a 2 hr DL and a 6 hr instal I can play… Idk why I'm the only one to have this problem and I ordered

— Chandler28138 (@camronc23) August 25, 2015
If you are experiencing slow Madden 16 downloads you should connect your console to your router with a network cable, even if it is strung through your house or apartment for the download. This will help speed things up. You can also check to see if all downloads are slow, and if that is the case restarting your router may help.
For users who cannot install Madden 16 the best thing to try is to restart the console. If you are downloading digitally this should allow you to reboot and then resume the installation. Alternately you may need to delete the install from My Apps & Games and try downloading again. Use this guide for more details.
If you are installing from the Madden 16 disc and installation is stuck at or near 0% you will need to take the console offline, cancel the download and then restart your Xbox One and install again. This often happens when the game is downloading an update. Here's a more detailed walkthrough to fix this Madden 16 problem.
How to Fix Madden 16 MUT Code Problems
We are hearing from users who cannot redeem their MUT pack codes for Madden 16. This includes the Madden 16 Playmaker pack that is available immediately and the Madden 16 pre-order bonus codes. On Reddit users report problems redeeming Madden Ultimate Team codes and the Playmaker pack.
@EASPORTS_MUT so I guess it's safe to say the pack problem won't be fixed anytime soon and I won't be able you have my madden 16 on aug 25

— Lay Hall (@Lay_Hall) August 23, 2015
The Madden 16 MUT Playmaker codes should deliver a pack immediately. Even though the Madden 16 pre-order MUT Pro Packs don't arrive until a week after the Madden 16 release date users should be able to redeem the code immediately.
Last year there were missing MUT Pro Packs, but it's doesn't seem like this is the same issue. You should contact EA Support if you cannot redeem the code. You can attempt to reach out to the retailer who sold you the game, but that may not provide much resolution.
Fix Madden 16 Online Problems
Some of the most common Madden 16 problems are related to online play. If you cannot play Madden 16 online the first step is to restart your console.
Is anyone else having a problem with Madden right now it won't let me play MUT or Draft game or online any help?? @EASPORTS @AskEASupport

— Toxics (@Toxics2306) August 25, 2015
Many times Madden 16 will tell you that you need to connect to Sony or MS servers and EA servers while you are already connected. This issue is often fixed by turning your Xbox or PlayStation off then back on.
If you are experiencing Madden 16 party problems, you may need to check your router to change your NAT type.
Madden 16 Connected Franchise Problems
Players who choose to use the Madden 16 Connected Franchise Mode with cloud save report that there are disconnect issues that cause lost progress. On Reddit one thread suggests using the offline option, even though using the cloud can deliver faster advancement.
Three other Madden 16 Connected Franchise Mode problems are convincing some users to wait for a patch from EA before playing.
Player Ratings Issues
Regression Problems
Re-Sign Bug
The Madden 16 Re-sign bug allows players to re-sign any player for basically nothing. This is an issue that EA will need to fix, so we don't have a solution yet.
Other Madden 16 Problems
We are seeing some other random Madden 16 problems like getting stuck in replay mode and Madden 16 camera problems.
You may be able to fix the camera problems by making sure your console screen size is correct in settings on your console or to look to make sure overscan is turned off on your TV.
Madden 16 vs Madden 15: 10 Key Differences
Madden 16 Catch Upgrades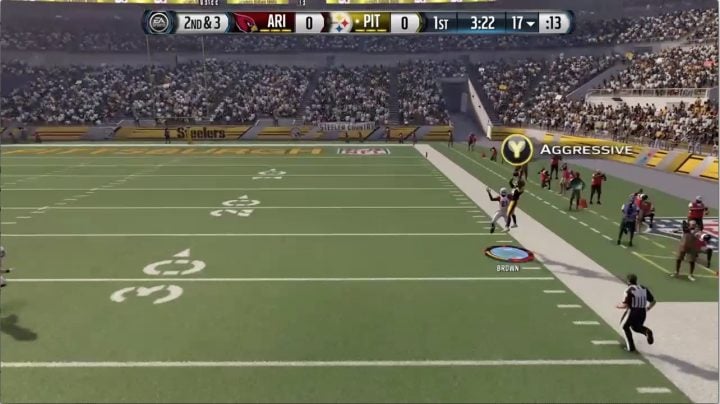 In Madden 15 catching the ball is a one choice option that either happens or doesn't -- and if you are lucky when you catch it you can still pick up some yards. The receiver doesn't play very differently from one situation to another.
In Madden 16 you can choose to catch the ball with an Aggressive Catch, a Run After Catch or a Possession Catch. This allows you to pick the right catch for the situation.
If it's a long bomb where you need to go high, you can control the receiver and go up to grab that ball for a spectacular to watch catch. Unfortunately if you are near the sideline you might end up out-of-bounds and the odds are good you won't pick up any more yards if you use this in the middle of the field.
The RAC option positions the receiver to add to the yards by catching with a focus on picking up more yards. This is perfect when throwing to a receiver that needs to pick up three or more yards after the catch to get the first down.
Other times you just need to make a catch so that you can get the first down or keep the clock running. The Possession catch option delivers a catch that you are more likely to hold on to, but you might not get any added yards and if there is a lot of pressure you may miss out.
You can control all of these after the throw and it actually works really well.