Dell Latitude 14 5480 Review: Solidly for Business
What if a laptop didn't offer you incredible looks, but did deliver a best-in-class experience? What if it had amazing battery life, a decent enough display and the latest processors? Dell, one of the biggest makers of Windows laptops in the world, changed the way people thought about high-end notebooks with the Dell XPS 13 and Dell XPS 15. Those notebooks are aimed at normal users with a hunger for a machine that would attract attention. The Dell Latitude 14 5480 is made for a different kind of user.
Starting at $769 at Dell.com, this laptop skips the fashion show. A nearly endless amount of configuration options let you choose the features you need to run your small, medium or large business. Dell has made promises of all-day battery life, nearly endless configuration and solid build quality. This is on top of including support for the latest technologies that IT professionals want.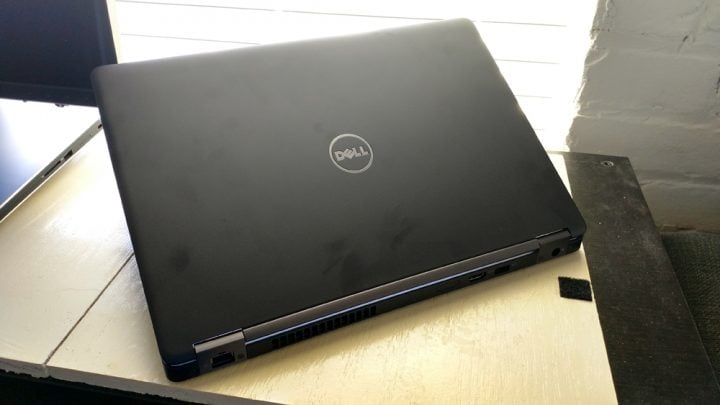 The Dell Latitude 14 5480 isn't as attractive by most standards. That being said, the company has packed enough in here that you'll find yourself not caring one bit.
Dell Latitude 14 5480 Review: Design & Internals
To be clear, no one is being unfair when they call the Latitude 14 5480 unattractive. It doesn't adhere to the same norms that high-end notebooks do. At a time when most devices in its price range – business and user focused – are coming with premium materials, the Latitude 14 5480 looks dull.
Every surface of the laptop, from the lid to the keyboard deck is made of a matte plastic that doesn't demand to be stared at from across a room. That makes sense, if you're buying this notebook, you want a tool and not a fashion statement. On the top of the lid is just the Dell logo. On the bottom are vents for getting air into and out of the frame. The use of plastics has allowed Dell to keep this machine relatively light and pass MIL-STD 810G certification for ruggedness. It weighs only 3.52 pounds.
Dell is one of the few companies that still breaks up ports across notebooks. On the left edge is a full-size USB 3.0 port with power sharing technology for charging other devices, a SmartCard slot and an SD card slot. There's also a Display Port over USB Type-C port that buyers can switch over to a full Thunderbolt 3.0 port if they need one. Along the right edge of the laptop are a headset/microphone jack, another USB 3.0 port, a VGA port and a lock slot.
Smartly, Dell has placed all the ports that you'd need for a presentation on the back edge. The full-size HDMI port, a third USB 3.0 port, power port and Ethernet Port are all back there. Docking when you get to a desk is convenient.
The keyboard deck doesn't hold many surprises. A blue and black track point sit in the center of the island style keyboard. Depending on the upgrades that you decide on, there's a fingerprint reader with an optional NFC chip built into the palm rest. Both have security implications.
Because this isn't one of Dell's nearly bezel-free designs, a high-definition web camera and microphone array sit just above the 14-inch high-definition touchscreen display instead of below it. This, again, depends on configuration. Less expensive models only have a high-definition LCD display that doesn't offer touch input. You can also add a Windows Hello ready camera for face sign in.
Gotta Be Mobile's review model also came with an Intel Core i7-76000U processor, Intel HD Graphics 620, 8GB of DDR4 RAM, a 256GB solid state drive and Microsoft's Windows 10 Professional operating system. As configured, it sells for $1,551, according to Dell.
Dell Latitude 14 5480 Review: Experience
The Dell Latitude 14 5480 isn't for gaming events. It is for giving presentations in the board room. It's for connecting to your work intranet and getting things done after you've left the office. It's for multitasking and staying ahead of your workload on a plane and after you've boarded a train.
The machine can handle anything you can throw at it – within reason. Desktop productivity applications – things like Word and Photoshop – load quickly. It has no issues with juggling lots of programs and apps at one time. That is, as long as you've configured your version with 8GB of RAM or more. Those using 3D modeling programs and graphics-intensive apps will be better served by adding a NVIDIA graphics card to their configuration and not relying on Intel's integrated graphics, however. The system's  VPro technology makes virtualization and management easy.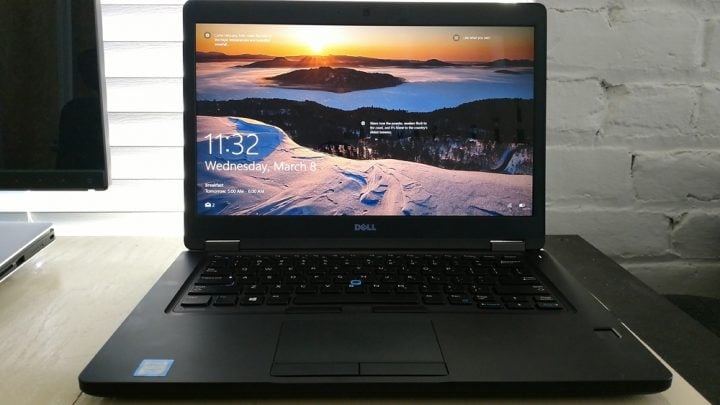 I've seen work horse systems that are a constant source of fan noise. Dell is to be commended here for keeping that to a minimum. Most of the time, the machine stays silent. You'll know when there's something resource intensive going on in the background, though. The fan inside can get loud.
Windows 10 Professional comes with enhanced options for management and hardware encryption. Using the built-in fingerprint reader and Windows Hello, you can secure the Latitude 14 5480 without having to type in a password. This fingerprint reader works as expected.
Read: Windows 10 Anniversary Update Review
As for the display, the viewing angles are great, though the glossy finish is going to get you some serious reflection in some lighting situations. We've all heard the talk of 4K displays, but the Dell Latitude 14 5480 is proof that HD displays still have a place. The display is clear, and the gloss makes everything on the display pop. The touchscreen technology built into the display works just fine.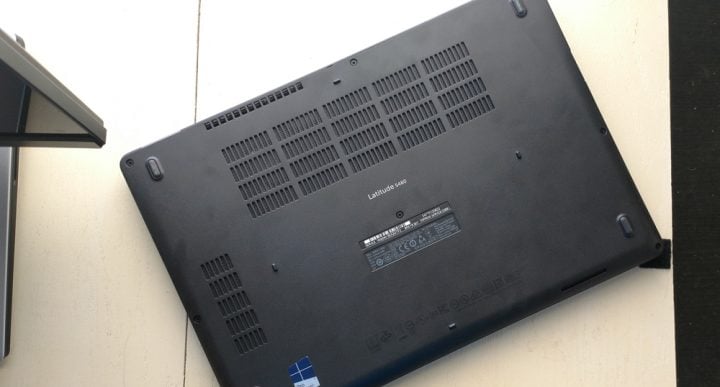 There are so many things to worry about during the work day that having to find a plug to keep your laptop charged seems like it'd be a thing of the past. It's not, plenty of companies are still promising and not delivering "all-day battery life." Dell isn't one of them; the Latitude 14 5480 will get you through an entire day with the screen brightness at around half.
If you stick to browsers and document creation, this notebook will last around 11 hours. That's the time I got out of it. I managed to stretch this out to about 13 hours. Windows 10's Battery Saver utility helped get me there. From my home office to the coffee shop, to the library, this notebook's battery held up. It's a good thing that it does so well, too. Dell decided not to make the battery user-replaceable. As this is a notebook aimed at businesses, that's bound to rub some stalwarts the wrong way. Lots of professionals still like being able to replace batteries on their own.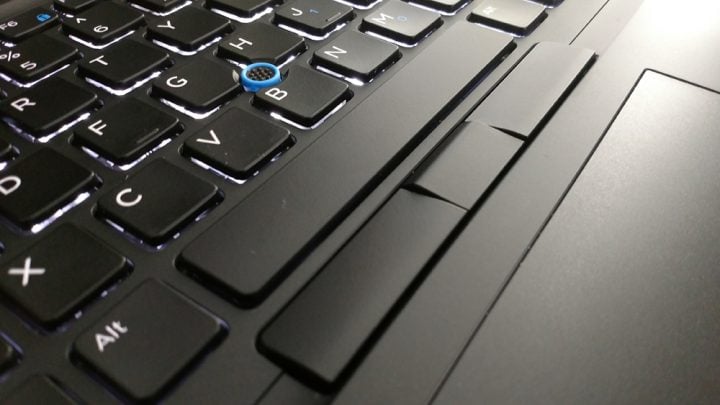 Only a few things bothered me during my time with the Dell Latitude 14 5480 and they were both related to input methods.
The island-style keyboard has generous spacing. Every key is backlit too, leading me to assume early on that I'd love it. I don't love it, though. Key presses feel a little too soft and mushy. In fact, a few times I caught myself mistyping because of their softness. I suspect that the mechanism underneath each key has this feeling because Dell wanted to keep key presses reasonably quiet. If true, that's an admirable idea. This notebook will be used in open-concept offices a great deal. I'd have liked to get the best of both worlds, though. The buttons that act as left-click and right-click for the track point suffer from this as well.
Second, if you do decide to purchase the Dell Latitude 14 5480, do so knowing that you'll need to fiddle with the trackpad settings to get it to your liking. Luckily, Dell makes that easy with a dedicated utility. If you're coming from a device that has a glass trackpad, the textured plastic trackpad of this machine will feel awkward. It was the texture that forced me into pairing this laptop with a mouse after a week.
Dell Latitude 14 5480 Review: Specifications
Processor & Graphics
2.8GHz 7th Generation Intel Core i7-7600U

Intel HD 620 Graphics

(Optional NVIDIA GeForce 930MX Graphics)

Memory & Storage
8GB of DDR4 RAM

256GB SATA Solid State Drive

Display
14-inch LCD 1920 x 1080p Display

Gloss

Touch Support

(Options without touch)

Ports & Extras
·       3 USB 3.0 Ports

·       Ethernet

·       HD Web Camera

·       HDMI

·       SIM Card Slot

·       Memory Card Reader

·       Headset Jack

·       SmartCard and Fingerprint Reader

·       Display Port over USB Type-C

·       Noble Wedge Lock Slot

(Optional Windows Hello Camera)

(Optional Mobile Internet Modem)

Battery Life
14 hours
Dimensions & Weight
.88-inches x 13.1-inches x 9-inches, 3.52 lbs.
Dell Latitude 14 5480 Review: Should You Buy?
The Dell Latitude 14 5480 is a solid machine, with great internals. For the small business or average user not worried about looks, it's a wise investment for sure.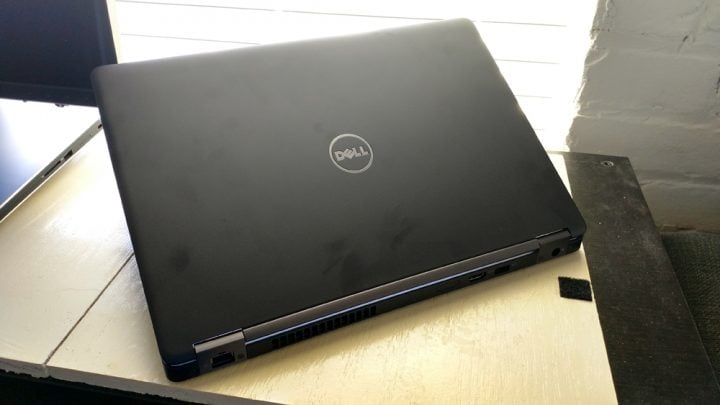 There are things to not like about the notebook. I don't like the keyboard or the trackpad. Fan noise isn't something I like either, especially when you can hear it from across a room with a television on. Getting this notebook with the latest internals and best options adds up quickly.
Those negatives are far outweighed by all the great things this laptop has to offer. Putting all the ports necessary for docking and presentation in the back seems like a small thing, but it's not. For a business user, it's critical. So is that VGA port and the SD card slot. The track point is a must, and the battery life is amazing.
The Dell Latitude 14 5480 belongs on any list of great full-size business machines. To decide if it's perfect for your needs, head to Dell's website to configure it for your needs, then make your decision based on price.

As an Amazon Associate I earn from qualifying purchases.