Destiny Codes Unlock Upgrades & Customization
Here's one more thing you should do before the Destiny release date arrives tomorrow. You can enter these Destiny codes to unlock character customization and trading cards right now so that you start with a few extra options in Destiny.
These are not Destiny cheat codes, and with so much emphasis on the long play and leveling up you shouldn't expect any Destiny cheats to arrive anytime soon.
The Destiny codes appeared a long time ago, in 2013 to be exact, and now that we are a day before the Destiny release date you can quickly enter all the codes to unlock cards, emblems and shaders that will be waiting for you when you turn Destiny on.
Here's a look at the Destiny codes released over the past year and what you can do with them when you enter the codes online. The codes unlock;
Destiny Grimore Cards – Collectible cards that fill in details about the Destiny Story
Emblems – Offer a new emblem to use with your Guardian.
Shaders – Change the Color of your character's gear for a new look.
In all there are 25 Destiny codes that you need to enter to unlock these on Xbox or PlayStation. You redeem the Destiny codes online and the items will appear in game for you on the Xbox One, PS4, PS3 and Xbox 360.
You need to sign in with your Xbox Live or PlayStation Network username so that they will appear on your account. If you already entered some of the codes, but cannot remember which ones you can enter them again without any problems.
Typing in 25 codes is a pain, so a Reddit user created a script that runs in Chrome to let you enter all the Destiny codes quickly and get all the Destiny extras without copying and pasting.
When you visit the Destiny Code redemption in Chrome you can press Ctrl + Shift +J and paste in the code from Reddit, press enter and claim the codes. On Mac go to View – Developer Options – Javascript Console then paste the code and hit enter.
This video explains more about Grimore cards, explaining why you'll want to do with these cards. Some of the benefits include faster experience while using weapons, earning more glimmer when killing with a consumable and extra material drops in specific areas. At first glance Grimore cards only offer story background, but as you level up you can unlock some extra items quicker.
Destiny Codes List
For users that want to enter the Destiny Codes manually or see more about what they offer you can check out the list of Destiny codes below.
Warlock – YKA-RJG-MH9
Hunter – 3DA-P4X-F6A
Titan – MVD-4N3-NKH
Rixis – TCN-HCD-TGY
Old-Russia – HDX-ALM-V4K
Hive – 473-MXR-3X9
Moon – JMR-LFN-4A3
Gjallorhorn – HC3-H44-DKC
Duke MK.44 – 69P-KRM-JJA
The Tower – 69P-VCH-337
The Hive – Ogre 69R-CKD-X7L
Valley of the kings, Mars – 69R-DDD-FCP
The Fallen – 69R-F99-AXG
Red Death – 69R-VL7-J6A
The Cabal – 69X-DJN-74V
The Devastated Coast, Venus – 6A7-7NP-3X7
Vex Minotaur – 6A9-DTG-YGN
Sign of the Finite – 7F9-767-F74
Binding Focus – FJ9-LAM-67F
Illusion of Light – JD7-4CM-HJG
Ab Aeterno – JDT-NLC-JKM
Field of Light – JNX-DMH-XLA
Lone Focus – Jagged Edge – 7CP-94V-LFP
Double Banshee – 7MM-VPD-MHP
Oracle 99 – RXC-9XJ-4MH
The Destiny Release date is September 9th and several retailers offer a special midnight Destiny release date event starting around 6PM today, September 8th.
If you are still waiting to buy, you can buy [easyazon_link asin="B00BGA9Y3W" locale="US" new_window="default" nofollow="default" tag="gbm-ea-20″ add_to_cart="default" cloaking="default" localization="default" popups="default"]Destiny – PlayStation 4[/easyazon_link] for $59.99 or you can check out the numerous Destiny deals that offer free upgrades or a free copy of Destiny with the purchase of a new Xbox One.
Top PS4 Games to Buy in 2014
Call of Duty Advanced Warfare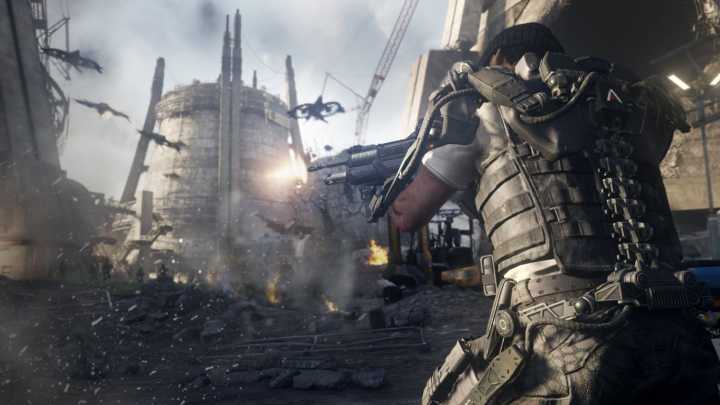 PS4 Call of Duty Advanced Warfare Details:

Call of Duty Advanced Warfare Release Date: 11/4/14
Pre-Order Bonus: Brass exoskeleton, EMP Weapon
Special Editions: Yes
Exclusive: No

Call of Duty Advanced Warfare is one of the top PS4 games to buy in 2014 not only becuase it is a new Call of Duty game, but because it is ready for a PS4 lacking fun shooters.

Yest it arrives into a fall filled with Destiny, but Killzone didn't live up to the excitement and there is no Titanfall for PS4.

Instead gamers get this Kevin Spacey filled Call of Duty Advanced Warfare release that delivers a super soldier with smart weapons and access to technology like never before including drones and hoverbikes.

Call of Duty Advanced Warfare Gameplay Video