Destiny Multiplayer Video Details 5 Exciting Features
The new Destiny Multiplayer video highlights 5 exciting features that are part of the Destiny Multiplayer experience. Thanks to the Destiny Beta we were able to play the Destiny Multiplayer already, but it only offered a taste of the experience that arrives this fall.
At the Destiny release in September gamers can play the following Destiny Multiplayer game types, and experience a more polished version of the game. The Destiny Beta is where Bungie honed the experience and prepared their servers for the onslaught of players who will want a chance to play the Destiny Multiplayer experience on day one.
At GamesCom 2014 the Destiny Multiplayer video arrived to show a cinematic look at the Destiny Multiplayer experience. This is much needed as Bungie's Destiny Multiplayer goes up against Call of Duty Advanced Warfare this fall to compete for gamer time and for DLC dollars that will bring new maps and weapons.
Watch the Destiny Multiplayer video below then dive into what it tells us about the Destiny Multiplayer experience coming this fall. If you missed all of the cool items that flashed on-screen, like Iron Banner rewards and the Multiplayer achievements that show up in-game, we have a list and screenshots below.
Destiny Multiplayer Game Types
Based on the Destiny Multiplayer video gamers get to play seven different game types at the Destiny release in September. There is an emphasis on team gameplay, which ties into the co-op focused FireSquads you will need to work with during single player missions. There are still some solitary Destiny Multiplayer game types for gamers that want to play without the help or hassle of teammates.
Skirmish – Small team tactics, Kill the enemy. Revive teammates.
Rumble – Kill everything. Watch your back.
Salvage – Salvage relics. Kill enemy players. Revive teammates
Clash – All-out team warfare. Destroy the enemy
Combined Arms – All-out team warfare with vehicles. Destroy the enemy.
Control – Capture Zones to increase points for every kill.
Iron Banner – Power matters. Earn epic rewards & gear.
Over time we may see more game types arrive and we could see gamers invent new ones similar to the variety of home-grown Halo gametypes that arrived.
Destiny Multiplayer Achievements
While you are playing the Destiny Multiplayer experience you will be able to earn in-game achievements that denote special actions. These aren't achievements like you can unlock on the Xbox, but rather small medals for special items during the game. They may add up to help you earn items, or level up, but it is not clear yet.
Here are a few of the special Destiny Multiplayer awards we found in the video.
Double Down
Triple Down
MarksMan
Stick-em
Merciless
Space Magic
Expect to see many more when you start playing the Destiny Multiplayer this fall.
Fast Paced and Fun
We already know that the Destiny Multiplayer experience is fun thanks to the Destiny Beta, but in the Destiny Multiplayer video we get a look at some fast paced and fun takedowns.
Slide under an obstacle for a surprise kill.
Use magic to take down the enemy. This isn't just a battle of guns and grenades.
Vehicle takedowns are epic. One of the takedowns involves hurtling yourself at a tank and destroying it.
Look for more fast paced fun at the Destiny release.
Iron Banner Rewards
During the Destiny Beta we got a taste of the Iron Banner, a Destiny Multiplayer mode that takes your gear and weapons into account for more challenging play. In this mode there are also Iron Banner rewards. The Destiny Multiplayer video shows nine Iron banner rewards listed below. Expect to see many more.
Timur's Lash – Hand Cannon – 184 Attack
Iron Regalia Gloves – Guantlets – 169 Defense
Mask of the Iron Lords – Helmet – 141 Defense
Sleeves of the Iron Lords – Gauntlets – 115 Defense
Mantle of Efrideet – Hunter Cloak – Stand in Fire with no Damage
Efrideet's Spear – Sniper Rifle – 215 Attack
Radagast's Fury – Rocket Launcher – 207 Attack
Iron Regalia Vestements – Chest Armor – 225 Defense
Iron Regalia Hood – Helmet – 206 Defense
Ton's of Maps & More Coming in December
PlayStation users get the Destiny Multiplayer Exodus Blue map first. Bungie is working on two Destiny Expansions. The first of which is The Dark Below. The Dark Below expansion will come to everyone soon, according to the on stage announcement.
Top PS4 Games to Buy in 2014
Call of Duty Advanced Warfare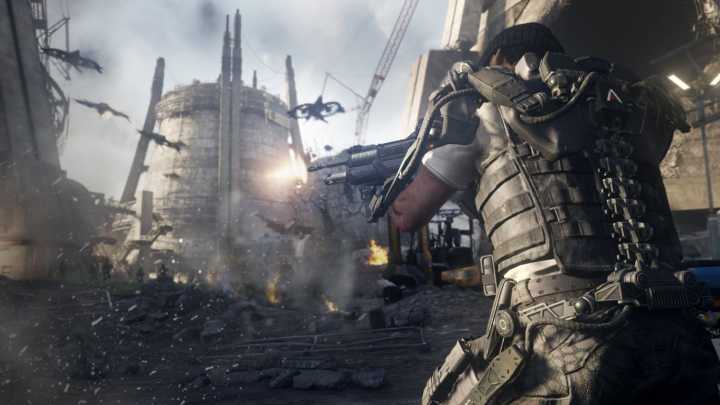 PS4 Call of Duty Advanced Warfare Details:

Call of Duty Advanced Warfare Release Date: 11/4/14
Pre-Order Bonus: Brass exoskeleton, EMP Weapon
Special Editions: Yes
Exclusive: No

Call of Duty Advanced Warfare is one of the top PS4 games to buy in 2014 not only becuase it is a new Call of Duty game, but because it is ready for a PS4 lacking fun shooters.

Yest it arrives into a fall filled with Destiny, but Killzone didn't live up to the excitement and there is no Titanfall for PS4.

Instead gamers get this Kevin Spacey filled Call of Duty Advanced Warfare release that delivers a super soldier with smart weapons and access to technology like never before including drones and hoverbikes.

Call of Duty Advanced Warfare Gameplay Video

As an Amazon Associate I earn from qualifying purchases.