Early FIFA 15 Release Date Arrives Today
The FIFA 15 release date is next Tuesday, but Xbox One gamers can start playing FIFA 15 today with full access to the game – five days early.
You'll need an Xbox One and an EA Access subscription of $4.99 a month to get in on the early FIFA 15 release date playtime, but with this purchase you also get a 10% discount on digital purchases including FIFA 15 from the Xbox Store — so you come out $1 ahead. For more, check out is EA Access Worth Buying?
In addition to playing the full version of FIFA 15 early you gain access to titles like Madden 25, Peggle 2, Battlefield 4, Need For Speed Rivals and FIFA 14.
The [easyazon_link asin="B00KPY1GJA" locale="US" new_window="default" nofollow="default" tag="gbm-ea-20″ add_to_cart="default" cloaking="default" localization="default" popups="default"]FIFA 15 release[/easyazon_link] arrives on September 23rd for $59.99 in the U.S.
EA confirmed the early FIFA 15 release earlier this month, and now you can finally download the FIFA 15 trial and start playing.
[easyazon_block add_to_cart="default" align="right" asin="B00KPY1GJA" cloaking="default" layout="left" localization="default" locale="US" nofollow="default" new_window="default" tag="gbm-ea-20″]This is early FIFA 15 release offers much more than the free FIFA 15 demo that is available to all gamers. This is a full version of the game that allows users to get started on Ultimate Team modes and other features and all progress carries over to the full game.
There is one big catch. You can only play the FIFA 15 trial for six hours before the game deactivates. This includes all time spent in the menus and time played, so keep that in mind when you start playing FIFA 15. It's a good idea to quit the game and launch another just to make sure the timer stops.
If you subscribe to EA Access you can search for FIFA 15 Trial to start the download. You can do this from the Xbox One or from the SmartGlass app on iPhone, Android or Windows Phone. Expect a hefty download, so it's a good idea to try to start it from work or school so you don't waste your night waiting for the FIFA 15 download.
FIFA fans, get ready, EA Access members can start the FIFA 15 trial tomorrow.

What will you be doing first? pic.twitter.com/zhLFQrqPsf

— EA Access (@EAAccess) September 17, 2014
Another bonus to this program is that in addition to your progress carrying over to the full FIFA 15 release, you don't need to install from the disc or download the game again. When the release arrives just put the disc in or choose to play your digital FIFA 15 purchase and you"ll be up and running.
Read: 5 Reasons to Buy FIFA 15 on Xbox One or PS4
EA Access is only available on the Xbox One, but there is a separate early FIFA 15 release date this weekend for PS3 and Xbox 360 called Season Ticket. This is $19.99 and includes three days of early play and a bunch of added Ultimate Team packs.
If you still have questions about the FIFA 15 trial, EA includes answers to common questions on a support page.
The videos above highlight many of the new FIFA 15 features that EA delivered this year. In addition to better graphics there are smarter goalkeepers, more intelligent players and emotional reactions as well as a living pitch.
Top PS4 Games to Buy in 2014
Call of Duty Advanced Warfare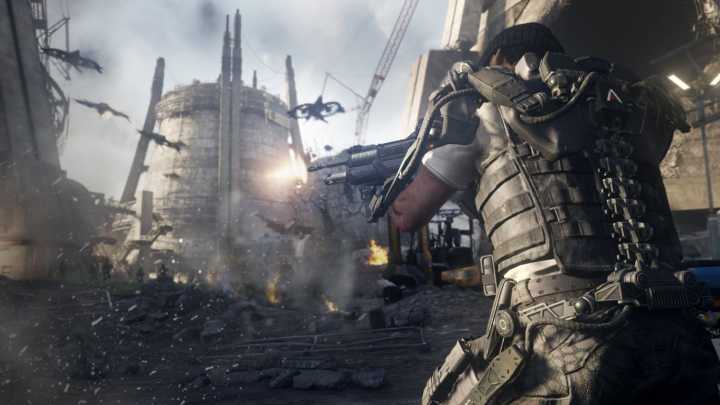 PS4 Call of Duty Advanced Warfare Details:

Call of Duty Advanced Warfare Release Date: 11/4/14
Pre-Order Bonus: Brass exoskeleton, EMP Weapon
Special Editions: Yes
Exclusive: No

Call of Duty Advanced Warfare is one of the top PS4 games to buy in 2014 not only becuase it is a new Call of Duty game, but because it is ready for a PS4 lacking fun shooters.

Yest it arrives into a fall filled with Destiny, but Killzone didn't live up to the excitement and there is no Titanfall for PS4.

Instead gamers get this Kevin Spacey filled Call of Duty Advanced Warfare release that delivers a super soldier with smart weapons and access to technology like never before including drones and hoverbikes.

Call of Duty Advanced Warfare Gameplay Video