Samsung Galaxy S9 Release Date All But Confirmed
Samsung recently confirmed the Galaxy S9 release date is next month, and now we've received even more exciting information for potential buyers. While reports and rumors have swirled for months, it looks like Samsung will finally get back to its early release schedule in 2018. Here's what you need to know.
If everything we're hearing is correct, Samsung will formally announce its two new phones in just over a month. Then, you'll be able to buy the Galaxy S9 or bigger Galaxy S9+ in exactly two months.
Read: Why You Shouldn't Buy the Galaxy S8 Right Now
To be specific, our sources indicate the Galaxy S9 will get unveiled on February 25th or 26th, at Mobile World Congress, and hit stores on March 16th. Here's everything we know about both phones, and a few more details for potential buyers.
Official Galaxy S9 and S9+ launch coming at the end of February at MWC.
Pre-Orders could begin as early as February 26th or on March 1st.
Galaxy S9 release date potentially scheduled for March 16th. 
Now that we've gone over some of the basic but most important information, here's where this info is coming from. We'll also tell you everything we know about Samsung's upcoming two new phones. Additionally, we'll share information regarding why you'll want the bigger Galaxy S9 Plus.
Galaxy S9 Launch Date
Sadly the S9 didn't get announced at CES 2018 in Las Vegas like some rumors suggested. However, Samsung's mobile chief DJ Koh confirmed the launch date plans for the Galaxy S9 to ZDNet, which should have you excited.
"DJ Koh, president of Samsung's mobile business, said its first flagship smartphone of the year will debut at the [Mobile World Congress] trade show in February with the sales date also announced at the event, at a press conference at CES in Las Vegas."
According to that statement, Samsung will officially announce and launch the Galaxy S9 around February 25-26th. Then, during the unveil the company will confirm the release date, pre-orders, and share a few other exciting details. This means we have just over a month to wait, and that's it.
If true, expect a slew of leaks, photos, and possibly hands-on videos to surface in the coming weeks and before the March release date. Yes, Samsung's new phone should arrive in March.
Galaxy S9 Release Date
Samsung's Galaxy S9 and S9+ will reportedly be released on or around March 16th. This comes directly from sources close to Evan Blass, known as @evleaks on Twitter. He's been extremely accurate in the past, and typically shares trusted information.
And while this is far earlier than the mid-April release of the Galaxy S8 in 2017, it closely resembles the release date for all other Samsung Galaxy phones prior to last year.
According to a C-level executive at a major casemaker, the go-to-market schedule for Galaxy S9 / S9+ is as follows:

Launch – 2/26
Pre-orders – 3/1
Ships/releases – 3/16

— Evan Blass (@evleaks) January 16, 2018
As an example, the Galaxy S6 and Galaxy S7 both arrived within the first two weeks of March. The Galaxy S7 was available around the globe on March 11th. The only reason the Galaxy S8 arrived late was due to strict battery testing to ensure safety. Now that Samsung has a year under its belt, it will confidently release the Galaxy S9 and S9 Plus earlier than expected.
His sources claim a February announcement, quick pre-orders a few days later, and a release date of March 16th. That's a Friday, which is typically the day Samsung releases new phones.
Keep in mind that this is only a rumor, coming from a case manufacturer, but it does line up nicely with other rumors and other release schedules. We'll update this post if we learn anything new.
Other Galaxy S9 Details
For those unaware, here's everything we know about the Galaxy S9 so far. Our information suggests Samsung will keep the same 5.8 and 6.2-inch Quad-HD curved displays, and make important changes elsewhere on the phones. Most notably moving the fingerprint scanner to the center back of the phone, under the camera sensor. Instead of placing it off to the side where it's hard to reach, something many complained about with the Galaxy S8.
Other big changes are with the battery and camera. Rumors state Samsung's adding an industry leading variable aperture camera to the Galaxy S9. Meaning the camera can change the aperture on the fly, for the best possible photos. Delivering an impressive f/1.5 aperture and f/2.4 for other situations. Improving everything from the speed, quality, to low-light performance of the camera. This is in addition to a new Super Slo-Mo mode of 1000 fps, and more.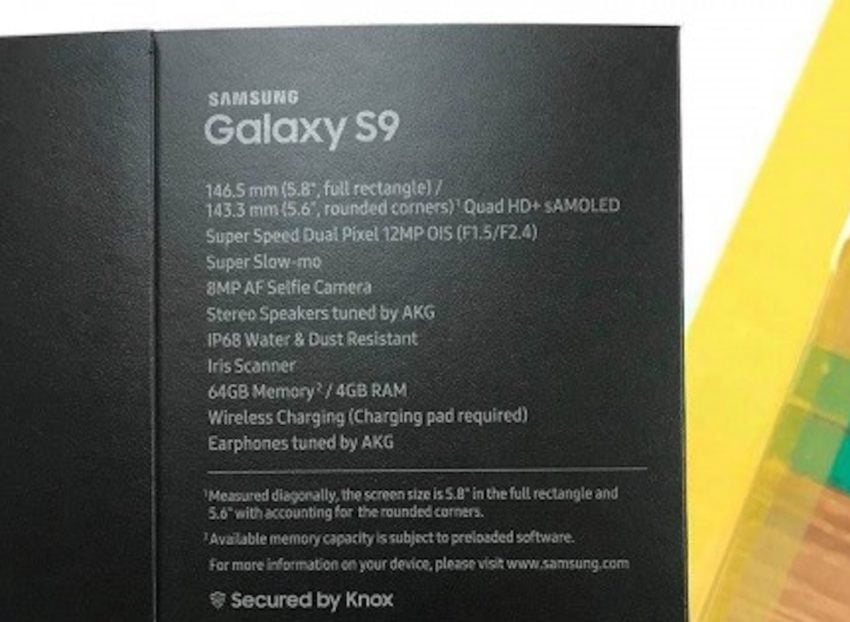 Above, you see a recently leaked image of the Galaxy S9 box. This confirms information about the screen, camera, specs, features, and even new dual stereo speakers — a first for Samsung's Galaxy S line.
We're also hearing the company will add a bigger battery to both phones, keep the 3.5mm headphone jack, and slim down the bezels more to compete with the iPhone X. Stay tuned for more details, and get ready for the Galaxy S9 and S9+ next month.

As an Amazon Associate I earn from qualifying purchases.