Samsung Galaxy S9 Release Date, Specs, News & Rumors
The Samsung Galaxy S9 release date is only a month away, and that means exciting news and rumors are surfacing daily. Now that Samsung confirmed the February 25th launch event, information and photos continue to trickle in. Here, we'll go over the latest Galaxy S9 release rumors, specs, leaked photos, and everything we're hearing so far. This is what to expect from Samsung's new phones in February.
Even though the Galaxy Note 8 is still fairly new, potential buyers are already looking ahead to what's next. And with reports of a March 11-16th release date, the wait is almost over. As you can see from the event invite above, the Galaxy S9 features the camera — reimagined.
Read: Galaxy S9 vs Galaxy S8: What We Know So Far
Samsung recently confirmed the company will host its first annual Samsung "Unpacked" event on February 25th in Spain. On that stage, they'll formally unveil the Galaxy S9 and a bigger, dual camera Galaxy S9+. Well, that's what we're expecting at least.
From what we're hearing the Galaxy S9 will closely resemble the Galaxy S8 from 2017. Delivering small but meaningful changes throughout. However, the S9+ might have a few nice tricks up its sleeve. As the launch nears more information will begin to surface. However, a lot of information is already floating around which we'll detail below.
Galaxy S9 Release Date: March 16th following a February 25th launch event
How Much Will the Galaxy S9 Cost?: $749 and $849, or $799 and $899 (Just a guess)
What is the Galaxy S9 and S9 Plus?: Samsung's premium flagship smartphone that delivers the latest cutting-edge specs and features to kick off the new year. Featuring a big bezel-free Infinity AMOLED display, world-class camera, and the latest version of Android. Samsung will once again release two phones, the Galaxy S9 and a bigger Galaxy S9+.
Now that you know a few of the basics and we've answered some important questions, read on for the latest news and rumors.
Galaxy S9 Release Date Rumors
Right now the rumors suggest a mid to early March release date, while others believe sometime in April is when they'll arrive. If I had to guess, I'd say March 9th or 16th, as Samsung always releases phones on a Friday.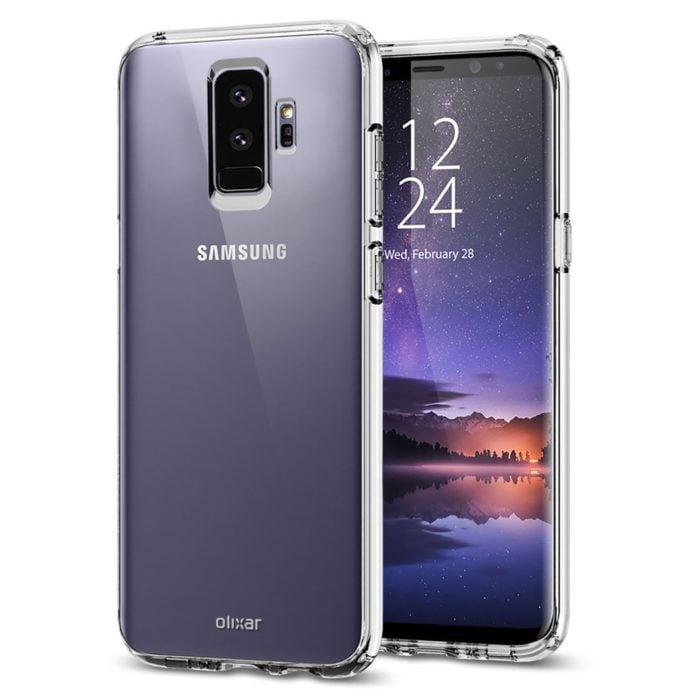 In fact, we're hearing reports and rumors that Samsung started manufacturing back in May, almost five months earlier than previous years. If those rumors are true, along with the February 25th announcement, that initial February 28th release date rumor could pan out. Although that's a little faster than usual, so we'll remain cautious. Either way, we're expecting a March 9-17th arrival, similar to previous years.
Adding fuel to these fires, the Galaxy S9 and S9+ cleared the FCC near the end of December. One of the last milestones before an inevitable launch and release date.
In 2017, the Galaxy S8 was announced in March and released near the end of April. Almost a month later than the Galaxy S7 from the year prior. That said, the Galaxy S6 arrived in February, ahead of Mobile World Congress, and we believe Samsung is back to that earlier release schedule.
Galaxy S9 & S9+ Display
Just as we said a few months ago, the new Galaxy S9 will feature the same 5.8 and 6.2-inch curved Quad-HD screens as the Galaxy S8 from last year. Nothing will change on that front, although we're hearing the bezels are slightly smaller overall. For the most part though, the front will be a familiar affair.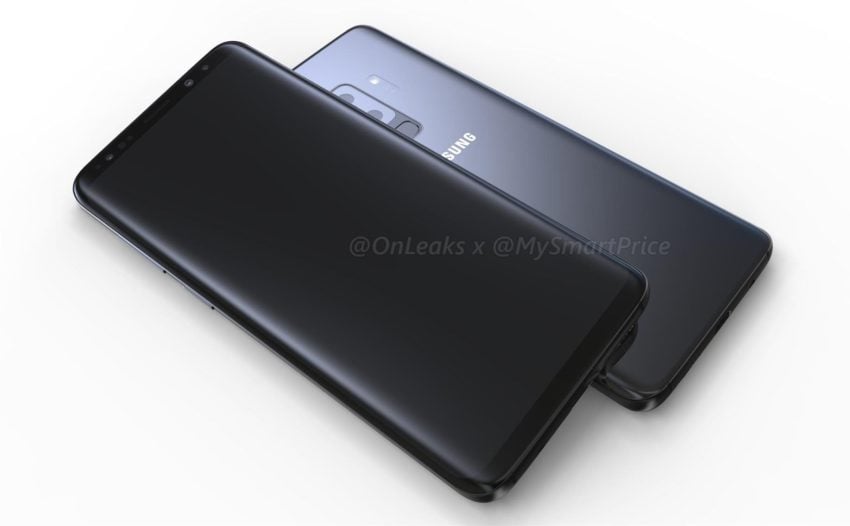 These two phones will hit the market with the latest screen technology from Samsung. Building on the success and popularity of the bezel-free curved display from the Galaxy S8 and Galaxy Note 8.
One thing we don't know yet is whether Samsung can ditch even more bezel to match the style of the iPhone X. So far all of the images we've seen suggest bezels that are basically the same size, or only a tiny bit smaller. Then, as expected, Samsung relocated the fingerprint scanner to under the camera sensor. This is to make it easier to reach, and an obvious choice considering the in-display sensor technology isn't quite ready yet.
Here's a fan-made render showing what the S9 and S9+ could look like with the screen stretching to the bottom, just like Apple's latest phone. We do believe Samsung will trim the bezel on the bottom a little bit, but not as much as the fake photo below.
Galaxy S9 Specs & Rumors
Each year we see similar upgrades to key areas of the experience. As a result, we're expecting the same typical upgrades across the board this year. Pair that with recently leaked information, and we have a pretty good idea of what to expect as the release date nears.Giving us a better idea of what to expect as the release date nears. Combine the typical upgrades with Samsung's announcements for processors and camera technology, and we're pretty confident with the information below. Or most of it.
Galaxy S9 Specs (Rumored)
5.8 and 6.2-inch 2880 x 1440 Quad-HD Infinity AMOLED Display, Curved
8-Core Snapdragon 845 Processor with 4GB of RAM (6GB of S9+)
Exynos Processor for models outside the United States
64 and 128GB of storage with microSD card expansion
Improved 12 Megapixel Camera with variable aperture, 1,000 fps, more
Dual 12MP Cameras on the bigger Galaxy S9+ only (just a rumor)
Android 8.1 Oreo with Samsung User Experience
Stereo Speakers tuned by AKG
IP68 Dust & Water-Resistance
3,200 mAh and 3,700 mAh Battery with Fast & Wireless Charging (or bigger)
USB Type-C, 3.5mm headphone jack, Bixby AI, Heart Rate Sensor, Iris Scanner, Facial Recognition
more
Both with 6GB RAM + 128GB internal storage with SD slot

Powered by Qualcomm SDM845 (US & China) and Exynos 9 Octa 10nm SoC

— Ben Geskin (@VenyaGeskin1) October 19, 2017
Trusted leakster Benjamin Geskin is already reporting something similar on Twitter, along with official Galaxy S9 logo images. Most of his information is pretty reliable. Benjamin's sources suggest the Galaxy S9 and S9+ will both have dual rear cameras, a setup that's better than the Galaxy Note 8.
On the flipside, Evan Blass claims only the bigger Galaxy S9+ will get dual cameras, along with 6GB of RAM. His report is further confirmed by @onleaks this week, who's renders only show dual cameras on the S9+, not the regular Galaxy S9. At this point it's almost certain that only the bigger phone will have two cameras. We're unsure how Samsung plans to use the variable aperture, or the secondary lens, though.
Both will feature improved Dual Cameras from the Note8

— Ben Geskin (@VenyaGeskin1) October 19, 2017
Basically, the Galaxy S9 and S9+ should deliver more of the same. A stunning design, beautiful bezel-free screens, highly capable cameras, and the latest hardware and software under the hood. Furthermore, Qualcomm just announced a powerful new Snapdragon 845 processor, which will likely power Samsung's next phone. Confirming an early 2018 release of the chip, one that delivers 30% improvements to performance, realistic "all-day battery life" and noteworthy improvements to photography, VR, and AI.
Combine the Qualcomm Snapdragon 845 changes with Samsung's own announcements for its latest camera, and we're pretty confident the Galaxy S9 will have the best smartphone camera on the market.
A few small leaks also suggest we'll see dual front-facing cameras and a bigger battery inside both phones. An increase to 3,200 mAh and 3,700 mAh, compared to 3,000 and 3,500 mAh in the Galaxy S8 and S8+. Those are both welcome changes.
Galaxy S9 Concept Images
With each upcoming phone, we see a wave of fan-made concept photos and videos. These typically incorporate the latest news and rumors, or the creators' vision of what the phone should look like. You can find plenty of Galaxy S9 concept photos and videos online, but the best ones come from the YouTube channel Waqar Khan.
These first few renders match early rumors, but that's all these are based off. Stretching the bezels closer to the sides for a truly edge-to-edge screen, returning the fingerprint scanner to the front, and adding dual cameras to the back of the Galaxy S9. Again, these are fan-made, and not official by any means.
At some point photos and information will leak right from Samsung or accessory partners, and give us a better idea of what's coming. For now, these concepts are enough to get buyers excited about Samsung's new phone. That, or see this newly leaked CAD render.
Galaxy S9 Price & Final Details
In closing, we wanted to talk about the potential price and a few other small details. So how much will these phones cost? Well, phones continue to get more expensive each year.
The Galaxy S8 cost under $800, but if some of the features above make the cut that price will climb. Earlier this year the Galaxy Note 8 hit shelves at $949, Samsung's most expensive smartphone ever. We're not expecting a price that high, but expect something similar. Mainly because if the Note 8 and iPhone X can go for $1,000 the Galaxy S9 can too, sadly.
Other details from recent leaks believe the Galaxy S9+ will have slight improvements over the Galaxy S9, making it more than just a bigger screen. Samsung also plans some new accessories, like a flat DeX Pad to replace the dock. The Dex Pad lets the Galaxy S9 lay flat and double as a keyboard, mouse, and other useful features.
At the end of the day, look out for the announcement from Samsung on February 25th, then a release date around March 11-16th, give or take a few days. These will be two powerful phones with a lot to like, and a high price to go with the excitement.
This is all the Galaxy S9 and Galaxy S9+ information we have so far. We'll learn more each and every week until the official unveiling. When we do, we'll keep you up to date with all the latest news. Are you excited about the Galaxy S9 even if it looks similar to the S8? Let us know in the comment section below.