Fallout 4 1.10 Update: What's New
A brand new Fallout 4 patch is rolling out and this guide will take you through the most important things you need to know about the new Fallout 4 1.10 update for Xbox One, PS4, and Windows PC.
Bethesda's latest Fallout 4 update doesn't come with a long list of bug fixes for issues plaguing the base game and its DLC expansions but it does bring some tweaks for mods and a brand new feature dubbed Creation Club.
The controversial new Fallout 4 feature, first revealed back in June, delivers new high quality content from Bethesda and outside developer partners. The company isn't calling this new content DLC (it's not a part of the Season Pass) and the add-ons aren't considered mods. Fallout 4 mods will remain free while gamers will need to pay real money for Creation Club content.
In order to deliver Creation Club to Xbox One, PlayStation 4, and Windows PC users, Bethesda's pushed out a brand new Fallout 4 update, the first since the Fallout 4 1.9 patch.
Now that the update is pushing out, here are the most important things you need to know about the latest and greatest Fallout 4 patch.
Fallout 4 1.10 Update Size
If you're planning to play Fallout 4 today or in the new future you'll need to download Bethesda's latest patch.
The Fallout 4 1.10 patch isn't tiny and it requires a decent amount of space on your console's hard drive. The patch is just a shade over 2GB on the Xbox One, 2.5GB in the United States, though the size will vary based on your platform and your region.
If you missed any of Bethesda's previous Fallout 4 updates, you'll be forced to download those files to your console or Windows PC.
It took us about 15 minutes to download the Fallout 4 1.10 update onto an Xbox One.
Fallout 4 Creation Club
The biggest change on board the Fallout 4 1.10 patch is Creation Club. If you plan to utilize content from Bethesda's new content farm, you'll need to download the 1.10 patch.
Once you download the new Fallout 4 update you'll notice Creation Club in the game's main menu. This will bring you to a new section, a marketplace, where you can purchase the new content as it arrives.
In order to purchase Creation Club content you'll need to purchase Creation Club Credits from the Xbox Store.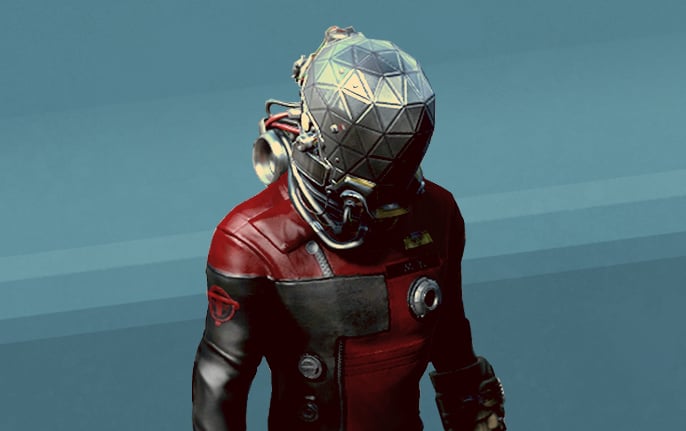 As of right now, there aren't many options but here's a breakdown of what you can purchase from the Fallout 4 Creation Club right now:
Hellfire Power Armor: 500 Credits
Chinese Stealth Armor: 400 Credits
Prototype Gauss Rifle: 400 Credits
Modular Military Backpack: 400 Credits
Morgan's Space Suit (Prey): 300 Credits
Modern Furniture Workshop Pack: 300 Credits
Horse Power Armor: 250 Credits
Handmade Shotgun: 200 Credits
Power Armor Onyx Paint Job: 100 Credits
Pip-Boy Swamp Paint Job: 50 Credits
Pip-Boy Chrome Paint Job: 50 Credits
Pip-BoyOnyx Paint Job: 50 Credits
Bethesda and its partners will deliver brand new content throughout the year so be on the lookout in the months ahead.
100 Free Creation Club Credits
Notice those credits in your account? That's not a mistake.
Bethesda's delivered 100 free Creation Club credits to all Fallout 4 users to celebrate and promote Creation Club. You can put them toward whatever you want.
New Features
The Fallout 4 1.10 update also delivers a few other features including a Message of the Day, Support for ESL file format and patch version numbers and notes added to Mod Details pages.
Bug Fixes
There are still numerous Fallout 4 problems plaguing the game and its DLC but the 1.10 patch only comes with a couple of bug fixes.
The patch features general stability fixes related to enabling and disabling Mods and it also comes with minor fixes to Bethesda.net functionality.
It's unclear when or even if Bethesda plans to deliver a new Fallout 4 bug fix update (the 1.9 update was released back in February) so you'll want to take a look at our list of fixes for common Fallout 4 problems if you do run into trouble with the game and the 1.10 patch.
189 PS4 & Xbox One Fallout 4 Mods You Should Try Right Now
keyNuker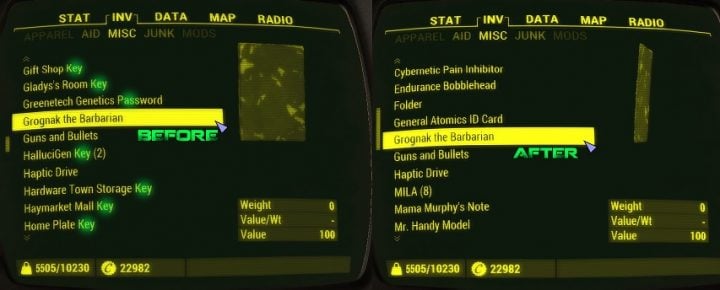 Let's start with one of our favorite PC Fallout 4 mods that quickly made it over to console.
keyNuker creates a key ring in your inventory that hides keys and passwords. With it installed, your MISC tab in on your Pip-Boy is going to be a lot more manageable, particularly if you're deep into the game with tons and tons of items listed.
The screenshot here shows you what the vanilla MISC tab looks like compared to the MISC tab with keyNuker installed. It's night and day.
This is one of our favorite Fallout 4 mods and one that should consider if you're tired of wasting time scrolling through hundreds (many of them worthless) of items.

As an Amazon Associate I earn from qualifying purchases.