Fallout 4 1.9 Update: What's New
The Fallout 4 1.9 update is now available for Xbox One, PlayStation 4 and PC and it's a big one. Today we want to take a look at everything you need to know about the Fallout 4 1.9 patch and its release for console and PC.
Bethesda's Fallout 4 1.8 patch arrived in November. Since then, gamers have been wondering when or even if the developer would update the popular game again. Fallout 4 problems are still an issue for many people.
Fortunately, we now have an official answer as Bethesda's released a brand new 1.9 patch for all three platforms.
The focus of Bethesda's new 1.9 update isn't on the lingering Fallout 4 problems plaguing Xbox One, PlayStation 4, and PC. Instead, the patch is focused on Fallout 4 mods, the PS4 Pro, and the game's graphics on the PC.
After a short stint in beta, the Fallout 4 1.9 update is now available for Windows PC, Xbox One, the PlayStation 4, and the PlayStation 4 Pro, as promised.
Here's a look at the 1.9 patch for Xbox One, PS4 and PC. We'll continue to update this with new information as we, and others, receive it.
Fallout 4 1.9 Update Size
The Fallout 4 1.9 update is accompanied by a high-resolution texture pack DLC for PC that requires 58GB of free space (See below). The 1.9 update is much smaller than that.
According to PC owners, the Fallout 4 1.9 update size for Windows is less than 90MB. You can expect a similar size for Xbox One and PS4.
Fallout 4 1.9 Update: What's New
Bethesda's official Fallout 4 1.9 update is similar to the beta that rolled out to Windows PC users a few days ago.
Mods
There are now thousands of Fallout 4 mods available for PC, Xbox One and PS4 and we expect the list to grow as we push into 2017. For a list of over 150 of the best Fallout 4 mods, see our extensive list for Xbox One and PS4.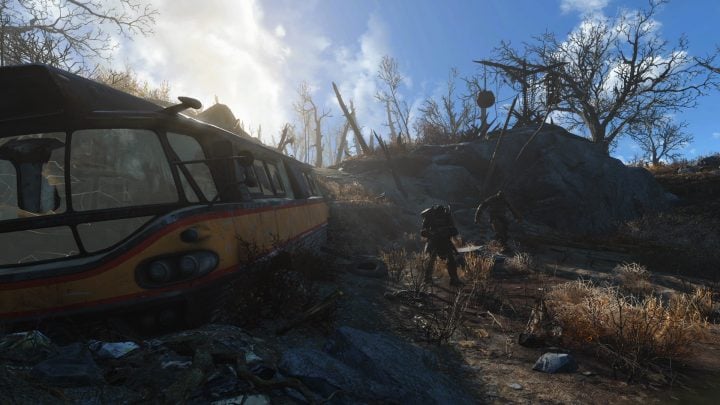 Bethesda continues to refine its mod platform for Fallout 4 and Skyrim Special Edition and the 1.9 patch delivers some key improvements to Fallout 4's mods.
Here are the changes the 1.9 update brings to mods:
Added Featured category for mods
Added ability to sort Highest Rated and Most Favorited filters by today, week, month and all time
Added number of ratings count to Mods Browsing Menu
Added number of favorites count to Mod Details page
Added required dependencies to Mod Details page
Added latest version number and notes to Mod Details page
Fallout 4 PS4 Pro Support
The crown jewel of the Fallout 4 1.9 update is (arguably) the support it brings for Sony's powerful PS4 Pro.
After a lengthy wait, Bethesda's finally upgraded the game with support for Sony's powerful version of the PS4.
The Fallout 4 1.9 update brings enhanced lighting and graphic features to the PlayStation 4 Pro. They include:
Native 1440p resolution
Enhanced draw distance for trees, grass, objects and NPCs
Enhanced Godray effects
You can get a feel for these changes in the video above.
Bug Fixes
The Fallout 4 1.9 patch also brings some bug fixes to the stable including general performance and stability improvements, improvements to reporting mods categories, a fix for occasional crashes while scrolling through Load Order menu, and improved Bethesda.net error messaging.
Fallout 4 1.9 Problems
The Fallout 4 1.9 update went through a beta but (surprise!) it looks like some problems have slipped through the cracks.
We're already starting to see complaints emerge on Bethesda's support forums, on Reddit and on social media.
Fallout 4 1.9 update problems include issues with textures, random crashes, issues with mods, and more. We expect the complaints to pickup as more people download this update.
If you help, take a look at our list of fixes for common Fallout 4 problems. The next Fallout 4 update could be weeks away so you'll need to be proactive.
If you do encounter an issue with the 1.9 update you'll want to report it to Bethesda. To do that, head over to its support forums and/or fill out this form.
High Resolution Pack DLC for PC
Bethesda has released a free Fallout 4 High-Resolution Texture Pack for Windows PC alongside the 1.9 update. The 1.9 update delivers the support needed to use the texture pack on your PC.
it's not an update. It's like dlc. You decide whether to download it

— Pete Hines (@DCDeacon) January 30, 2017
Note that the High-Resolution Texture Pack is like a DLC in that it's an optional download. Bethesda won't force you, or anyone else, to download it.
Recommended PC Specs
As the name suggests, the pack will enhance the game's graphics. Unfortunately, only select users are able to take advantage of this free gift.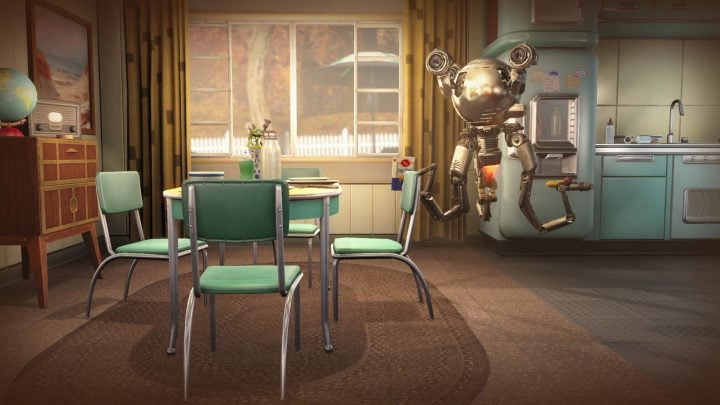 If you want to use the High-Resolution Texture Pack you'll need to make sure your "system meets/exceeds the recommended specs" listed below. This comes straight from Bethesda.
Windows 7/8/10 (64-bit OS required)
Intel Core i7-5820K or better
GTX 1080 8GB
8GB+ Ram
If you try the textures and you a) don't like them or b) discover your system can't handle them, you can always return to the original textures in the game's launcher menu.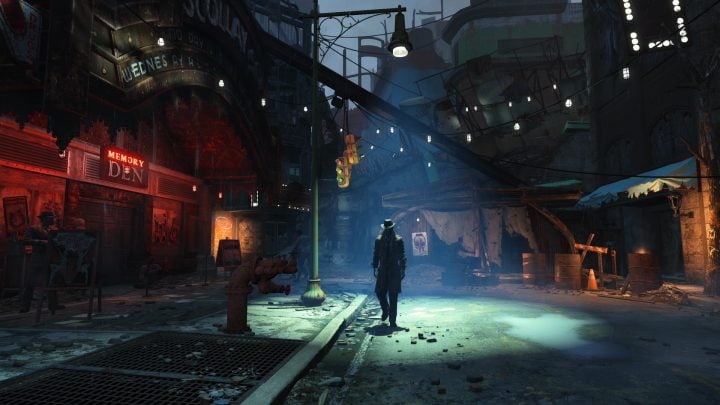 Again, you need the 1.9 update installed in order to use the texture pack.
58GB of Free Space
On top of these requirements, the High-Resolution Texture Pack requires an additional 58GB of storage space on your hard drive. That's a big number for a lot of people.
If you plan to use these textures and you're running out of space, now would be a good time to do some cleanup.
189 PS4 & Xbox One Fallout 4 Mods You Should Try Right Now
keyNuker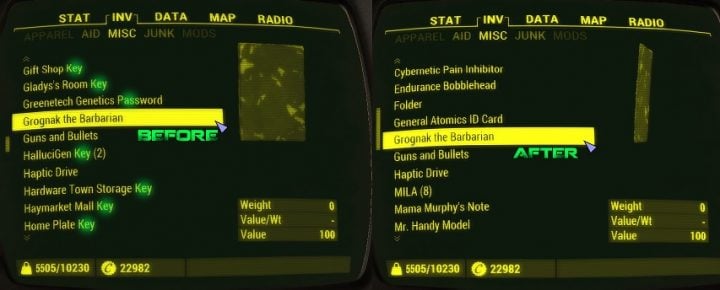 Let's start with one of our favorite PC Fallout 4 mods that quickly made it over to console.
keyNuker creates a key ring in your inventory that hides keys and passwords. With it installed, your MISC tab in on your Pip-Boy is going to be a lot more manageable, particularly if you're deep into the game with tons and tons of items listed.
The screenshot here shows you what the vanilla MISC tab looks like compared to the MISC tab with keyNuker installed. It's night and day.
This is one of our favorite Fallout 4 mods and one that should consider if you're tired of wasting time scrolling through hundreds (many of them worthless) of items.

As an Amazon Associate I earn from qualifying purchases.