5 Things to Know About Fallout 4 Creation Club
New Fallout 4 content is on the way for the Xbox One, PlayStation 4, and Windows PC but it won't included in the game's Season Pass. It'll also cost Fallout 4 players real money.
Fallout 4 took center stage at Bethesda's annual E3 showcase where the company detailed Fallout 4 VR and a new program for Fallout 4 and Skyrim Special Edition called Creation Club.
Bethesda has repeatedly said it won't release any more Fallout 4 DLC expansion packs but Creation Club, along with mods, will help keep the game alive with new downloadable content for Xbox, PlayStation, and PC. It's unclear if the program will be extended to Nintendo Switch.
Fallout 4 Creation Club is exciting but it's also a bit confusing and today we want to outline what we know about Bethesda's new program for gamers and developers.
Our guide goes over the most important things Fallout 4 owners, and Season Pass holders, need to know as we push away from its release.
What is Fallout 4 Creation Club?
In a nutshell, Fallout 4 Creation Club is a new program that delivers, downloadable content to Fallout 4. Only, Bethesda isn't calling this content DLC. They aren't mods either.
The content coming out of Creation Club will be developed by Bethesda Games Studios itself and outside development partners. Anyone can apply to become a content creator and those accepted will be paid for their work. Here's how the process works, according to Bethesda:
Creators are required to submit documentation pitches which go through an approval process. All content must be new and original. Once a concept is approved, a development schedule with Alpha, Beta and Release milestones is created. Creations go through our full development pipeline, which Creators participate in. Bethesda Game Studios developers work with Creators to iterate and polish their work along with full QA cycles.
So what type of downloadable content will these creators produce? You can expect new weapons, material skins, new outfits, new locations, new companions, new abilities, new enemies, and new types of gameplay like Fallout 4's survival mode.
The company's revealed the first batch of content for Fallout 4 and it currently includes Chinese Stealth Armor, the Modular Military Backpack, Morgan's Space Suit which is from the Bethesda title Prey, Pip-Boy Paint Job – Onyx, Pip-Boy Paint Job – Swamp Camo, Pip-Boy Paint Job – Chrome, Power Armor Paint Job – Black, Homemade Shotgun, Prototype Gauss Rifle, Modern Furniture Workshop Pack, Hellfire Power Armor, and Power Horse Armor.
All of the content from Creation Club will be compatible with the main game as well as the game's official DLC add-ons. This means that unlike mods, it won't turn off achievements and trophies. Bethesda describes the content as mini-DLCs.
They aren't mods. So it isn't affected.

— Pete Hines (@DCDeacon) June 12, 2017
The developer also says that PS4 users will get the full experience. PS4 Fallout 4 mods are limited because Sony doesn't allow mod developers to use external assets.
Fallout 4 Creation Club Release Date
Creation Club is now available to users on Steam though it's currently in beta for Windows PC. Bethesda says it plans to push Creation Club live for Xbox One, PS4 and Windows PC on August 29th.
The program will expand to Bethesda's Skyrim Special Edition in September though the company hasn't provided a specific release date.
How Much Does Fallout 4 Creation Club Content Cost?
Now that Creation Club is live, gamers can purchase the content via the in-game digital marketplaces in Fallout 4. Unlike mods, content from Creation Club creators (which again includes Bethesda itself) won't be free.
Content from Creation Club requires credits which you will can purchase on the PlayStation Network, Xbox Live, and Steam. Credits are transferable on Xbox One and PC and can be used in both Fallout 4 and Skyrim Special Edition on the same platform. Bethesda says PSN does not support transferable credits between both games.
It's easier to explain Creation Club by trying it yourself. All #Fallout4 players will get 100 Credits to start.

— Bethesda Game Studios (@BethesdaStudios) August 28, 2017
To help get the new platform off the ground, Bethesda has supplied all Fallout 4 owners with 100 free credits to put toward Creation Club content.
Fallout 4 Season Pass Holders Are Frustrated
Bethesda doesn't consider this new content DLC which means it will fall outside of the Fallout 4 Season Pass. Season Pass holders are expressing their frustration online but the company's policy hasn't and probably won't change.
They aren't mods

— Pete Hines (@DCDeacon) June 12, 2017
Creation club content is not DLC or mods

— Pete Hines (@DCDeacon) June 12, 2017
As a reminder, the Fallout 4 Season Pass nets you all six DLC expansion packs which include Nuka World, Far Harbor, and Automatron. Normally the Season Pass is $50 but we've seen retailers offer occasional deals on the content.
You can also buy Fallout 4 DLC expansions as standalone pieces of content.
Fallout 4 Mods Will Continue
Fallout 4 mods will remain free and Bethesda won't allow "existing mods to be retrofitted into Creation Club."
The content coming out of Creation Club will be entirely original and, again, will be "approved, curated, and taken through the full internal dev cycle; including localization, polishing, and testing."
There are a ton of incredible Fallout 4 mods out there but many of them suffer from frame rate issues and various other bugs and performance problems.
For a deep dive into the best Fallout 4 mods available right now, take a look at our roundup below.
189 PS4 & Xbox One Fallout 4 Mods You Should Try Right Now
keyNuker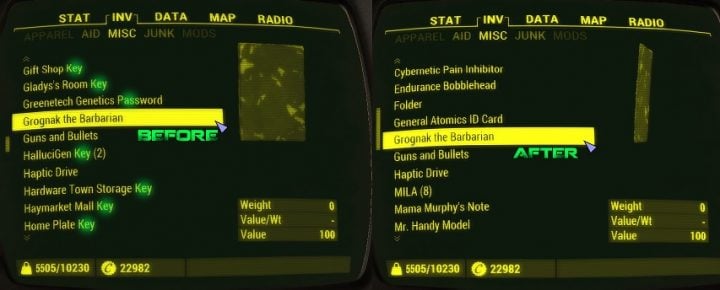 Let's start with one of our favorite PC Fallout 4 mods that quickly made it over to console.
keyNuker creates a key ring in your inventory that hides keys and passwords. With it installed, your MISC tab in on your Pip-Boy is going to be a lot more manageable, particularly if you're deep into the game with tons and tons of items listed.
The screenshot here shows you what the vanilla MISC tab looks like compared to the MISC tab with keyNuker installed. It's night and day.
This is one of our favorite Fallout 4 mods and one that should consider if you're tired of wasting time scrolling through hundreds (many of them worthless) of items.

As an Amazon Associate I earn from qualifying purchases.