189 PS4 & Xbox One Fallout 4 Mods You Should Try Right Now
There are thousands of Fallout 4 mods available for Xbox One and PlayStation 4 and today want to highlight the best Fallout 4 mods we've come across since launch.
As we push into 2020, Bethesda's slowed down support for Fallout 4. Updates have been sporadic and the company says it doesn't have any plans to release Fallout 4 DLC beyond the six expansion packs it released in 2016.
Bethesda's launched a Creation Club for Fallout 4 and Skyrim, but the content the new program be free. In other words, you can't rely on Bethesda to deliver new, free content for Fallout 4.
Fortunately, Fallout 4 is backed by an extensive modding community. From new weapons to small tweaks, the Fallout 4 mod marketplace is full of options for your console of choice.
If you want to use PS4 Fallout 4 mods, you'll need to download Bethesda's latest game updates. The company is currently on version 1.10.163.
Once you get your updates squared away, you'll get access to a growing catalog of mods. Bethesda's catalog now features well over 10,000 Fallout 4 mods. That's a huge number and it can be intimidating to those of you just now starting your journey in the Commonwealth.
We want to help narrow things down for you as we highlight some of the best Xbox One and PS4 Fallout 4 mods we've come across during our time playing the game.
Best Xbox One & PS4 Fallout 4 Mods
Before you dig into our list of the best Fallout 4 mods, it's worth noting that PS4 Fallout 4 mods are far more limited than Xbox One mods because PS4 mod developers can't use external assets. At this point, we don't expect that to change.
Their hands might be tied, but don't let that discourage you. There are some outstanding PS4 Fallout 4 mods out there and the list continues to grow as we move into the new year.
keyNuker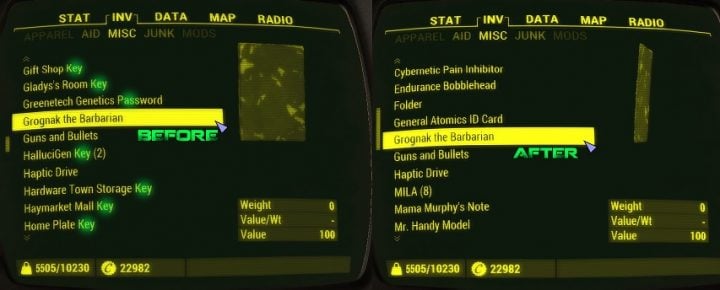 Let's start with one of our favorite PC Fallout 4 mods that quickly made it over to console.
keyNuker creates a key ring in your inventory that hides keys and passwords. With it installed, your MISC tab in on your Pip-Boy is going to be a lot more manageable, particularly if you're deep into the game with tons and tons of items listed.
The screenshot here shows you what the vanilla MISC tab looks like compared to the MISC tab with keyNuker installed. It's night and day.
This is one of our favorite Fallout 4 mods and one that should consider if you're tired of wasting time scrolling through hundreds (many of them worthless) of items.

As an Amazon Associate I earn from qualifying purchases.