Fallout 4: 5 Things to Expect in August
July was an extremely busy month for Fallout 4 for PS4, Xbox One and PC and we don't expect the month of August to be any different. With the Fallout 4 release inching closer and closer, we want to take a look at what we think you can expect from Bethesda and its new game this month.
In early June, Bethesda issued a Fallout 4 trailer that took the world of video games by storm. Fallout 4 had been rumored for a number of years and the trailer finally confirmed the game that many people had been waiting for since Fallout 3's release in 2008.
At E3 2015, Bethesda used the big stage to debut its new game for Xbox One, PS4, and PC outlining key information like crafting, character creation, the Fallout 4 Pip Boy Edition, and the Fallout 4 release date. The Fallout 4 release date for PS4, Xbox One and PC is confirmed for November 10th.
With such a large gap between announcement and release, we assumed that we'd see a ton of new Fallout 4 details emerge. Suffice to say, that's precisely what's happened this summer.
Over the past two months, we've seen tons and tons of new Fallout 4 release details emerge for all three platforms. From Fallout 4 deals to Fallout 4 bundles to new Fallout 4 Pip Boy Edition details, we've seen tons of interesting details emerge. And we expect more details to emerge between now and the game's release date in November.
Fallout 4 was very active in July and we expect that furious pace to continue this month as we push towards the fall. With that in mind, we want to take a look at a few things we expect from Fallout 4 in August.
Fallout 4 Deals
In June and July we saw a number of Fallout 4 deals emerge. Some of these deals knocked some of the price off the actual Fallout 4 game for PS4, Xbox One and PC. Others cut the price of Fallout 4 accessories. We expect to see many of these deals remain static in August. We also expect to see new Fallout 4 deals emerge this month.
Best Buy's Fallout 4 deals won't be going anywhere and we expect Amazon to continue offering deals on Fallout 4 accessories and the Fallout 4 strategy guide to stimulate sales in the weeks leading up to the game's release. We don't expect these to go anywhere.
We also don't expect Microsoft's Fallout 4/Fallout 3 deal or its $10 bonus to go anywhere in August. The Fallout 4/Fallout 3 bundle is a limited time thing but with months to go before the game's release we don't see Microsoft killing this deal anytime soon.
We also expect to see new Fallout 4 deals emerge this month. We've seen several flash Fallout 4 deals emerge since June and wouldn't be surprised if we see a few others appear this month as retailers compete against one another for sales.
If you are looking to save money on Fallout 4 or on Fallout accessories, you'll want to keep your eyes out this month.
More Fallout 4 Bundles
In June and July, we saw Bethesda and its retailer partners release several Fallout-related bundles including a Fallout 4 Amazon Bundle, a Fallout Nuke Pack, and more. We'd be very surprised if we didn't see a few others appear this month.
These Fallout 4 bundles have come out of thin air. For instance, we had no idea that Amazon would be offering a Fallout 4 bundle in the United Kingdom starting this week. That and Bethesda's tight control over the game's release make the exact nature of upcoming bundles extremely hard to predict.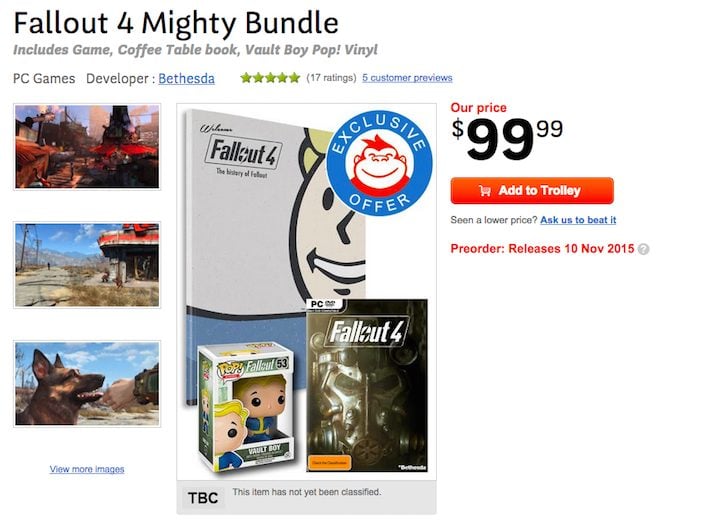 But with so much attention on this game and so many Fallout 4 accessories coming out, we'd be shocked if we didn't see any more bundles land for those looking to pre-order.
We also expect the Fallout 4 bundles that have emerged to remain in stock as we push deeper into the year. These aren't the Fallout 4 Pip Boy Edition.
New Gameplay Details
Bethesda's shown off a ton of Fallout 4 gameplay in the weeks since its E3 2015 debut and we expect the company to continue to release details in a controlled manner.
The company's used big shows like Gamescom and Quakecon to show off Fallout 4 to the general public but we've also seen gameplay details emerge outside of these big events. For instance, a Bethesda employee recently stated that he had played the game for 400 hours and he still hadn't seen everything.
We expect the company to continue to sell its game to the public ahead of its release. If you're still not sold on this game, be on the look out for new details from Gamescom and from other sources this month.
Fallout 4 Pip Boy Edition Stock
Do not expect the Fallout 4 Pip Boy Edition to magically come back into stock at U.S. retailers like Target. We continue to see horror stories (and we expect to hear more of them) and at this point, you shouldn't expect any legit stock to appear at retailers in the United States.
We do continue to see Fallout 4 Pip Boy Edition stock emerge in Europe though it always disappears minutes after it goes on sale. We'd expect this to be the trend in August. There's still a ton of interest in this version of the game and with Bethesda no longer making them, supply probably isn't going to meet demand.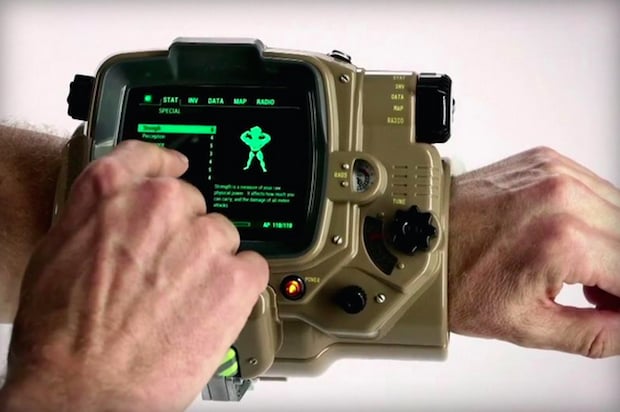 You should also expect the Fallout 4 Pip Boy Edition to be hard to find on eBay. Earlier today, we looked for the game on eBay and the few offers that were there had been pulled. Prospective buyers on Reddit have seen the same thing and it looks like eBay might be pulling the offers for violating terms of service.
We've spotted a few hiding amongst other products but it's clear that we're probably not going to see a ton of stock emerge on eBay.
We've also been monitoring sites like Craigslist and we simply haven't seen many offers emerge. So, expect the game to be extremely difficult to find in August.
Fallout 4 Pip Boy Edition Price
Don't expect to find the Fallout 4 Pip Boy Edition for $120. We continue to see people asking to buy the game in and around Bethesda's $120 price point but we don't expect them to succeed.
The few Fallout 4 Pip Boy Edition listings that we've seen have been between $300 and $500 at this point. We expect that to stay the same in August before it starts to fluctuate as sellers, and buyers, start to get antsy before November 10th.
If you are able to find it for $200 or less, you'll probably want to jump on the offer (assuming that it's a legitimate offer).
We expect Pip Boy alternatives to continue to emerge but if you want the actual bundle for yourself or your kid, expect to have to shell out in August.
PC Fallout 4 Release: 10 Important Details
PC Fallout 4 Deals
The Fallout 4 release for PC is still weeks and weeks away but we're already seeing tempting Fallout 4 deals emerge. The best Fallout 4 deals probably won't arrive until after the Fallout 4 release date but there are a few that're worth looking at right now.
Best Buy is still offering 20% off the game if you join its Gamers Club Unlocked program. The program isn't for everyone and it does require a membership fee but it might be worth it if you pre-order a ton of games or frequently shop at Best Buy.
The retailer also has another Fallout 4 deal going on. If you join the My Best Buy program, you will get $10 in rewards just by pre-ordering the game. This is a nice little perk if you do a lot of your shopping at the retailer.
Amazon is offering $7 off Fallout 4 to Amazon Prime members. That drops the price down to $57 including tax. That's not a huge discount but it's one of the only price cuts that we've seen in recent weeks.
The retailer is also offering some discounts on Fallout 4 accessories. Amazon is offering The Art of Fallout 4 for 13% off its usual price. and it's also featuring price cuts on Prima Games' official Fallout 4 strategy guides including the collectors edition.

As an Amazon Associate I earn from qualifying purchases.