FIFA 15 Deal Cuts Price to $35
The first FIFA 15 deals are here with a big price cut that basically brings the price of the new FIFA game down to $35.
This is not as good as the Madden 15 deal that dropped the price to $15 after all savings, but if you want a FIFA 15 deal you can't be to picky right now.
You don't even need to use a FIFA 14 trade in deal to get the savings either so you're free to get more value for that somewhere else.
FIFA 15 deals are still sparse a month ahead of the FIFA 15 release date and if Madden 15 is any indication we may not see a lot of FIFA 15 deal offers this year.
With this deal you can get the game on the FIFA 15 release date and you'll also be able to save on your next game purchase.
This may easily be the best FIFA 15 deal we see ahead of the release date, and certainly better than any we'll see without a trade in required.
At Dell you can get this FIFA 15 deal that includes a $25 gift card good on a future purchase. This basically drops the price to $35 without waiting for the game to hit the bargain bin.
You don't need any coupon code to make this work and it is available on any version of FIFA 15 for consoles. This includes FIFA 15 for PS4, Xbox One, Xbox 360 and PS3. You can also use this on the FIFA 15 Ultimate Edition that includes added FIFA Ultimate Team packs to help you build a better team.
Just go to this gaming deals page on Dell and add the game to your cart. In the cart you will also see a $25 Dell eGift promo code. This is something you can use 10 to 20 days after FIFA 15 ships. While you won't be able to use it right away, it is still going to be a handy way to save on another game later this year.
Unlike the Madden 15 deal, there is no need to trade in FIFA 14 and there is not a better deal for the PS4 or Xbox One version of the game than the older console version. This includes free shipping from Dell.
If you are looking for the best FIFA 14 trade in value you can get $31.50 for the game at Best Buy right now thanks to a 50% trade in bonus. Although you cannot get the $25 gift card deal at Best Buy this is the best place to trade in FIFA 14 right now. You can use the FIFA 15 trade in on another game or item and you'll still be funding your gaming habits.
The FIFA 15 release date is September 23rd in the U.S. and September 26th in other countries. You can count on some FIFA 15 midnight release events as well as a digital FIFA 15 release on Xbox One and PS4. We expect a FIFA 15 demo in the coming weeks and there is also the option to play FIFA 15 early on Xbox One with EA Access.
In FIFA 15 there are many new features like better keepers, more intelligent players and more realistic looking teams. You'll also experience better team tactic, enhanced agility and control as well as new shoulder barges to steal a ball at a key moment.
Top PS4 Games to Buy in 2014
Call of Duty Advanced Warfare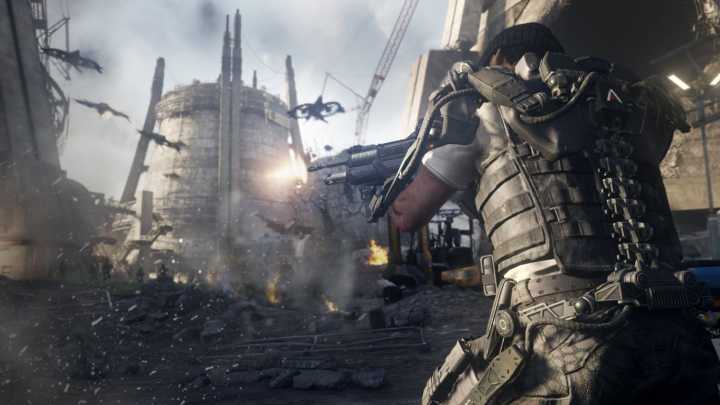 PS4 Call of Duty Advanced Warfare Details:

Call of Duty Advanced Warfare Release Date: 11/4/14
Pre-Order Bonus: Brass exoskeleton, EMP Weapon
Special Editions: Yes
Exclusive: No

Call of Duty Advanced Warfare is one of the top PS4 games to buy in 2014 not only becuase it is a new Call of Duty game, but because it is ready for a PS4 lacking fun shooters.

Yest it arrives into a fall filled with Destiny, but Killzone didn't live up to the excitement and there is no Titanfall for PS4.

Instead gamers get this Kevin Spacey filled Call of Duty Advanced Warfare release that delivers a super soldier with smart weapons and access to technology like never before including drones and hoverbikes.

Call of Duty Advanced Warfare Gameplay Video