FIFA 15 Demo Release: Free Download in September
The FIFA 15 release date is coming soon according to EA, and it looks like it will be a free FIFA 15 demo instead of a limited paid trial stuck behind an EA Access subscription on the Xbox One.
We know that there is a FIFA 15 demo release planned because EA is in the middle of a FIFA 15 closed beta that is only available to users that EA Sports invited to the program. The FIFA 15 beta is only available on Xbox One, Xbox 360 and PC, but we expect wider availability for the FIFA 15 demo.
Read: Major FIFA 15 Deal
While not everyone is able to try this FIFA 15 beta, we expect that the FIFA 15 demo release date will bring a free download option to anyone with a PC, Xbox One and PS4.
The FIFA 15 release date is planned for September 23rd in the U.S. and days later in other regions, with a standard edition for $60 and a FIFA 15 Ultimate Edition for $70 with added FIFA Ultimate Team player packs.
We don't know an official FIFA 15 demo release date yet, but it is very likely that it could land two weeks before the game arrives. If this is the case you'll be able to find a FIFA 15 demo on September 9th.
EA assures gamers that their turn is coming with a message on the FIFA 15 closed beta page stating,
"Don't worry, the FIFA 15 demo drops soon! Be sure to stay tuned on EASports.com, Twitter, and Facebook."
At this time none of these sources include detailed information about the FIFA 15 demo release date, the FIFA 15 game modes you can play and what teams will be in the FIFA 15 demo this fall.
EA also slyly avoids announcing the FIFA 15 demo release date, but two weeks ahead of the full retail release is fairly standard. There is also no news of a Xbox 360 or PS3 FIFA 15 demo at this time. Like the other EA games this fall, many of the new features and modes are designed to shine on the PS4 and Xbox One, and not on older consoles. Still, there is a chance that the older consoles will see a demo at some point. Eurogamer confirms the demo on new consoles and PC.
When the date arrives a free FIFA 15 demo download will be available on the PlayStation Store, Xbox Live and Origin — without the need to use EA Sports Season Ticket or EA Access on the Xbox One.
This does not limit the advantage of playing FIFA 15 five days before the full release on Xbox One with an EA Access subscription. For $5 a month or $30 a year Xbox One gamers get 10% off digital purchases and are able to play new EA games up to five days early. We saw a six-hour limit on the Madden 15 trial and it is possible the EA Access FIFA 15 trial will include the same limit. EA only promises up to two hours of play time on these trials.
Unlike a demo that is limited to specific modes and teams an EA Access FIFA 15 trial is a full version of the game and progress carries over to the game after release. This is a great way to learn all the new features and be ready to beat your friends who don't subscribe. Despite the advantages not all gamers enjoy EA Access and the limitations. There is no EA Access for the PS4 or for last generation consoles.
Top PS4 Games to Buy in 2014
Call of Duty Advanced Warfare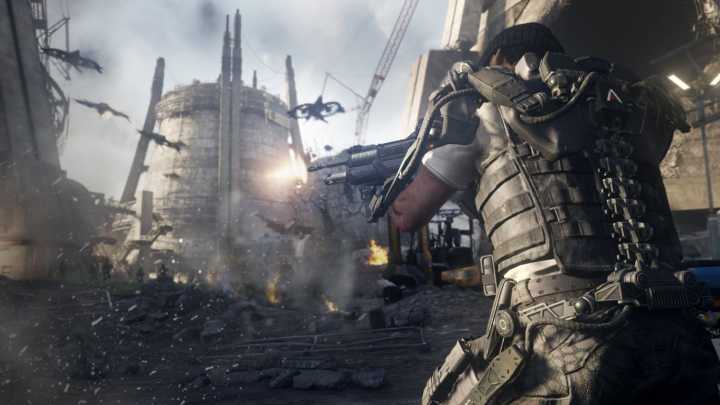 PS4 Call of Duty Advanced Warfare Details:

Call of Duty Advanced Warfare Release Date: 11/4/14
Pre-Order Bonus: Brass exoskeleton, EMP Weapon
Special Editions: Yes
Exclusive: No

Call of Duty Advanced Warfare is one of the top PS4 games to buy in 2014 not only becuase it is a new Call of Duty game, but because it is ready for a PS4 lacking fun shooters.

Yest it arrives into a fall filled with Destiny, but Killzone didn't live up to the excitement and there is no Titanfall for PS4.

Instead gamers get this Kevin Spacey filled Call of Duty Advanced Warfare release that delivers a super soldier with smart weapons and access to technology like never before including drones and hoverbikes.

Call of Duty Advanced Warfare Gameplay Video