FIFA 17 Problems: 5 Things to Know
Here is a look at what PC, Xbox One and PS4 owners need to know about FIFA 17 problems. We'll also touch on FIFA 17 issues that Xbox 360 and PS3 owners need to know about.
The FIFA 17 release date arrives tonight with midnight access to the game and millions of players will be logging in on Tuesday to play the popular new FIFA game.
Unfortunately there are some FIFA 17 problems that can slow down your ability to play and to connect with other gamers.
Read: 10 FIFA 17 Tips & Tricks to Win More
We expect to see a surge in reports of FIFA 17 problems as more gamers go hands on with the game. Xbox One and PC players were able to play the game for the last five days, but the game is coming to everyone on September 27th.
This is a look at the current FIFA 17 problems, where you can go for help with any FIFA 17 bugs you find, how to report the issues that you encounter and what to do.
FIFA 17 Problems
Many users are able to play FIFA 17 without any issues, but there are still some users running into FIFA 17 problems that are preventing them from playing.
Gamers who are using the FIFA 17 Web App to open packs and trade players may need to open and play the game on their console before they can trade in the app. Users see the message, "Continue playing FIFA 17 on PS4 to unlock access to the transfer market." EA is looking into the issue and will address it later.
Some users are unable to redeem FIFA 17 Deluxe Edition codes on PS4. EA is looking into this issue.
Some users report an Item Not Found error when buying a second version of the same player.
On the Xbox One some users are stuck on the FIFA 17 Welcome screen. On PC some users are losing connection when Alt+Tabbing out of the game and others are running into a FIFA 17 problem where people in the Journey don't have faces.
Where to Find FIFA 17 Feedback
If you are having FIFA 17 problems there are a few places you can look for help and feedback on the performance. If you are on PC, make sure you have the minimum FIFA 17 PC specs, and if you are on the edge you can look at the resources below for help.
The FIFA 17 Answers HQ is a good place to go to look for technical issues, to file bug reports and to discuss FIFA 17 problems with other gamers who may have a solution.
Here is a list of known FIFA 17 problems that will be updated through the release.
How To Report FIFA 17 Problems
If you have FIFA 17 problems you can report them to EA and ask for help. One of the best ways to get personalized help is to send a message to EA Support on Twitter. They can help you with some common issues and bugs. Make sure you tell them you need help with FIFA 17, what console you are using and any other specifics that relate to your issue.
Another option is to go to the FIFA 17 forum and submit a bug report. This allows you to connect with official EA forum personnel and with other players.
How to Fix FIFA 17 Problems
You can fix FIFA 17 problems on your own in many cases. Here is a list of fixes for FIFA 17 problems that you need to know about. Some are easy to fix, while others will require you wait for a patch.
There are some issues with next gen grass on PC, and missing game audio on PS4 and XBox One with digitally downloaded games. We are also hearing from users who are missing players form FUT teams and missing FIFA coins.
Here is a guide on how to fix the most common FIFA 17 problems.
What's Next for FIFA 17
The EA Sports FIFA team is quick to deliver updates to the game. The odds are good that you will see a quick FIFA 17 update.
Last year we saw the second FIFA update by October 6th, The first one came as part of the release. It is very likely that we will see a FIFA 17 update by the second week of October 2016.
FIFA 17 vs FIFA 16: 7 Reasons You Should Buy FIFA 17
FIFA 17 Journey Game Mode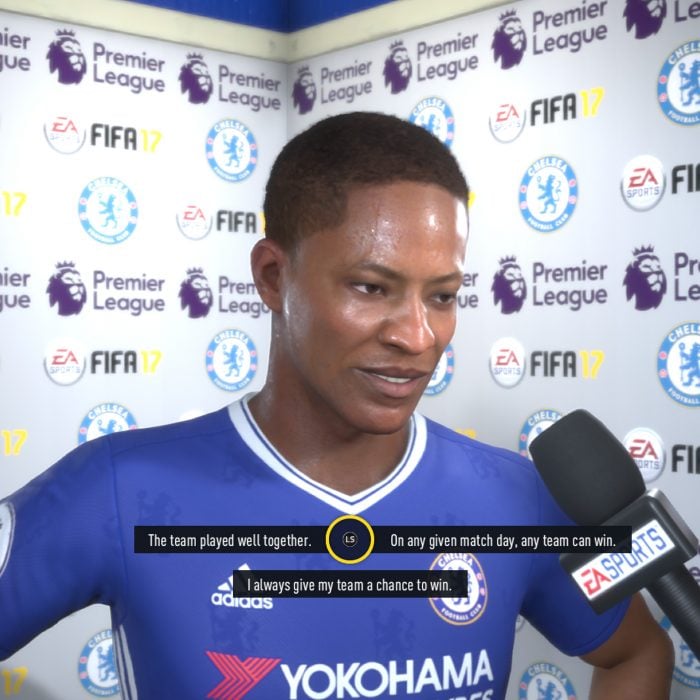 There is now a Story Mode in FIFA 17 called My Journey. You are in charge of a player who is trying to make it in the big leagues. You need to control him on and off the pitch.
Thanks to the Frostbite engine the game can render the field, the manager's office and your apartment as you try to navigate the complexities of playing on the field and making the right decisions off it.
You are Alex Hunter an up and coming player in the Premier League. You can play on any club in the league, but you cannot create your own player -- you need to control Alex.
The game will change based on your performance on the field and decisions you make off of it. This includes your career and it will influence how other characters react to you.
This mode is not in FIFA 16, and is completely new for 2016 and FIFA 17.

As an Amazon Associate I earn from qualifying purchases.