Galaxy Note 10 vs Galaxy Note 10+: Which One to Buy?
In this Samsung Galaxy Note 10 vs Galaxy Note 10+ (Plus) comparison we tell you exactly what you need to know to help you make the right decision. These are big fancy new phones that now come in two different screen sizes, but that's not the only difference you'll want to consider before you buy one.
We go over what's new compared to the Note 9, what changed, what to expect, and what's different between the two phones. That way you have an easier time choosing one over the other. If you're on the fence this holiday season, we're here to help.
While these are Samsung's best phones of 2019, not a lot changed compared to the Galaxy S10 from earlier this year. These are very similar devices, although the Note does have a slew of neat features thanks to the S-Pen stylus, an extra rear camera, and faster charging.
Basically, Samsung is still offering a massive device that's bigger than almost any phone they've ever released. The Note continues to get bigger, better and faster, and that's true again this year. However, they also delivered a compact 6.3-inch Note 10 for those that want the Note experience without the massive screen. In fact, the smaller model is very compact and physically smaller than the Galaxy S10.
Each area and aspect of the phone has a few subtle changes though, which Samsung hopes will steer people to the bigger and more expensive model. So, our slideshow will break down the screen, specs, camera and charging so you know exactly what you'll miss if you get the smaller phone, what you'll get for paying top-dollar or why you might want to wait for the Galaxy S11 next year.
Galaxy Note 10 vs Galaxy Note 10 Plus: Display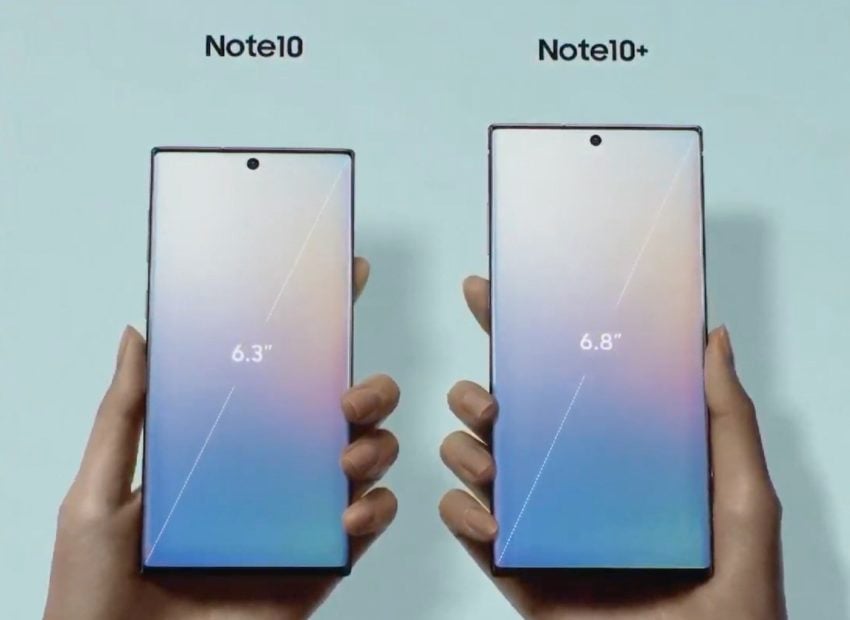 Perhaps the single most important part of your decision will come down to the size of the screen. With the Galaxy Note 10, Samsung went bigger than previous years and smaller.

Galaxy Note 10: 6.3-inch 2280 x 1080p HD Display
Galaxy Note 10 Plus: 6.8-inch 3040 x 1440 Quad-HD Display
Yes, the smaller Galaxy Note 10 only has a 1080p HD screen. It's still a beautiful AMOLED panel with everything you know and love from Samsung displays, it's just smaller and lower resolution than most.
However, every Galaxy device for the last several years with a Quad-HD screen is actually lowered to 1080p resolution out of the box. So, you're not really missing anything going down to a 1080p screen, and in fact, could actually get better performance and battery life.
Thanks to tiny bezels and both the fingerprint scanner and camera being inside the screen, the 6.3-inch Galaxy Note 10 is actually pretty compact. Physically, it's almost as small as the Galaxy S10, a Galaxy S9, or even the Galaxy S8+. It's for people with smaller hands.
The Galaxy Note 10+ however, is large and in charge. It's packing a big-boy 6.8-inch Quad-HD display. Again, due to small bezels and the fancy under-display fingerprint technology, it's not all that much bigger than the Galaxy Note 9 from last year. The physical size isn't bigger, even if the screen is substantially larger than previous generations.
Oh, they both look great, and they both support HDR10+ for what it's worth.
At the end of the day, we recommend you go to a carrier store, T-Mobile, or somewhere like Best Buy and try them in-hand first before you buy. Know which size you want, need, or can manage before spending big on the latest Galaxy Note.

As an Amazon Associate I earn from qualifying purchases.