Galaxy Note 5 vs LG G4: 6 Key Differences
Last week Samsung unveiled its latest and greatest smartphones. The Samsung Galaxy Note 5, and the big curved Galaxy S6 Edge Plus. These two high-end 5.7-inch powerful Android smartphones have a lot to offer, but will need to compete with many other impressive phones. Here we'll detail six or so key differences between the Galaxy Note 5 and the LG G4 for potential buyers.
On August 13th at the annual Samsung Unpacked event in New York City, Samsung announced both of these phones. One is a successor to the Note 4, and the other is just a big and beautiful neat curved smartphone. Samsung's Note 5 has a few huge changes from previous years, things that users need to be aware of before making a purchase.
Read: Galaxy Note 5 Hands on Video
The new Samsung Galaxy Note 5 is a fantastic smartphone built out of all glass and aluminum. It no longer feels like a cheap plastic Samsung phone, which is one of the many differences between it and LG's latest G4 smartphone. Prospective buyers will want to read on for all the details about both smartphones.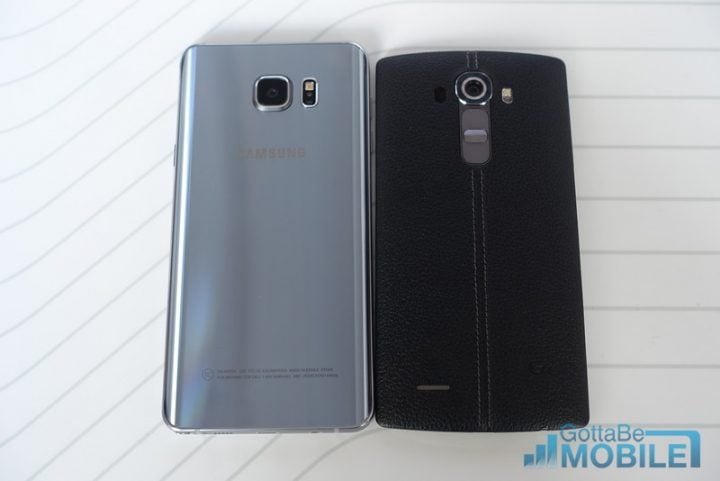 LG has a slight lead on Samsung as its G4 hit shelves in the United States and around the globe during the first week of June, a little after the Galaxy S6. And while it's been trying to compete with it, due to having a large 5.5-inch screen it's also taking on Samsung's new Galaxy Note 5.
The Note 5 is more of a content creation or consumption device, and great for business users, but thanks to a great design and a huge screen will be bought by millions or regular smartphone users as well. That means everything from the LG G4, Moto X, Nexus 6 and more will all have to compete with it.
Read: LG G4 Review
Now that all the rumors have been put to rest, the Galaxy Note 5 is official, and it's set to be released on Friday, August 21st, buyers will want as many details as possible. And while there are lots of differences between these two high-powered devices, the six slides below will go over what we feel are the most important details and differences overall, and for buyers.
Display
Smartphones just keep getting bigger and bigger, and that trend was kicked off and made popular by Samsung. They've continued to make each phone better with each release, and the Galaxy Note 5 is the best yet. Users will get a large 5.7-inch 2560 x 1440 Quad-HD display. That high 2k resolution is also offered on the LG G4, but it's on a smaller 5.5-inch screen.
In theory, the LG G4 should be more crisp as it has a smaller screen with a higher resolution, but Samsung's AMOLED displays just can't be beat. LG put a lot of effort into its "Quantum HD" screen on the LG G4, but Samsung still wins here.
The Samsung Galaxy Note 5 is slightly bigger than the LG G4, but not by much, yet has a bigger, better and brighter display. The colors and viewing angles are also exceptional, and better than the LG G4. While I've loved the G4 since the release, those who primarily want a beautiful display, the Galaxy Note 5 simply can't be beat. Both will make you happy, but if you want better bright colors and a bigger screen, get the Note 5.

As an Amazon Associate I earn from qualifying purchases.