Galaxy S8+ CM4 Wallet Case Review
The CM4 Q-card wallet case for the Galaxy S8 is a thin and lightweight case that holds three credit cards plus some cash. This isn't your typical wallet case, as there is no front flap that covers the Galaxy S8 screen. Your wallet is conveniently placed on the back, there's a built-in kickstand, yet it's sleek and protects the phone at the same time.
After using these cases for years with the Galaxy S4 and Galaxy S5, I had to resort to something else when the company stopped supporting Samsung. Now with the Galaxy S8 and S8+, the brand is back and better than ever.
Read: Best Galaxy S8 Wallet Cases
A wallet case is a great way to protect your phone and carry less at the same time, and CM4 does it better than anyone else. It's not a big company everyone knows like Spigen, Speck or Otterbox, but the premium materials and ease of use make this a case I can recommend without hesitation. Read on for more details and photos.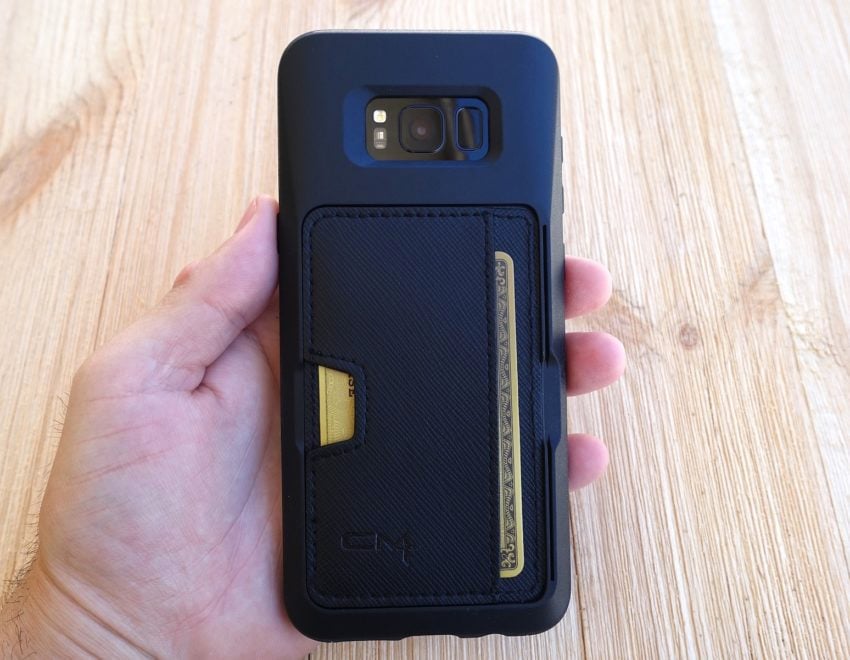 For me, the best part of the CM4 Q-Card wallet case is the design. I want a case that's thin, lightweight and doesn't add a lot of bulk. Getting those same features in a wallet case is almost impossible. Almost. The design is elegant and the soft-touch wallet fabric looks like premium leather. This case delivers style, features, and protection for a fair price.
[letsreview]
Most cases on the market use more than one material. Usually, this is just a cheap TPU and some hard plastic. CM4 uses a patented soft-touch rubber with a unique grippy texture for the frame of the case. Then an executive stitched fabric for the wallet area. Most people think it's leather because it looks and feels like leather.
It's a full-frame design that protects the Galaxy S8 on all sides, including the display. CM4's lay-flat guard extends the case slightly over the top of the screen to make a lip too. This way users can lay it face-down without worrying about damage to the screen. Everything about this case is high-quality without sacrificing the design, size or protection.
One aspect that separates this case from others is the high-grip textured sides. It's hard to explain, so take a peek at the photo below. Imagine a rough yet comfortable texture like you'd find on a pistol grip on a phone case. It feels good and keeps this slippery phone securely in your hands.
Overall, the wallet is by far the best part of the case design. The fabric material stretches just enough to comfortably fit three credit cards (or an ID) plus some cash. It can safely hold one card too if that's all you need. It won't stretch out like leather to the point where a driver's license can easily fall out.
You'll like that there's a cutout on the left edge of the wallet. This will let you easily and quickly slide a card out to pay for goods. Like a tab for easy access. I've used wallet cases in the past where it was a chore just to pull out a card, and that's no fun for anyone. The company really thought of everything.
Furthermore, the entire wallet part of the case is slightly recessed into the frame to keep things compact. It is not bulky like most wallet cases on the market. Then, on the edge of the fabric is a slit down the entire frame that is actually a covert kickstand. The way this works is to slide out a reward card or driver's license and push it into this slot, which turns the card into a kickstand. It's quite genius if you ask me. Just make sure you aren't revealing a credit card number to the public.
The buttons are easy to press and very tactile, and all the ports are precision cut and accessible. To be honest I have nothing to complain about with this case. It looks good, feels good, works great and protects the Galaxy S8+ without being too bulky. I also find using the fingerprint scanner is easier with this case, as the plastic curves down into the sensor perfectly and helps with finger placement.
A lot of smartphone owners skip wallet cases because they're too big and bulky, but that just isn't a problem with the CM4 Q-card wallet case. It's a perfect size, lays flat even full of cash, and has extra features like a kickstand. All of that comes in an elegant and durable design that only costs $24.99.
If you need a wallet case for the Galaxy S8 or Galaxy S8+ look no further than the CM4 Q-card.