Samsung Galaxy S8 Pre-Order Date, Time & Shipping
On March 29th the Samsung Galaxy S8 and Galaxy S8+ were officially announced with plenty of excitement. Now that they are official and coming soon with pre-orders available now, buyers are looking for more details. Here we'll go over pre-orders, the release date, and when they'll ship for those interested.
All of your favorite carriers or retail stores will carry both devices, and announcements have already been made. In an effort to make things easier for potential buyers we have links, details, times and more below. Additionally, most carriers will have them on display from March 31st to test before you buy.
Read: Best Samsung Galaxy S8 Deals
Samsung made some big announcements on stage, which was followed by confirmations by all major carriers. The Galaxy S8 and S8+ will be up for pre-orders tonight (or midnight March 30th) and released around the globe from April 21st. There are also some great Galaxy S8 deals to be found, so lets get started.
As expected, the next Galaxy come with all the latest bells and whistles. Some of those include huge 5.8 and 6.2-inch Quad-HD Infinity displays, a new powerhouse Snapdragon 835 processor with 4GB of RAM, 64GB of storage, and an improved camera. The fingerprint scanner is on the back, since the front is almost all screen, and they run Android 7.0 Nougat. It has a premium metal and glass design, a new Bixby virtual assistant on top of the Google Assistant, IP68 water resistance and so much more.
Galaxy S8 Pre-Order Date & Time
Both the Galaxy S8 and Galaxy S8+ will be available for pre-order starting on March 30th. Technically on March 29th at midnight. For those on the West Coast, pre-orders will begin at 9:01 PM PT from all major carriers and retail stores. Additionally, Best Buy, Target and many other retail locations will also start accepting pre-orders, and have some good deals to go along with it.
Galaxy S8 and S8+ Pre-Order Date: March 30th at 12:01 AM
Those who pre-order Samsung's new phone from March 30th to April 20th will get a free Samsung Gear VR 2 headset with motion controller. We'll update as additional details or deals are announced.
Where to Buy the Galaxy S8?
As we said above, and as expected, these phones will be available just about everywhere. All carriers and multiple big retail stores will be offering the next big thing.
In an effort to help you pre-order your Galaxy S8, below are links to all major carriers, their announcements, pricing and more.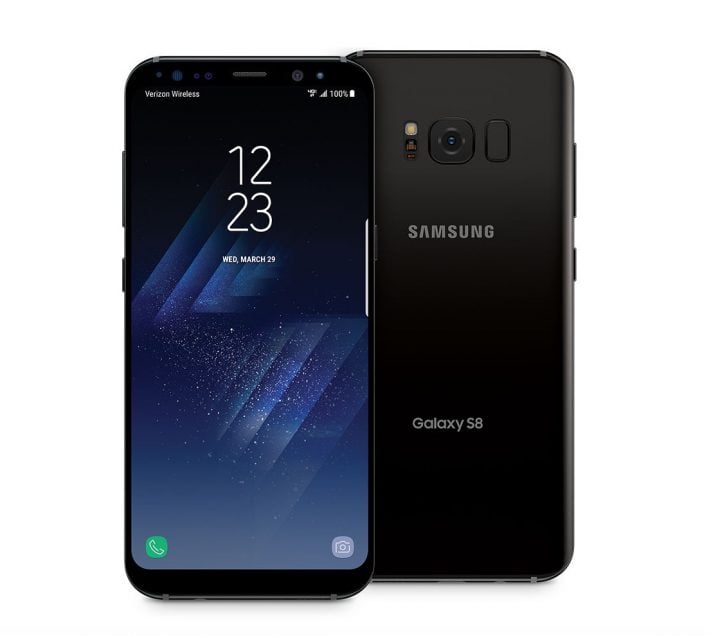 Verizon
Pricing will vary by carrier, and so far it looks like Verizon may be the best choice. For full details and to pre-order click here.
Verizon Galaxy S8 ($30 per month for 24 months or $720)
Verizon Galaxy S8+ ($35 per month for 24 months or $840)
AT&T
Announcements are slowly being made by all big carriers or stores. As expected, AT&T has shared their launch plans and initial pricing.
Galaxy S8 ($25 per month for 30 months, $31.25 per month for 24 months, or $750)
Galaxy S8+ ($28.34 per month for 30 months, $35.42 per month for 24 months or $850)
T-Mobile
We can expect T-Mobile to have some special deals similar to the free year of Netflix like in 2016, not to mention they could ship earlier than the April 21st release date. We'll have to wait and see. Click here for more details.
Galaxy S8 ($30 per month with $30 down for 24 months or $750)
Galaxy S8+ ($30 per month with $130 down for 24 months or $850)
Sprint
As soon as Sprint shares more details we'll update with everything you need to know. Expect pre-orders to start at the same time, with an April 21st release date. Pricing has yet to be announced but more details are right here.
US Cellular
Following in Verizon's footsteps, US Cellular will also have the Galaxy S8 and S8+ available. And while no pricing was released, they will have a qualifying trade-in offer for those interested. Not to mention no hidden fees, similar to T-Mobile, and other incentives.
Additionally, both phones will be available from Best Buy (with a huge deal) in addition to Target, Walmart, ShopSamsung and other retail stores.
Galaxy S8 Release Date
While pre-orders begin on March 30th, the Galaxy S8 and S8+ still won't be available for nearly three weeks. That's because the global release date is formally set for April 21st. This is later than many expected, but earlier than the most recent rumors.
Samsung took extra time to get the hardware and software right, implement an 8-point battery safety check, build the stunning new Infinity displays and stock up on the new Snapdragon 835 processor powering this smartphone.
All carriers and retail stores in the United States have the same release date, which is April 21st. However, we could see some try to ship pre-orders early similar to what T-Mobile did in 2016 with the Galaxy S7. If that happens, we'll be the first to let you know.
Just keep in mind that while pre-orders are about to go live, the phones won't be available until April 21st.
Galaxy S8 Colors
We saw a slew of photos and video leak of the Galaxy S8 and S8+ before the announcement, but now we know for sure. Samsung is using a new mirror-finish metal trim around the sides, rather than the brushed aluminum look. It also looks like regardless of what color you choose the front will be black. This is a good move, as the bezels are tiny and loaded with sensors.
In the United States both phones will be available in Midnight Black, Arctic Silver, and Orchid Gray. There is also a gold and blue color variant for other regions around the globe. It's worth noting the Orchid Gray almost has a blueish hint to it, but should look similar to the Space Gray iPhone.
For more details about the Galaxy S8 release date click here, and while you're at it take a look at these 30 awesome features buyers will love. Get your phone ordered tonight, and look forward to an arrival around April 21st.

As an Amazon Associate I earn from qualifying purchases.