Best Samsung Galaxy S8 Deals
These are the best Samsung Galaxy S8 and Galaxy S8+ deals for those looking to get a new phone. By choosing when or where you buy the Galaxy S8 you can save lots of money, or get free accessories. With that in mind, below is a continuously updated list of the best Galaxy S8 deals. Like, buy one get one free, 50% off monthly payments, $480 gift in cards, to a free microSD card and other discounts.
The Galaxy S8 is available from all major carriers in the United States and around the globe. It's also for sale at Target, Best Buy, Wal-Mart and Sam's Club retail stores. Not to mention Samsung's own website with deals every few weeks.
Read: What Galaxy S8 Color to Buy: Black, Gray or Silver?
While Samsung's free Gear VR, Netflix and microSD card deals have ended, other savings are readily available. Samsung recently released an unlocked model and cut the price by $100 too. That said, each carrier and big stores like Best Buy have deals you need to know about.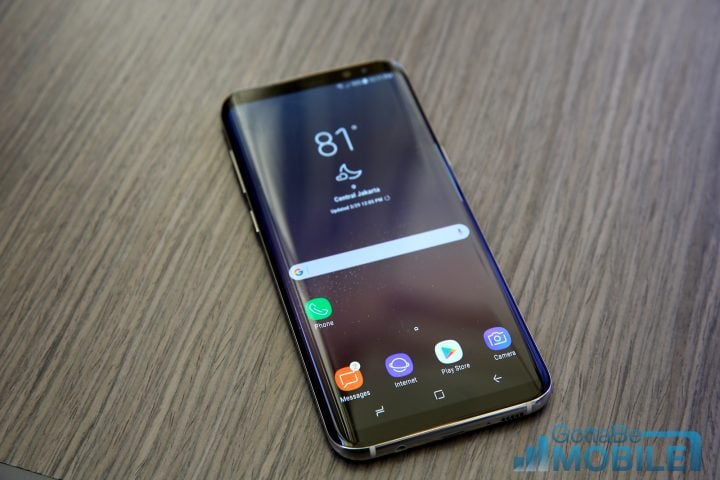 Best Buy Galaxy S8 Deals
Perhaps the best Galaxy S8 deals are from Best Buy. Order the phone in-store with a monthly payment plan and get $200 off the S8 or S8+. Making the phones $520 or $720 total, which is crazy cheap. Those taking advantage of carrier deals are still eligible for all savings when purchased at Best Buy.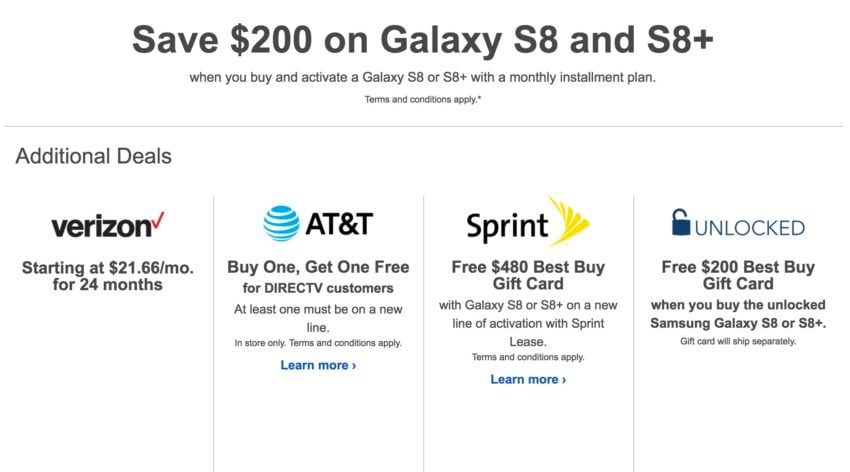 The best Galaxy S8 deal hands down is through Sprint and Best Buy. As shown above, get either phone on a new activation line at Sprint and you'll get a $480 Best Buy Gift Card. Yes, you'll pay for the phone with monthly payments, but you'll get $480 back to spend on anything you'd like. Making the Galaxy S8 around $100 at the end of the day.
Best Buy is also one of a few retail stores offering a carrier unlocked Galaxy S8 and S8+. This means there is no carrier apps or bloatware, and it will work on any carrier of your choosing. Samsung recently lowered the price of unlocked models by $100, meaning you can get one today from Best Buy for $724. And when you do, Best Buy will give you a $200 gift card making the unlocked S8 only $524.
You'll also notice a buy one get one free from AT&T or extremely low monthly payments at Verizon Wireless. In fact, Best Buy is asking $10 less per month than Verizon.
Verizon Galaxy S8 Deals
The Galaxy S8 is still 50% off with an eligible trade-in at Verizon Wireless. Otherwise, it will cost $720 outright, or $840 for the bigger model. Potential buyers can also choose a monthly payment agreement.
To be eligible simply trade in a smartphone that's less than 2-years old and sign up for a new Verizon unlimited plan. This instantly cuts the price in half for Verizon customers.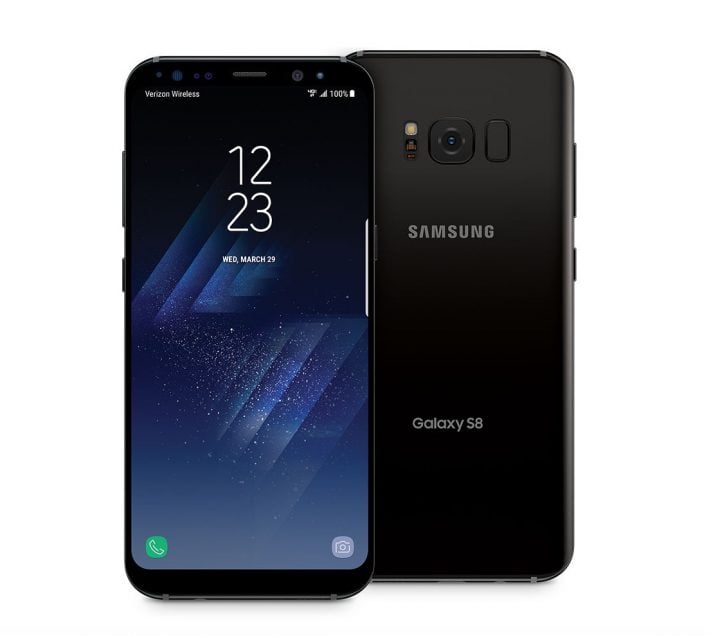 With a qualifying trade in and installment agreement plan, the Galaxy S8 will be $15 per month for 24 months, which is $360 total. Then, the same deal applies to the S8+ and payments will be $20 a month for 24 months which is $480 total. Instead of paying $720 or $840.
We recommend buying the Verizon S8 from Best Buy for the lower monthly payments and $200 gift card.
Sam's Club Deals
While Sam's Club still offers a free $150 gift card for any Galaxy S8 or S8 purchase, that deal will greatly improve during the first week of August. For its annual Fall Preview Event, buy one from Sam's Club and get a $350 gift card for free. At the same time, the store is waiving all activation fees. Saving you close to $400 off the S8. This is one of the best deals we've seen yet.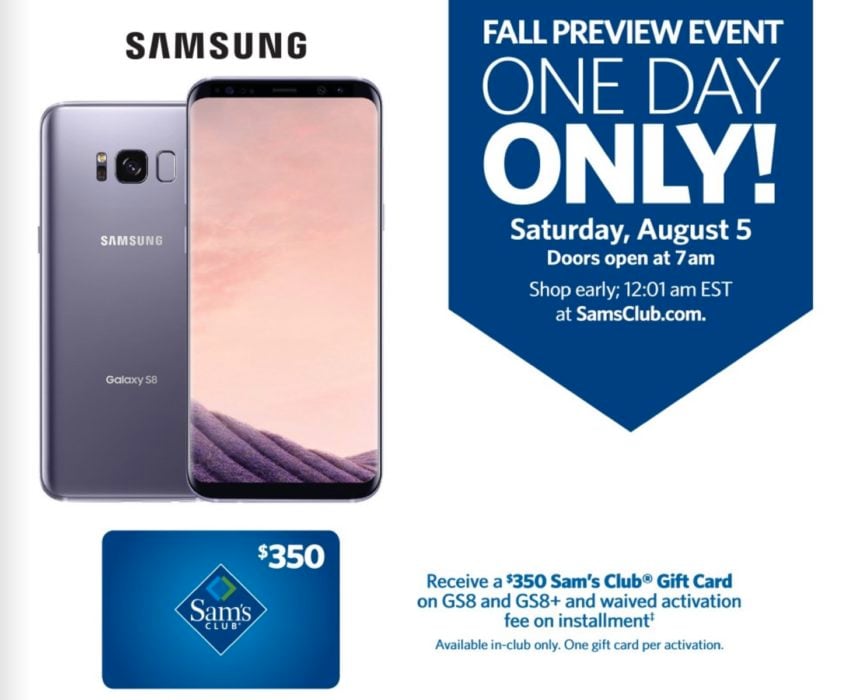 AT&T Galaxy S8 Deals
As expected AT&T has some deals including buy one get one free. It does come with strings attached, so pay attention to everything mentioned below. AT&T will also bundle other Samsung products at heavy discounts when you buy the Galaxy S8.
Buy the Galaxy S8 and receive $750 in credits towards another S8 or S8+ (get one free, only for DirecTV subscribers)
The Samsung Gear S3 is only $49 with a 2-year service agreement
Buy the S8 and get a Samsung Tab E or Samsung Gear S2 for only $0.99 when you activate a 2-year service agreement
Basically, you can get two Galaxy S8 or S8+ phones for the price of one. Using this deal AT&T will pay the monthly payment on the second device for you. This only applies to the Galaxy S8. Those who choose the Galaxy S8+ will end up paying $100. The deal is only available if you sign up for AT&T Next and a DirecTV subscription or already use DirecTV, which is a bummer. Click here for more details about this deal.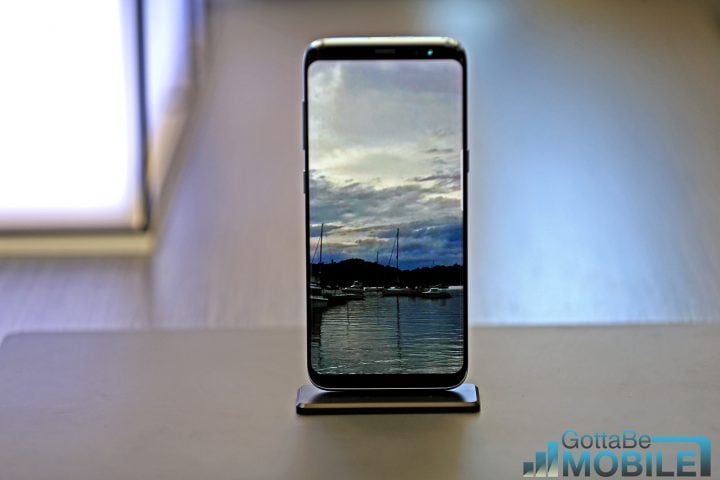 Wal-Mart S8 Deals
Head to Wal-Mart for prices lower than carriers or Samsung themselves. The regular Galaxy S8 is $659, and the bigger S8+ is only $759. As a comparison, most carriers have the S8+ for $840.
Additionally, get the Galaxy S8 at Wal-Mart with an installment agreement for Verizon, AT&T or Sprint and get another $150 off.
Sprint Galaxy Forever Deal & BOGO
Like AT&T, Sprint is offering a buy one get one free deal. This is only available for the Galaxy S8. Get two while only paying for one at roughly $31 per month. Sprint will charge customers for the second one but will add $32 to your account each month — making it free. Make sure you read the fine print though, as you don't own the phone. After 12 months Sprint will suggest owners upgrade to something new, like the Galaxy Note 8 or Galaxy S9.
Sprint also offers what's called the Galaxy Forever deal. How this works is you get the Galaxy S8 and make monthly payments toward the balance. After 12 payments Sprint will offer free upgrades to the next Galaxy device. Basically, the payments roll over the next year for a new phone.
Additionally, as mentioned above, buy a Sprint model from Best Buy for some huge savings of $480. Can't beat that, right?
T-Mobile Deals
Just like the other carriers, T-Mobile is now offering the S8 and S8+ in a buy one get one free promo.
In order to get the deal, you'll have to buy two on their no-interest Equipment Installment Plan. T-Mobile will then send you a prepaid Visa card for the value of the second device. Buyers can then use this visa card to pay off the second phone. Up front, you will still pay $30 down for the S8, or $130 for the Galaxy S8+. Click here to get started.
Samsung Deals
Samsung themselves have a deal or two you don't want to miss, and that includes getting $150 back after you buy the Galaxy S8 or Galaxy S8+ this summer. Simply buy the Galaxy S8 from Samsung.com and it will go over all the details. You'll also get a month of Samsung Premium Care for free.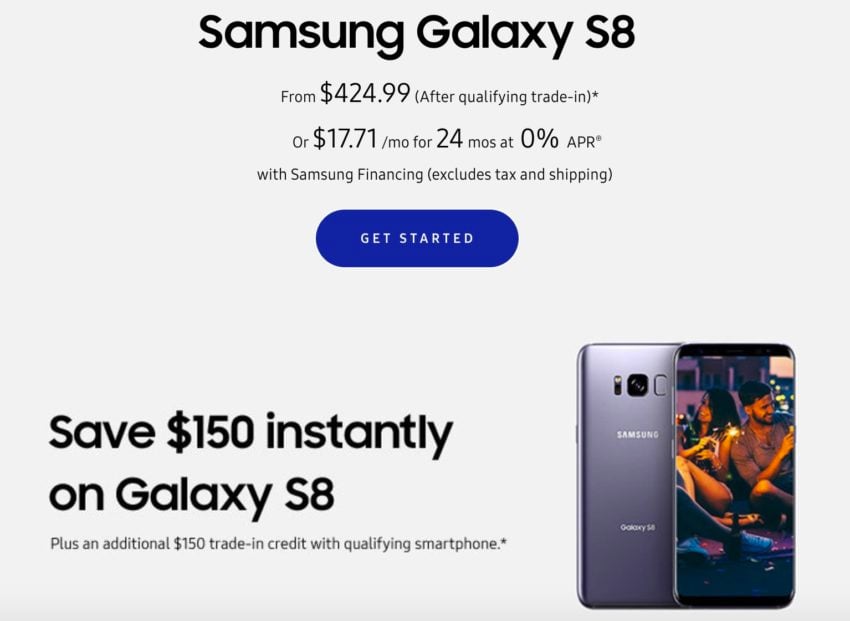 Furthermore, for a limited time, get the S8 or S8+ from Samsung.com or the Shop Samsung app with a qualifying trade-in, and save $300. This brings the price down to only $429. This deal is only available from those two outlets and comes directly from Samsung. Click here for more details. Basically, you get $150 off, plus an additional $150 for trading in an old phone.
Read: Unlocked Galaxy S8 $300 Off Deal
Other Details
All the big free gift deals are over, but that doesn't mean savings can't be found. It looks like the best place to buy the Galaxy S8 is still Wal-Mart or Best Buy, although the Sprint discount is pretty epic. Later this summer we expect other deals to emerge, bundles for accessories and even more savings.
Finally, expect the price to drop sometime in August, as the new Galaxy Note 8 is coming soon. In the meantime, we'll update this post with any new deals as they arrive. For now, learn more about both phones at our Galaxy S8 Portal.
After buying your new phone we recommend buying one of these best Galaxy S8 cases.
25 Best Galaxy S8 Cases
Samsung Clear View Standing Case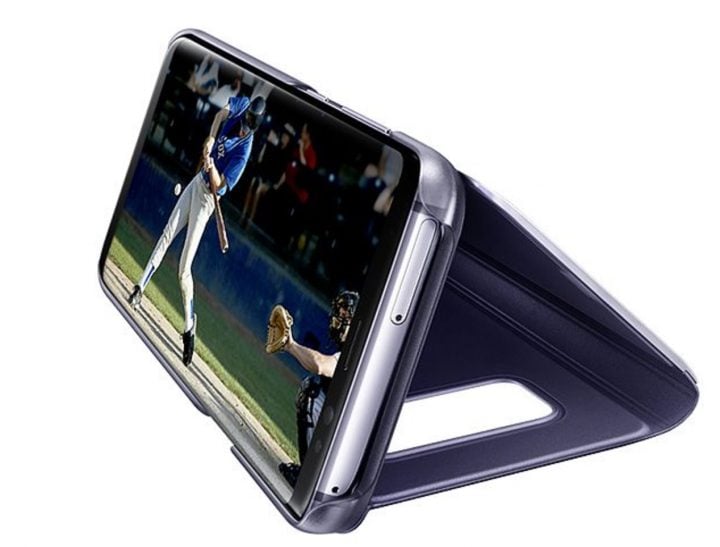 First, are a few Samsung cases then we'll move on to some of the more popular (and cheaper) brands available. As we see every year, Samsung has a decent select of great cases and accessories for the Galaxy S8 and Galaxy S8+.
Our favorite among them is the Clear View Standing Cover. It doubles as a kickstand and folds closed to protect the screen. When shut, the clear front displays the time, date, or battery levels. It's expensive but one of the better cases available.

As an Amazon Associate I earn from qualifying purchases.