30 Exciting Galaxy S8 Features Revealed
In just a few days Samsung will officially announce the Galaxy S8 and Galaxy S8 Plus in New York City. However, thanks to a slew of leaks and rumors over the past two months we know everything already. In even better news, a huge leak recently surfaced that reveals over 30 exciting Galaxy S8 and S8+ features ahead of the launch.
As we already know, Samsung plans to launch two impressive new phones on March 29th. Which will be released sometime in late April. This year Samsung has a sleek new design with big 5.8 and 6.2-inch displays, and tons of new features to make these the best Galaxy phones to date.
Read: Galaxy S8 Release Date Breakdown
To add even more fuel to the fire and rumor mill, a german website has revealed even more key details. In fact, they go over multiple new features and offer up an entire collection of official Galaxy S8 press photos. Read on for everything you need to know, and a quick detailed list of exciting features all potential buyers need to know about.
As of right now we know almost everything already. To the point that we doubt Samsung has any real surprises left to announce during the launch event. Except for maybe some neat new accessories, or additional software changes, features or improvements.
Over the past 2-3 months nearly anything and everything has leaked. However, a few important details were obtained by WinFuture. Like a new "Guard S8" optional warranty with 2-hour guaranteed screen repairs, similar to Apple stores. To even dual speakers using the earpiece as a speaker and the bottom grill for the subwoofer.
Those are just two of many exciting aspects of what will make the new Galaxy S8 and Galaxy S8 Plus great. Without further delay, here is a huge list of everything to expect for those interested. This massive leak revealed so much that we've broken most of it down by category for you below.
30+ Exciting Galaxy S8 Features
Some of this information won't be new, but a lot of it is. Not to mention it confirms key details that have only been rumors thus far. These are two impressive phones that millions will enjoy.
Display & Design
Galaxy S8 comes with a huge 5.8-inch screen, Galaxy S8+ is 6.2-inches
Dimensions are: 148.9 x 68.1 x 8.0mm and 151g (lighter than the Galaxy S7)
New 18.5:9 aspect ratio making the phones thinner and taller
Galaxy S8 & S8+ Infinity display resolution is 2960 x 2400 (higher than Quad-HD)
Similar to Galaxy S7, phones will be set to 1080p Full HD by default for improved performance and battery life
Physical home button is gone for the first time in seven years (fingerprint scanner on back)
Both phones have a curved display similar to the Galaxy Note 7, and rounded corners
Dual Stereo Speakers: Bottom-firing subwoofer and earpiece is second speaker for most audio (front-facing and similar to iPhone 7)
IP68 Dust & Water Resistance: 5ft for over 30 minutes (better than iPhone 7)
Galaxy S8 Cameras
Rear 12 Dual Pixel camera like Galaxy S7, only better
Same f/1.7 aperture with OIS but has a new laser auto-focus for even better performance in addition to HDR and more
New and improved 8 Megapixel front camera setup (up for 5MP)
Battery Life & Charging
A big topic of debate, discussion and rumors has been about battery life. Simply because the screens are huge, and following the recalled Note 7 and its exploding batteries. As a result, Samsung isn't going as big as many expected. The Galaxy S7 Edge from 2016 has a bigger batter than the Galaxy S8 Plus, sadly.
Galaxy S8 to come with 3,000 mAh battery (same as 5.1-inch Galaxy S7)
S8 Plus to come with 3,500 mAh battery (same size as Note 7, smaller than S7 Edge)
Fast Charging with USB Type-C, and even faster Wireless Charging with 15-20w output
Improved Security & Fingerprint Scanner
Rear-mounted fingerprint scanner to the right side of camera, not underneath
Front-facing Iris Scanner similar to Galaxy Note 7 for improved security, and to reduce need for rear fingerprint scanner
Fingerprint Scanner gesture support, programmable gestures for quick launch (camera etc)
Performance & Specs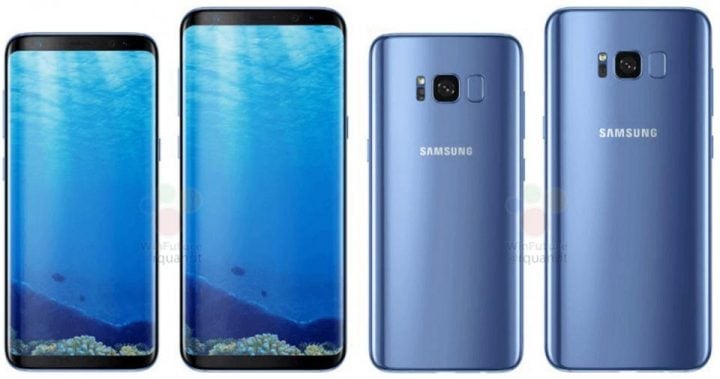 While we already know pretty much everything about these phones, including the specs, here are a few more details for those curious.
4GB of RAM and double the storage, with 64GB built-in (no 6GB RAM model yet)
Samsung Exynos 8895 8-core processor, while US and China will get Qualcomm Snapdragon 835 platform
Android 7.1.1 Nougat out of the box (or Android 7.0)
Connectivity
Reversible USB Type-C port for charging and sync (plugs in both ways, no more micro-USB)
Samsung will keep the 3.5mm headphone jack, at least for now (no courage)
Dual-band Gigabit WiFi support, Bluetooth 4.2, LE, and aptX
micro-SD expansion support up to 256GB cards (over 300GB storage possible)
Extras & Warranty
Guard S8: Optional warranty with 2-hour guaranteed screen repairs (regional restrictions) with one free repair, live tech support 24/7, remote support similar to Google Pixel
DeX Station: Short for Desktop Expansion which will work with a new Galaxy S8 dock with active cooling to turn phone into full-out desktop experience. Connect to monitor. Similar to Windows Continuum
Black, Blue, Dark Grey, Titanium Silver and Gold color options at launch
€799 and €899 in Europe, US pricing rumored for $799 and $899, or $849 and $949. These are expensive
Slew of accessories will be announced and available upon release. Including a new Gear VR 2 with controller
Final Thoughts
As we said earlier, a lot of the information has been rumored time and time again. Add in the countless leaks and photos from @evleaks, and there's little left to the imagination. Come March 29th the Galaxy S8 and S8+ will be official, and everything above will be confirmed.
So when will the Galaxy S8 be released? According to countless leaks thus far, it looks like the release date has been delayed and it should be available around the globe starting around April 21st or April 28th.
We can expect pre-orders to kickoff at least a few weeks ahead of the release date, but we'll know for sure in just a few days. It's possible Samsung could surprise us with a few new features or even an early release date, but we'll have to wait and see. Stay tuned for more details.