Galaxy S8 Release Date Breakdown
Samsung Galaxy S8 and Galaxy S8+ are now official and and set to be released on April 21st. With pre-orders live and users patiently awaiting its arrival, below are some Galaxy S8 release date details, pricing, early shipping information and more for buyers. This is our Galaxy S8 release date breakdown and everything you need to know.
On March 29th Samsung took the stage in New York City and showed the world what they've been working on. Those being a 5.8-inch Galaxy S8 and a 6.2-inch Galaxy S8+ with curved Infinity screens, double the storage, improved hardware and more.
Read: What Galaxy S8 Color to Buy: Black, Gray or Silver?
Following the unveil Samsung confirmed pre-orders were available immediately. In the weeks following we now have all the details on pricing, discounts, deals, accessories and more. If you're interested in getting the Galaxy S8 read on for more details.
Here, in an effort to help those looking to get Samsung's next big thing, we break down the now official Galaxy S8 release for the US and elsewhere. From pre-orders, color, pricing and so much more. Including information on the delay of Bixby, Samsung's AI assistant, and carriers shipping orders early.
Galaxy S8 Release Date
The latest Galaxy can officially be yours on April 21st. Due to improving the design, packing huge screens and a cutting edge Snapdragon 835 processor, the date is slightly later than prior years. Not to mention adding a new 8-point battery check for safety.
While countless leaks and rumors went back and forth on the release date, Samsung made it official back in March. The Galaxy S8 and S8+ have been available for pre-order since March 30th, and will hit the US on April 21st. Select other regions will see it arrive a week later on the 28th.
That is almost a month and a half later than last year, but right on time with when we received the Galaxy S6 or even the Galaxy S5. With such major improvements across the board, Samsung feels it was worth the wait.
Read: Why You Shouldn't Buy the Galaxy S7 Right Now
It's also worth mentioning that while the Galaxy S8 will be available from the 21st, their Bixby AI assistant won't launch with all its features. Samsung apparently confirmed to multiple outlets like the Wall Street Journal that the voice aspects of Bixby will come in a later update.
Galaxy S8 Pre-Orders
Another question we've been hearing from potential buyers is regarding Galaxy S8 preorders. With a sleek new design and bigger curved displays, inventory could be somewhat limited. Especially considering there are millions of people who returned the Galaxy Note 7 and will be looking to buy the Galaxy S8.
Offering at least three new colors and double the storage, at 64GB, this phone will be selling out fast. That's why a pre-order will be a good idea.
Pre-orders began March 30th from multiple outlets. Like Verizon, T-Mobile, AT&T, and even retail stores such as Best Buy or Walmart. There are a lot of deals available, and Samsung has confirmed pre-order numbers are double that of prior years. Most likely there will be plenty of inventory, but we'd still recommending pre-orders ahead of the release date.
So there it is. Pre-order the new Galaxy S8 or Galaxy S8+ now and reserve it ahead of time. All pre-orders get a free Gear VR with controller and a VR game bundle.
Additionally, it looks like carriers like T-Mobile and Verizon may ship orders ahead of the April 21st release. We've seen this in the past, including the Galaxy S7 arriving over a week early. That said, so far we're hearing they could arrive around April 19th.
Where to Buy the Galaxy S8
As expected, all carriers and multiple stores will offer the new S8 and S8 Plus. As of right now we can confirm Verizon, T-Mobile, AT&T, Sprint, US Cellular and more. Not to mention Best Buy, Target, Walmart, Sam's Club and other retail stores.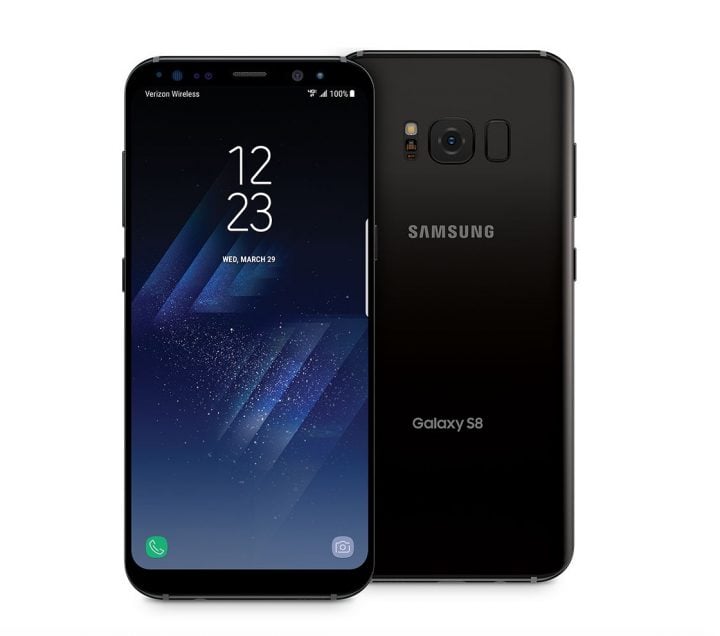 For any and all details about pre-orders, click here. We're also assuming plenty will be available in-store come the 21st for same-day pickup.
Galaxy S8 & Galaxy S8+ Specs
Sporting beautiful new "Infinity displays" and a sleek new design, these are poised to be some of Samsung's best phones yet. Those interested will want to have all the details. Here's the full spec sheet for those interested.
Galaxy S8 Specs 
5.8 and 6.2-inch 2960 x 1440 Quad-HD AMOLED Infinity Display
Snapdragon 835 or Samsung Exynos Processor with 4GB of RAM
64GB of internal storage and a micro-SD slot for expansion
Android 7.0 Nougat with Samsung TouchWiz
12 DualPixel Rear Camera with OIS, phase detection auto-focus, f/1.7
8 Megapixel f/1.7 aperture front camera
Rear-mounted Fingerprint Scanner, Front Iris Eye scanner
Home button built-into the screen, like ForceTouch
IP68 dust & water resistance
3,000 and 3,500 mAh battery with Fast & Wireless Charging
Improved Always-On Display
Bixby Virtual Assistant
Samsung Pay, 3.5mm headphone jack, new Gear VR 2, more
The information above is now official, and was dead accurate with leaks like the one shown below. These are stunning phones, with a lot to offer.
Samsung Galaxy S8+ spec sheet. Impress your friends, confound your enemies…with knowledge. pic.twitter.com/lHrHge8BUa

— Evan Blass (@evleaks) February 22, 2017
The Galaxy S8 has the biggest display of any flagship Galaxy S or Note released to date. The bezels are tiny, and the corners of the screen have a nice rounded design. It's also worth stating that while they have huge screens, they are only slightly bigger physically than last year.
Read: 8 Best Galaxy S8+ Screen Protectors 
Here's a detailed comparison with photos showing the size of the Galaxy S7 vs Galaxy S8 and more.
Galaxy S8 Carriers & Colors
As many of you already know, this will be one of the biggest and most important smartphones released in 2017. Aside from maybe the iPhone 8 or iPhone X. Meaning almost every carrier in the United States and around the globe will carry it.
Last year all major US carriers offered the Galaxy S7, including small regional operators. These phones will soon be available from Verizon Wireless, AT&T, T-Mobile, Sprint, US Cellular, Cricket, MetroPCS, and many others. Additionally, it will be on almost all main carriers throughout Canada, Europe, South Korea, and elsewhere. This will be Samsung's biggest launch ever. Expect almost everyone to have the Galaxy S8 for sale.
The Galaxy S8 and S8+ will be available in three colors for the US, and a few others elsewhere. The US will get Midnight Black, Orchid Grey, and Arctic Silver to choose between. Internationally, there'll also be Maple Gold and Coral Blue.
Although, we can expect some carriers or maybe even Best Buy to get color exclusives. Meaning the beautiful Blue model may come to the US at a later date. Pre-orders will get a free Samsung Gear VR 2 with motion controller, and likely other deals will surface from carriers.
Galaxy S8 Price
Another extremely important factor will be the price. The Galaxy S8 will be $749 while the S8+ will come in at $849. Although pricing will vary depending on carriers, or where you buy. Verizon is only asking $720 or $840.
The Galaxy S8 will have a $30 down payment and cost $30/month for 24 months on the T-Mobile Equipment Installment Plan (FRP: $750). JUMP! On Demand customers can snag the device for $0 down and just $33/month.
The S8+ will be available for $130 down and $30/month for 24 months on EIP (FRP: $850), with the same down payment and monthly payment amount for JUMP! On Demand customers.
Select retailers like Best Buy are offering $100 off for buyers, and Walmart has special lower pricing too, for those interested.
Other Details
Buyers can also get the all-new Samsung Gear VR 2 with motion controller alongside the Galaxy S8. It will be free for those who pre-order. Additional details or accessories are readily available from 3rd party manufacturers as we speak. Check Amazon for more details.
Read: 30 Exciting Galaxy S8 Features
Samsung has continued to offer more and more accessories and cases with each new release. Here's a full list of 13 Exiting Official Galaxy S8 Accessories.
At the end of the day all potential buyers need to know is the Galaxy S8 and S8+ will hit shelves on April 21st. It was a long wait, but worth it. Get yours pre-ordered, and stay tuned for more details as they become available.