Galaxy S9 Notification Bar Icons Explained
If you're wondering what some of those weird icons are on your Galaxy S9 we're here to help. This quick guide will help you understand what all the notification bar icons mean. We're talking about those little symbols at the top of your screen near the time, date, and battery indicator.
What is that weird circle with a plus sign on my Galaxy S9? What is that lightning bolt arrow? Or that bullseye, or even the stop symbol? If you've asked yourself any of these questions, we have answers. We won't just tell you what they mean either, we'll help you get rid of them.
Read: 9 Best Galaxy S9 Screen Protectors 
Most of the icons at the top of your screen are important. These let you know what settings or features are on or in use. They also display your 4G LTE data connection, 2G, 3G, WiFi, battery levels, and upcoming alarms, to name a few. If you're seeing an icon you don't recognize, or don't know how it got there, keep reading.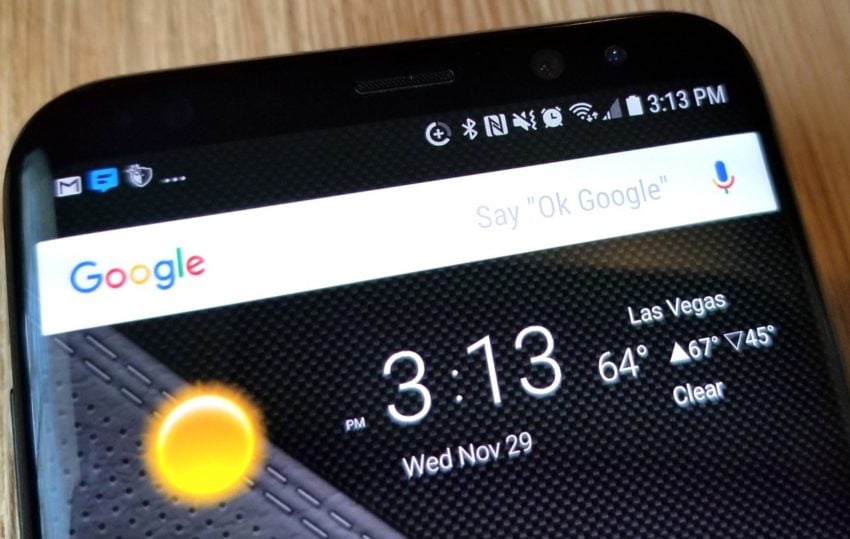 Galaxy S9 Notification Bar Icons Explained
You can spend a full night reading the Galaxy S9 user manual, but that will only tell you about a few icons. The icons we get asked about the most aren't even mentioned in the manual. That said, here are a few images provided by Samsung detailing some common notification bar icons. Then, we'll explain even more ourselves.

Some of the Galaxy S9 notification bar icons above are what you'll see often. These appear when you have a missed call, new emails, messages, downloads, GPS, or app updates. These are all pretty common, and most people understand what they mean.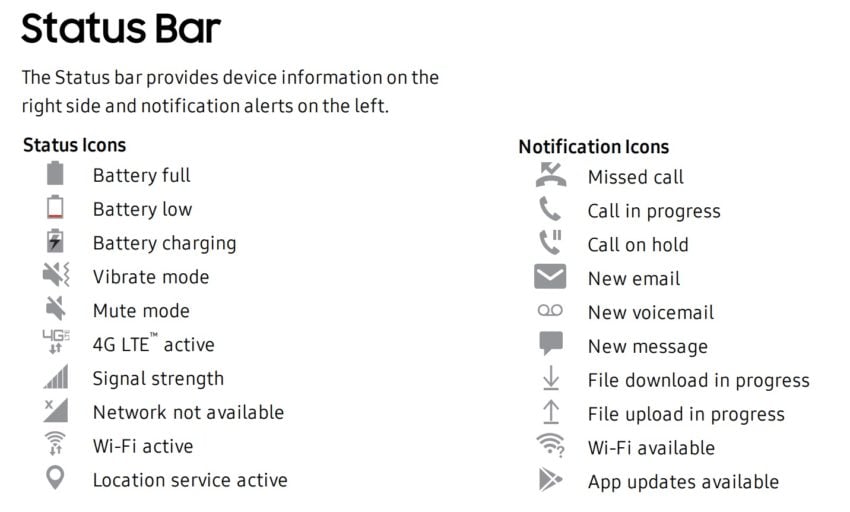 Then, you might see some of these shown above. These are a few more rather common icons, like your data connection or WiFi internet. All carriers have a different logo for 2G, 3G, 4G, H, H+, and 4G LTE. That's the type of connection you have with AT&T or Verizon. These icons notify you that you have an active connection and what type it is. You want 4G LTE everywhere.
If you didn't find what you're looking for above, here are a few other others you might see and won't understand.
What Do These Weird Galaxy S9 Icons Mean?
The most common question we see about the Galaxy S8 notification bar icons is an odd half-circle with a plus sign in the middle. And now, we're seeing similar questions for the Galaxy S9. You can see it in our photo below. This doesn't go away, even if you reboot the phone. We get a lot of questions about a "lightning bolt" on the Galaxy S9 notification bar too.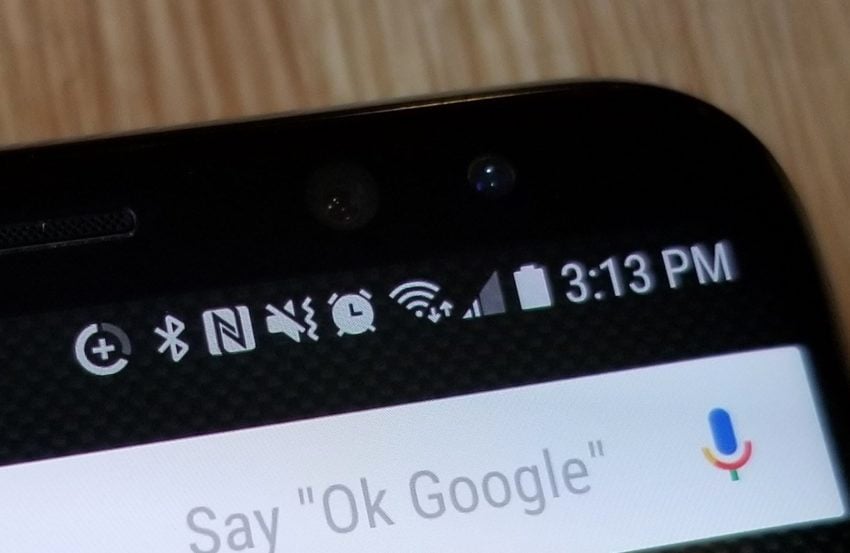 That weird circle plus sign is Data Saver. At some point, you turned this feature on. Samsung's Data Saver cuts down on data usage by preventing certain apps from sending and receiving data in the background. If photos aren't loading right in apps (like Facebook) it's because of Data Saver.
Pull down the notification bar and tap the gear-shaped settings button. Go to Settings > Connections > Data usage > Data Saver > and turn it off. Now that little icon will finally disappear. However, your phone will use more data than it did before, and you might go over your monthly data plan. Next, the odd B icon stands for Bluetooth. I'm always connected to headphones or my truck stereo, so I always see the B notification icon.
What's this "N" on my Galaxy S9? That N-shaped icon stands for NFC, or Near Field Communications. Apps and services use NFC to quickly pair Bluetooth accessories like a speaker. Or, you also use NFC when you make mobile payments with Samsung Pay or Google Pay.
And if you see a bullseye on your Galaxy S9, don't worry. This is just GPS on most models of the phone. If you're using Google Maps or Navigation, you'll see a bullseye icon. Or, look out for a circle with a line through it, like a no smoking sign. This means you have no mobile connection or you took your SIM card out of the phone. If you see an "R" by your signal bars, it means you're roaming and not on 3G or 4G LTE. Roaming is when you're an AT&T customer but there's no AT&T service around, but your phone still works because it found service from T-Mobile, or someone else. Roaming charges can get very expensive, so be careful if you see the R.
More Common Galaxy S9 Icons
Airplane mode is another icon we get asked about often, even on the Galaxy S9. If you see an airplane you likely pulled down the notification bar and accidentally turned on airplane mode. Incidentally, you probably have no internet or Bluetooth when you see this icon.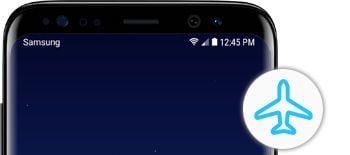 Airplane mode turns off all the wireless signals inside your phone. Like WiFi, Bluetooth, 4G LTE, internet, etc. Some airports believe these signals can interfere with an aircraft, so they make you turn everything off while you fly. Hence the name, airplane mode.
If you see a circle with a line in the middle, this stands for Do-Not-Disturb mode. Again, you probably accidentally turned this on by hitting the DnD mode when the notification bar was open. This prevents any and all notifications from coming through and is a feature millions of people love.
To get rid of any of these icons, pull down the notification bar and look for the symbol. Find it, and tap once to turn it off.
Lightning Bolt on my Galaxy S9?
And finally, we need to talk about that arrow lightning bolt thing people keep seeing on the Galaxy S9 and Galaxy S9+. This is actually the icon for a feature known as download booster. It's an extremely useful feature that most carriers in the United States disable on Galaxy phones and tablets.
Download booster lets the phone combine both 4G LTE and WiFi for the fastest possible speeds while downloading a file. Basically, using your phone connection and home WiFi together for an improved experience. It's nothing to worry about, but here's how to turn it off.
Go to Settings > Connections > More Connection Settings > and uncheck download booster.
How to Limit Notification Bar Icons
In closing, did you know you can easily get rid of almost all of your notifications on the Galaxy S9? You can actually turn on a setting that only lets the phone display three notification icons at any given moment. This way your Galaxy S9 notification bar is clean, easy to read, and not a clustered mess. Head to Settings > Display > Status Bar > and select to "show recent notifications only" from the list of options. Now, you'll only see three icons at a time, at least on the left side of the screen.
The more you know, right? Now we've explained some of the most common and most frustrating Galaxy S9 notification bar icons. You know what they do, why you see them, and how to turn them off. Before you go, check out these 35 Galaxy S9 tips and tricks, and learn how to disable the always-on display. Or, get a screen protector from our slideshow below and keep your screen safe.
10 Best Galaxy S9+ Screen Protectors
Caseology Tempered Glass (Easy Install Tray)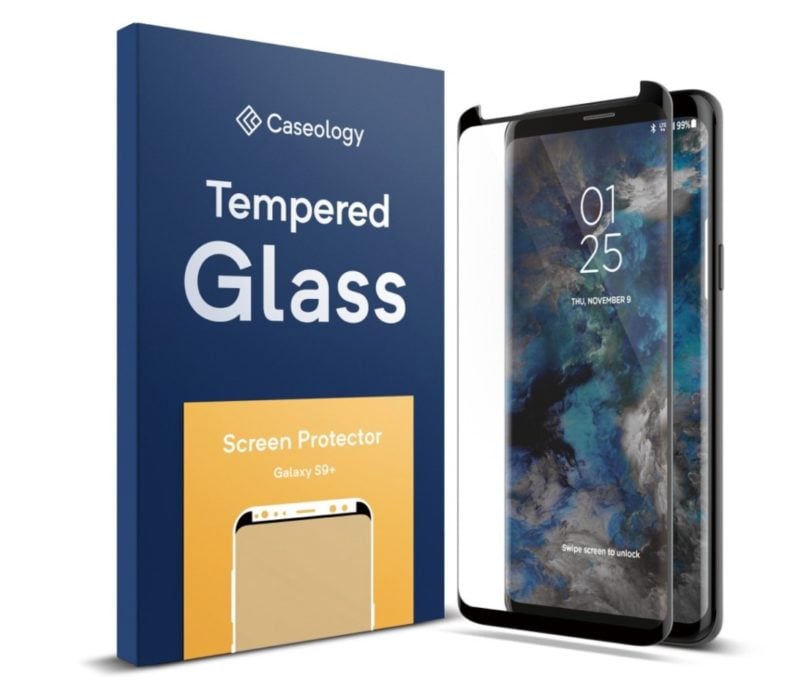 First off, we're recommending the Caseology Tempered Glass Screen protector kit for the Galaxy S9+. While they make great cases, the reason this made our list is because of the easy installation tray.
No one likes putting on screen protectors, and half the time we mess up anyways. This is especially true with the curved glass edge on Samsung phones. With Caseology, you'll get a super simple easy installation tray that perfectly aligns the glass protector for you. Pull off the protective film, line it up, and drop it in place. Then use the included squeegee to get rid of any bubbles.
Each Caseology glass works great with cases, which means the edges are just a tiny bit short so your case doesn't pull it up and ruin your screen protector. They're using 9H reinforced glass with anti-fingerprint coatings, rounded edges to prevent chipping, and it's pretty affordable too. Don't forget Samsung sells official accessories as well.

As an Amazon Associate I earn from qualifying purchases.