Google Pixel 3 & 3 XL Release Date, News, Specs & Rumors
If you're looking for a roundup of all the latest Pixel 3 XL news and rumors in one place, we have you covered. The Google Pixel 3 and Pixel 3XL release date is almost here, and as the launch nears leaks are at an all-time high. We know essentially everything about these phones, the Pixel Buds 2, Pixel Slate, and Google's other products coming on October 9th.
Even though the Pixel 2 XL is still a great phone, potential buyers are already looking ahead to what's next, which of course is Google's Pixel 3 and Pixel 3 XL. Recently, we've received a lot of information about both phones, including some info you probably won't like. Here's the latest news, including when you can pre-order the Pixel 3 XL.
Google's Pixel 3 & Pixel 3XL will be announced on October 9th in NYC
These phones look nearly identical to the Pixel 2 and 2 XL from 2017
The Pixel 3 XL has an iPhone X-style notch and a bigger edge-to-edge display
We believe the Pixel 3 & 3 XL will cost anywhere from $649-$949 or more
Now that you know a few of the basics and we've answered some key questions, here's the latest news and rumors.
Google Pixel 3 Release Date
After countless leaks and rumors, Google confirmed everything themselves. Google will host an event on October 9th in New York City to officially unveil the Pixel 3, Pixel 3 XL, PixelBook 2, Pixel Slate, Google Home Hub and more. Then, expect a release date two weeks later around October 22nd or 24th. My source says October 24th.
And while the release date is likely a week or two later, you'll be able to pre-order the Pixel 3 and Pixel 3 XL immediately following the event. Google recently started answering odd questions through the Google Assistant about the event and revealed some key information.
Try squeezing your phone, tapping the Assistant button, or long-press your on-screen home button. Once the Google Assistant pops up try asking "What's this announcement about?" or "When are you making this announcement?" or "Where can I learn more about this event?" and Google will respond with more information. Ask the right question, and you get the image shown above.
Read: OnePlus 6 vs Pixel 2 XL: Which One to Buy
We'll update this post if anything changes, but expect a late October release. With how much we're seeing these phones in the wild, an early release is plausible. Maybe quickly on Oct. 12th or 15th.
Pixel 3 Display & Design
At this point, you've probably seen the leaks all over the internet. Including a huge leak on August 8th revealing the box, final design of the Pixel 3 XL, and the included USB Type-C headphones in the box. Then, a full unboxing video surfaced which is below for your viewing pleasure. It sounds like multiple Pixel 3 XL devices were stolen in Russia, which is where all these leaks are coming from.
As you can see, Google is giving users an "edge-to-edge" display. However, like Apple and others, Google added a notch to the top. Not just any notch, but a big one. It's an eye-sore if you ask me. Here are new photos of the Pixel 3 XL in white from XDA forums and other leaks.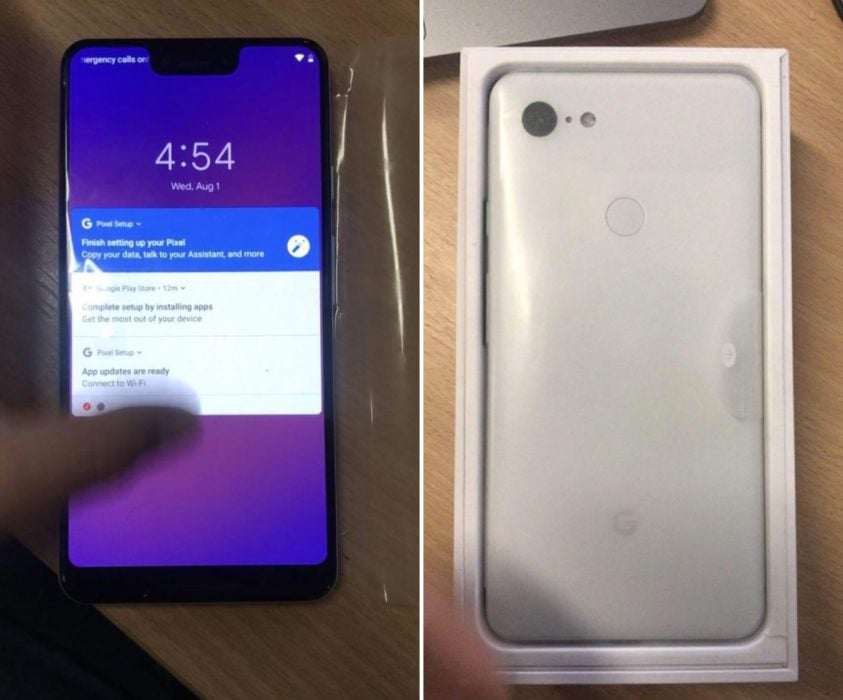 From what we're hearing, the smaller Pixel 3 will have a 5.5-inch AMOLED screen and look similar to the Pixel 2 XL. Basically, a familiar design with smaller bezels. However, the bigger Pixel 3 XL (pictured above) will have a monstrous 6.2-inch bezel-free screen.
Well, bezel-free but with a deep notch. Leaksters suggest this allowed Google to offer a big 6.2-inch screen while keeping the phone the same size as last year. Here are more leaked photos of the display, design, and comments from other trusted sources.
Clearly, the design closely resembles the entire Pixel family, dating back to the original phone. And while some will hate the notch, others will love the bigger edge-to-edge display. If you hate the notch just get the smaller Pixel 3, or use the software to hide it on your 3 XL.
One leak states Google has three other phones they might launch instead of what's pictured above, but that's seriously doubtful.
Read More: 5 Things We Want From the Google Pixel 3
Last but not least, looking closely at these leaks we see what looks like a glass back on the Pixel 3 XL. Instead of a two-tone metal and glass back, Google could finally go with all glass. And while that makes it more fragile, it also introduces wireless charging. One of many features they'll likely offer to compete with Samsung and Apple.
Basically, Google is following Samsung and Apple's lead whether you like it or not. And while these look like two excellent phones from the back, around front I'm not impressed. What do you guys think about these leaks? Additionally, there is now a huge conspiracy theory that Google leaked these phototype devices on purpose, and the Pixel 3 XL (or Pixel Ultra) will have a truly edge-to-edge screen with no notch. We'll know come October 9th, so stick around.
Pixel 3 Colors (And New Rumors)
Now that Google confirmed the October 9th launch event, they've started teasing the phones on social media. In fact, the search giant has a promo website that clearly shows the Pixel 3 XL in Black, White, and the beautiful Mint Blue. Here's a GIF showing all three.
The colors of the Pixel 3 & Pixel 3 XL?

From the page our source gave to us. pic.twitter.com/sQcxThbmtj

— Jon Prosser (@jon_prosser) September 14, 2018
However, after digging through the source code of that site, an eagle-eyed reader saw a fourth color. It looks like the fourth color option could be Pink. That said, a new leak from Android Headlines revealed another color, which is "Sand". Personally, it's quite boring and looks like makeup, if you ask me.
Oh, and can we stop with the Pixel Ultra rumors. Please. Instead, maybe consider a Pixel Mini in 2018-19.
Here's the Smaller Pixel 3
Next, we want to give you a look at the smaller Pixel 3. The phone most people will want as it doesn't have a notch. And while everyone is obviously excited about the bigger phone, Google still has a smaller device in the works. In fact, the regular "smaller" Pixel 3 might actually be the Google phone to buy in 2018. Here's our first official images, specs, and full information about the regular Pixel 3.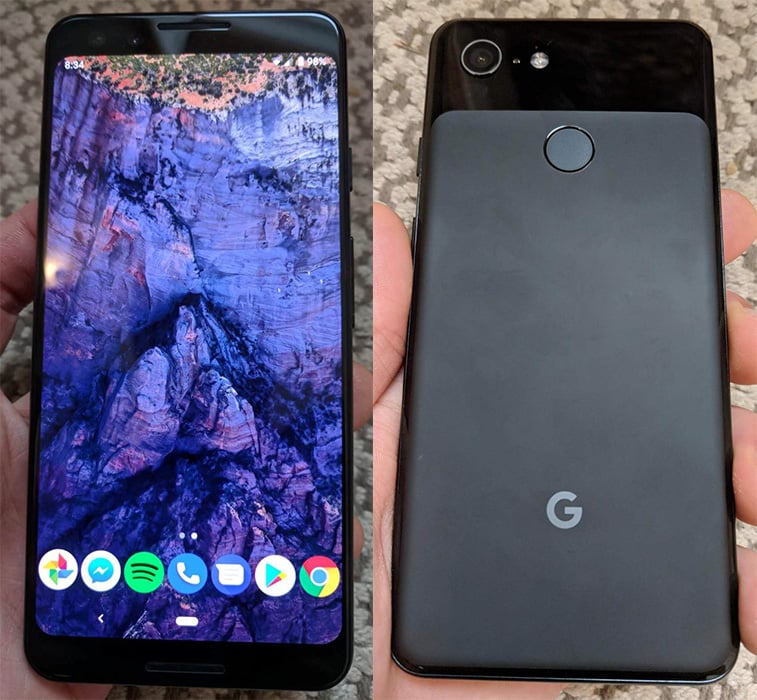 If you hate the notch on the Pixel 3 XL, consider Google's smaller smartphone this year. Both phones pack the same powerful specs on the inside, the same great camera, dual front-facing cameras, and simply have different screen sizes. Basically, it's like a smaller version of the Pixel 2 XL with upgraded specs.
With the Pixel 3, you'll still enjoy Android 9 Pie, dual stereo speakers and excellent performance. Personally, this is the Pixel I'll be buying. Keep in mind that there's a small chance Google will unleash a 3rd Pixel phone. We're not talking about the Ultra, and instead maybe a Pixel Mini with an affordable price tag.
We've heard rumors of a mini Pixel. Which begs the question how "mini" is too mini? We have a feeling the next one will be a bit bigger than this. Tune in on 10/9 to see for yourself. #madebygoogle https://t.co/3NGrvi8uC2

Doodle by Google hardware designer, Jacqueline Bae pic.twitter.com/vJl42zDG27

— Made by Google (@madebygoogle) October 3, 2018
Pixel 3 vs Pixel 3 XL
We briefly mentioned this in our last section, but now that we have a photo comparing the two we figured it was worth talking about. The Pixel 3 and 3 XL are essentially the exact same phone. They have the same powerful specs on the inside, the same camera, same everything.
You still get a big screen, the dual front-facing speakers aren't going anywhere. They're mostly the same phone. The only differences will likely be the screen and battery size. So if you love what Google typically has to offer, spring for the smaller one if you don't want the notch.
Google Pixel 3/XL Specs & Features
The Pixel 3 lineup will be Google's best smartphone yet. One thing to keep in mind is you'll get to choose between two different phones to get exactly what's right for you. And potentially even three, if these rumors end up true.
Pixel 3 and Pixel 3 XL Specs (Rumored)
5.5 and 6.3-inch Quad-HD AMOLED Displays
8-Core Qualcomm Snapdragon 845 Processor with 4GB of RAM (Same processor as S9, Note 9, less RAM)
64 and 128GB storage configurations, no microSD expansion
Android 9 Pie Software
Improved 12.3 Megapixel Rear AI Camera with f/1.7 aperture, tons of software tricks
Dual 8MP Front-facing cameras for Portrait selfies, emoji and more
Dual Front-Facing Boomsound Stereo Speakers
3,000 mAh and 3,520 mAh Battery with fast and Wireless Charging (or bigger)
IP68 Dust & Water Resistant
USB Type-C, Google Assistant, Face Unlock technology, no 3.5mm headphone jack
Type-C headphones in the box (vary by region) and more
Our list above is a combination of the most recent leaks, speculation, what we've seen from previous years and what the competition has to offer. And while we have no credible source behind this information, it's probably 95% correct, if not more. Here's a full leak of Pixel 3 specs.
Basically, these will be two powerful phones that will take on the Galaxy Note 9, Apple's iPhone Xs, and even the upcoming Galaxy S10 in 2019.
We don't know if the screen sizes are accurate or how big the battery will end up, but we know these phones have fast wireless charging. Most leaks we've seen of the Pixel 3 XL show 4GB of RAM, so it's unclear if we'll see a 6GB model or not. Honestly, 4GB of RAM was the Pixel 2 XL's biggest weakness, and why newer phones have better performance. Google needs at least 6GB in the high-end model, and hopefully they offer one on the Google Store.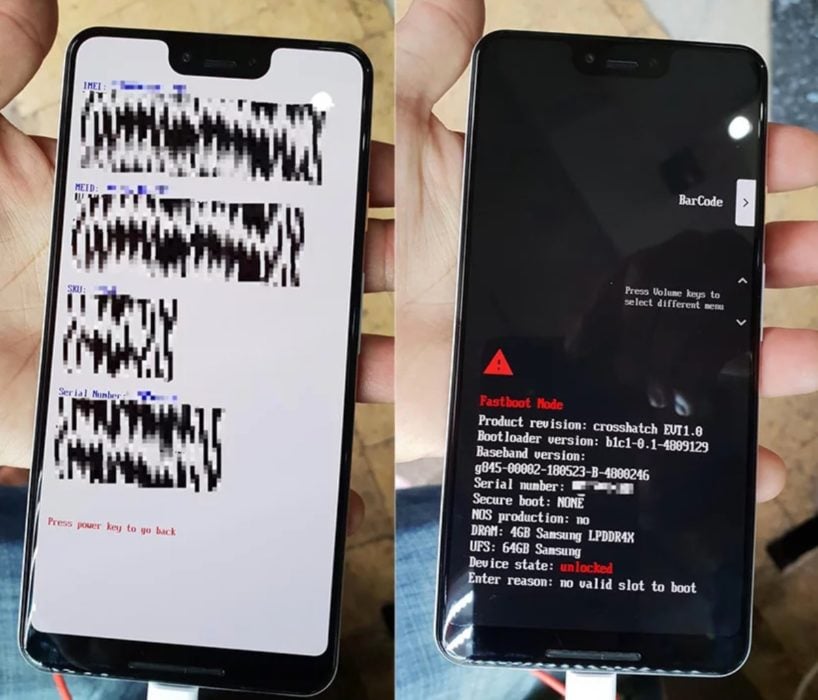 Before we finish, it's worth mentioning that we could see a third Pixel phone. Either at the same time as these two phones or in early 2019. Droid-Life found codenames for three Pixels. Those being: Pixel 3 XL "crosshatch", Pixel 3 "blueline", and a 3rd phone codenamed "albacore". We keep seeing mentions of Blueline and crosshatch by Google in AOSP too.
Off to Taiwan for @computex_taipei today, but here's a tidbit for ya: Google is working on a "mobile" device based on the Snapdragon 710 currently scheduled for launch in the 1st half of 2019. Sounds like this might be the (or one of them) upcoming mid-range Pixel phone.

— Roland Quandt (@rquandt) June 2, 2018
A popular leakster recently shared the message above on Twitter. Claiming Google has an affordable "mid-range" Pixel phone coming in early 2019. That could be the third phone we keep hearing about, and the Mini Google hinted at. Keep in mind that we hear a similar rumor every year, then Google just releases two phones. So, take this with a grain of salt, and we'll wait until we know more before saying anything else.
Google Pixel 3 Cameras
Surprisingly, all the leaks we've seen thus far suggest Google will be one of the only manufacturers in 2018 to offer a phone with only one camera on the back. Don't worry though, as they'll use AI and machine learning to take incredible photos. The single 12.3 MP camera on the Pixel 2 was just as capable (or better) than dual cameras on the iPhone 8 Plus, Galaxy Note 8, and many other phones with two cameras.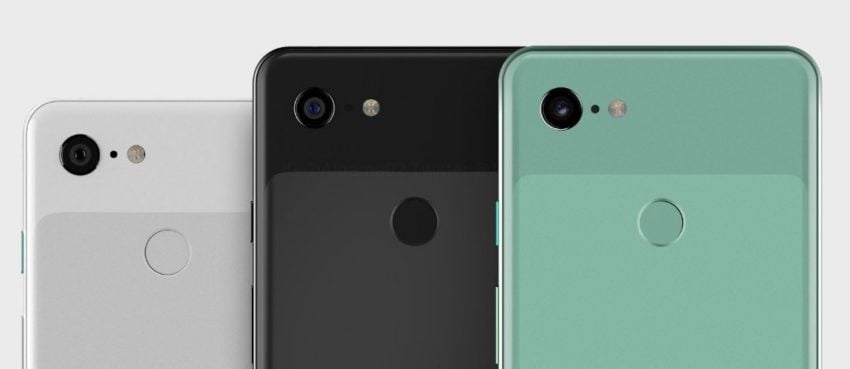 Basically, don't let the single camera on the back worry you. Google uses some impressive technology and advanced artificial intelligence to let the software do all the hard work. Stuff that everyone else has to add a second camera lens for.
That said, we are seeing dual front-facing cameras. This is likely to offer an improved Portrait mode selfie camera, emoji's like Samsung and Apple, and potentially some new Iris or Facial scanning security measure. We don't have any concrete information about the camera yet but expect one of the best smartphone cameras of 2018 from the Pixel 3.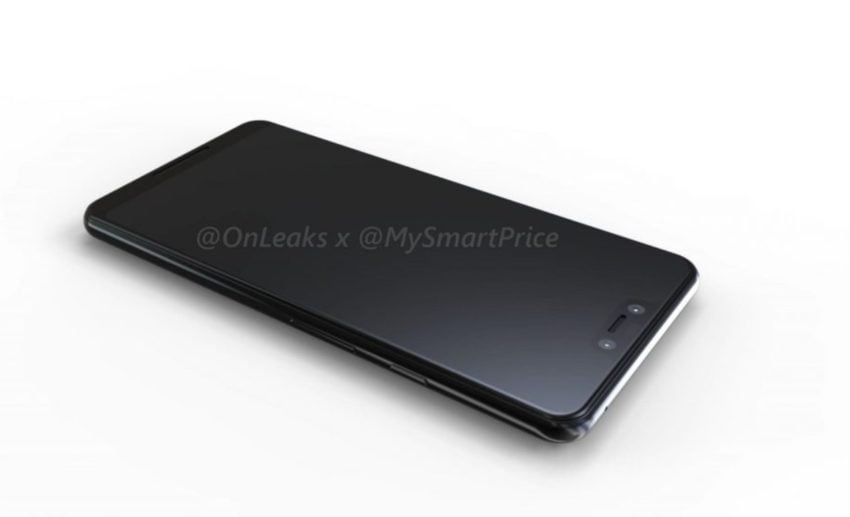 Final Thoughts
In closing, it looks like Google will deliver two excellent new smartphones in just a few weeks. A somewhat compact Pixel 3, then a massive 6.3-inch Pixel 3 XL the size as Samsung's Galaxy S9+. Then, we could see some sort of 3rd budget device in early 2019 that completes Google's current smartphone plans. I, personally, hope a third 6.5-inch device with no bezel will arrive to battle the iPhone Xs Max. We can dream, right.
When the Pixel 3 and Pixel 3 XL arrive they'll run Google's brand new Android 9 Pie software, deliver a premium design, new features, and have a great camera.
At this point we know pretty much everything about the Pixel 3, or do we? Google likely doesn't have any surprises left, but we're hoping they save one or two things for October 9th. Even accessories like the PixelStand have leaked.
What do you think about the notch in the screen? Is that an upgrade and progression of edge-to-edge screens, or is Google being lazy and adding a notch that's way too big? We would love to know your thoughts.
Then, we'll continue to update this post as we learn more about a potential 3rd or 4th phone, the release date, battery size and anything else that surfaces. In the meantime, here's how the Pixel 3 compares to the Galaxy Note 9 for those debating on waiting or getting something right now.