GTA 5 PC, PS4 & Xbox One Deals Offer Tempting Upgrade
There's no GTA 5 trade in deal to help you upgrade to the GTA 5 PC, PS4 and Xbox One release, but there is a new way you can save $25 on the new and improved GTA 5 release.
After a year of waiting, the Xbox One and PS4 GTA 5 release date arrives in late November and the PC GTA 5 release is coming in late January 2015, but you can pre-order today and lock in $25 in savings.
This knocks the price of the GTA 5 PC release down to $35, which is pretty incredible considering this isn't just a port but a re-visualized version of GTA 5 and GTA Online.
We're hearing many users ask if Rockstar plans to give a GTA 5 deal if you trade-in your copy for a new Xbox One or PS4 GTA 5, but so far there is no confirmation of any special trade-in values. However, savvy shoppers who can live without GTA 5 for a few months can get this deal and still score a $27 to $30 trade in value for GTA 5 on Xbox 360 or PS3, cutting the overall cost of upgrading to about $10.
Like all the best video game deals scoring a cheap upgrade to GTA 5 for PS4 and Xbox One requires you make a trade at one store, hold that credit for another game, and buy GTA 5 from Dell to get this deal. The combined savings is what makes this GTA 5 deal tempting for Xbox One and PS4 owners.
Dell offers a $25 eGift card with a GTA 5 PC, PS4 or Xbox One purchase. This comes 10-20 days after the GTA 5 release date, and it is valid for 90 days. You don't get an up front discount and you can't use this discount until after the game ships, but it's an easy way to get credit towards your next game. Dell frequently offers these types of deals, which will allow you to save bigger on the next deal.
Here's where you can score these GTA 5 deals for PS4, Xbox One and PC.
When you add these to your cart you'll see a message alerting you to the deal confirming the savings, "Receive a $25 Dell PROMO eGift Card with this purchase sent via email in 10-20 days." If you don't see this in the cart the deal may be over. Even though the GTA 5 PC release date isn't until next year you can score this deal now.
A leaked Rockstar support page includes hints at a new first-person mode for GTA 5 on PC, PS4 and Xbox One. That's not the only upgrade for gamers who switch to the new version of GTA 5. The video below shows the difference in graphics from the PS3 version to the PS4 GTA 5 version by comparing scenes from the trailers.
On top of visual upgrades the GTA 5 release for these new platforms includes new jobs, new weapons, new vehicles and more. Users can bring current GTA Online player over to GTA 5 for PS4, PC and Xbox One. There may also be a new character creation screen.
Top PS4 Games to Buy in 2014
Call of Duty Advanced Warfare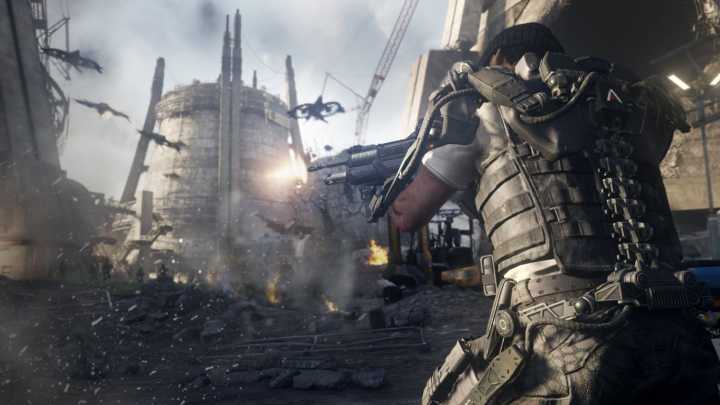 PS4 Call of Duty Advanced Warfare Details:

Call of Duty Advanced Warfare Release Date: 11/4/14
Pre-Order Bonus: Brass exoskeleton, EMP Weapon
Special Editions: Yes
Exclusive: No

Call of Duty Advanced Warfare is one of the top PS4 games to buy in 2014 not only becuase it is a new Call of Duty game, but because it is ready for a PS4 lacking fun shooters.

Yest it arrives into a fall filled with Destiny, but Killzone didn't live up to the excitement and there is no Titanfall for PS4.

Instead gamers get this Kevin Spacey filled Call of Duty Advanced Warfare release that delivers a super soldier with smart weapons and access to technology like never before including drones and hoverbikes.

Call of Duty Advanced Warfare Gameplay Video

As an Amazon Associate I earn from qualifying purchases.