Halo 5 Guardians Video Reveals Surprise Return
Microsoft isn't slowing down as it tries to get all the attention it can for its Halo 5: Guardians game coming exclusively to the Xbox One. A few weeks ago developer 343 Industries showed the game's entire beginning cut-scene complete with a few story details. Now 343 Industries is back again, this time showcasing gameplay taken straight out of the campaign and longform details about how the game was produced.
A post on Microsoft's Xbox Wire website provides a lot of the details. Microsoft is guaranteeing that Halo 5 Guardians will run at 1080P and 60 frames per second on every single Xbox One console. The company says it's able to pull this off by using what it is calling the Progressive Resolution System. 343 Industries says that the technology lets it "deploy resources where they have the most impact across a diverse series of experiences." There are other key Halo 5: Guardians details revealed in this week's post, like how Microsoft is trying to create more of a sandbox experience than a linear path for its campaign. That's huge as the Halo games have been known to shepherd players from battle to battle, almost as if players are stuck on an invisible rail system.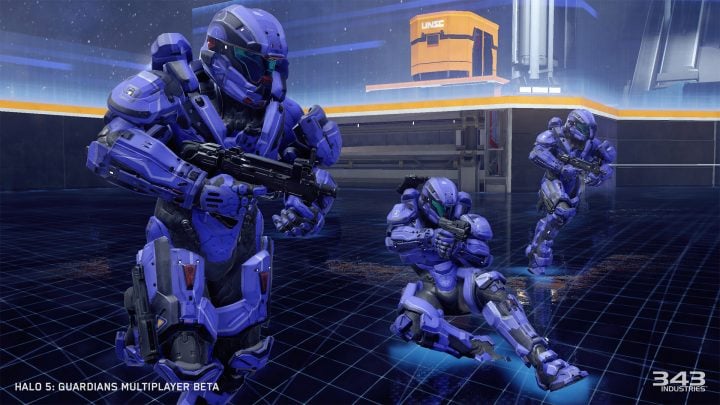 Read: Halo 5: Guardians map Revealed in Epic Fashion
It's the video taken straight from the campaign that Xbox One owners are talking about the most though. Microsoft confirmed that Halo 5 Guardians would include two teams of Spartan super soldiers months ago. What the company didn't do was confirm what other characters from the Halo universe are coming. The video posted along with today's new Halo 5: Guardians details reveals that a prominent character from previous games is returning to the series too. In the campaign mission the player is commanding Fireteam Osiris and playing as Spartan Jameson Locke.
Besides revealing this returning character, the video is a great showcase of the game's graphics and sandbox gameplay. Spartan Locke takes command of Fireteam Osiris frequently during the video footage. He also uses the jets on his suit to great effect, scaling rock formations to get a better angle and kill users plus taking out half a dozen enemies with the new Ground Pound ability.
343 Industries says that it's the Xbox Live Cloud Compute system that powers both of the Fireteam system. In Halo 5: Guardians, players are always complimented by a team of other Spartans with their own unique abilities. Xbox Live Cloud Compute is the same system that allows Crackdown 3's online experience to have completely destructible environments. It also powers the Drivatar system that allows Xbox One users to race against their friends even when they aren't online in Forza 6. Forza 6 arrives on the Xbox One tomorrow. Crackdown 3 will be playable sometime in 2016, according to GameSpot.
Human players can replace members of each Fireteam. When they do, Xbox Live Compute scales up the difficulty, making the experience more interesting for all involved. Xbox Live Compute is also used in the game's large-scale Warzone battle simulation. Announced at E3 2015, Warzone drops two teams and hundreds of enemies into one multiplayer experience for a pretty epic battle.
The Halo 5: Guardians campaign will have huge, distinct designs for all of its environments. Xbox One owners can have members of their fireteam target specific locations and even pilot vehicles, according to today's post. In the video we also see Spartan Locke flank enemies by creating his own paths. 343 Industries' intention with these areas seems to also reflect their stated mission of creating a sandbox experience were players are free to use their own fighting and command style.
Read: Which Halo 5 Guardians Edition Should You Buy?
Halo 5: Guardians launches on the Xbox One October 27th to boost the Xbox One's profile ahead of the holiday shopping season. A standard version of the game will cost $60. Microsoft has other bundles and editions coming too.
12 New Xbox One, Wii U and PS4 Games For September
Mad Max - September 1st
Launching today on the Xbox One and PS4 is Mad Max. We have an incoming tidal wave of first-person shooters coming this calendar year. That incoming wave is what makes Mad Max refreshing. It's a combat game built around creating vehicles that can take on dangerous enemies roaming the rest of the open-world. In Mad Max, the Earth is a complete and utter wasteland, with survivors fighting over what precious resources are still left. The player drives the Magnum Opus, a vehicle they can customize to their play style.
Mad Max is on the Xbox One, Windows and PS4. It's also coming to PCs running Linux, but not the Wii U.

This article may contain affiliate links. Click here for more details.