Here's When Apple Watch 4 Pre-Orders Start
The new Apple Watch 4 pre-orders start Friday, September 14th, and you'll need to prepare yourself for this on Thursday since the pre-orders start early in the morning on Friday, which many people will consider Thursday night.
Apple announced the new Apple Watch Series 4 alongside new iPhones at an event this week. The new Apple Watch 4 comes in 40mm and 44mm sizes, offering up a bigger screen than the older models. You can still choose GPS or GPS + LTE and pick from collaborations with Hermes and Nike.
The Apple Watch 4 release date is September 21st, when Apple Stores, retailers and many carriers will open up early to sell the iPhone XS, iPhone XS Max and the new Apple Watch.
With the first massive change in the Apple Watch 4 design since it was introduced, there is a good chance that demand will be high. That's one of the reasons you should pre-order the Apple Watch 4 instead of planning to walk into a store on the 21st and pick one up.
That said, you can expect most Apple Stores to have stock of the Apple Watch 4 on Friday September 21st, but you may need to settle for a different color or option than you wanted. If you know what you want, and you don't want to settle, plan on pre-ordering.
When Do Apple Watch 4 Pre-Orders Start
The Apple Watch 4 pre-orders start in the middle of the night. The pre-orders all go live at the same time, but that is different for users depending on their time zones. Apple confirmed that Apple Watch 4 pre-orders start at 12:01 AM Pacific on Friday. That's late Thursday night, if you are planning to stay awake.
On the West Coast, you'll likely just want to stay up until the pre-orders go live, get your pre-order placed and then go to bed. In other time zones, you will want to set an alarm. Here's how the Apple Watch pre-order start times break down in the U.S. and abroad.
Pacific – 12:01 AM
Eastern – 3:01 AM
Central – 2:01 AM
Mountain – 1:01 AM
London – 8:01 AM
Moscow – 10:01 AM
New Delhi – 12:31 PM
Shanghai –3:01 PM
Tokyo –4:01 PM
Melbourne –6:01 PM
Auckland – 8:01 PM
Apple is the go to spot for Apple Watch 4 pre-orders, but many other retailers and carriers will take pre-orders at the same time. You can expect to find the LTE models of the Apple Watch 4 on all major carrier websites and to order at Best Buy, Target and other retailer websites at the same time.
Apple Watch 4 Release Date
The Apple Watch 4 releases date is Friday September 21st. Apple Stores and most carriers will open early at 8 AM local time so that you can go in and pick up your new Apple Watch. Some other retailers may also open up early. Depending on the location, you may be able to order online for in store pickup, but on day one, we typically see stock sold first-come first-served at carriers and retail locations. If Apple offers an in store pickup for pre-orders they will note this later this week and normally offer a separate pickup line and dedicated pickup times.
If you plan to go on release day, you will be sharing a line with iPhone XS buyers, which could make the line much longer than you'd expect for an Apple Watch. Keep this in mind and arrive early.  Apple actually encourages people to arrive ahead of time, and at many stores you will see lines form overnight or hours before the stores open.
While the U.S. is the big launch for many of our readers, the Apple Watch 4 goes on sale in many other countries worldwide.
3 Reasons Not to Buy the Apple Watch 4 & 5 Reasons You Should
Buy If You Find it In Stock or Don't Want to Wait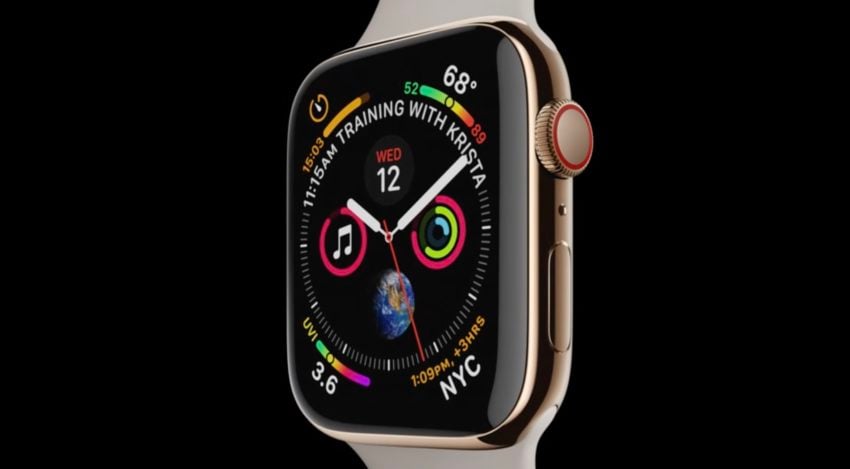 If you skipped on the Apple Watch 4 pre-orders you may still be running into trouble finding one in stock. If you know that you want one and you've already picked out which Apple Watch to buy, grab one if you can find it in stock.
It's still hard to find the Apple Watch 4 in stock, especially with the 44mm models in Space Gray or Silver. If you do find on in stock, snag it before it's sold out.
Even if you don't find it in stock. If you know that you want an Apple Watch 4, just place the order and wait for it to arrive. You can always cancel the order if you find one in stock locally faster.
The Apple Watch 4 is shipping in early November if you place an order in early October, so if you find one in stock, that's a pretty solid reason to buy it.
Here's more on how to find the Apple Watch 4 in stock at a store near you.

As an Amazon Associate I earn from qualifying purchases.