How to Find an Apple Watch 4 In Stock
Many Apple Watch 4 models are out of stock at Apple, and not shipping until November 27th. However, if you know where to look you can still find the Apple Watch 4 in stock for delivery sooner.
If you order the Apple Watch 4 from Apple you may need to wait until late November to get your new watch, but if you look at retailers like Best Buy and Target you can find multiple Apple Watch Series 4 models in stock for release date pickup.
Read: Which Apple Watch Should I Buy in 2018?
The Apple Watch Series 4 release date arrived in late September, and a month later it is still hard to find in stock. Here's how to find the Apple Watch 4 in stock, andthe best Apple Watch 4 deals right now.
How to Find an Apple Watch 4 In Stock
Forget calling stores and pestering employees to ask about the Apple Watch being in stock at Apple Stores or other retailers. You can check to see if anyone local or online has the Apple Watch 4 in stock, and then you can order one and possibly pick it up within an hour.
Check Apple Store Apple Watch 4 Stock
Use the Apple Store App on your iPhone or the Apple Website to see if there is an Apple Watch 4 model that you want to buy in stock at a local Apple Store or if you can order for fast delivery.
Apple typically has more stock, and gets shipments in each morning after the release date arrives. Your best bet is to look on the Apple Store app each morning and then reserve for in store pickup if they have a model you want.
In Stock Now at Best Buy, Target & B&H
Best Buy and Target both sell the Apple Watch Series 4 and most models are in stock for delivery on within a day or two.
Not all models are shipping immediately, but many are available and now it is faster than you will get the Apple Watch 4 from an Apple Store. You can still buy AppleCare+, go to Apple Stores for support and even get LTE models.
If you order from B&H Photo and some other online retailers you won't need to pay sales tax if you are outside of Washington, NY or NJ.
In Stock Now at Most Carriers
If you want one of the Apple Watch 4 GPS + LTE models, you can go directly to your carrier and get one for release date delivery.
You may also find some Apple Watch 4 deals at carriers including free service for a few months and $50 off when you also buy an iPhone.
You can only buy the LTE models here, so if you want the GPS only option, you can't go to a carrier. The LTE models are more expensive, but you can do payment plans at most carriers to break the cost out over 6 – 24 months.
Once you find your Apple Watch 4 in stock, check out 50 cool things the Apple Watch can do, and the things that only the Apple Watch 4 can do below. You should also look into our list of the best Apple Watch bands and best Apple Watch Accessories.
8 Cool Things the Apple Watch 4 Can Do
Take an ECG Anytime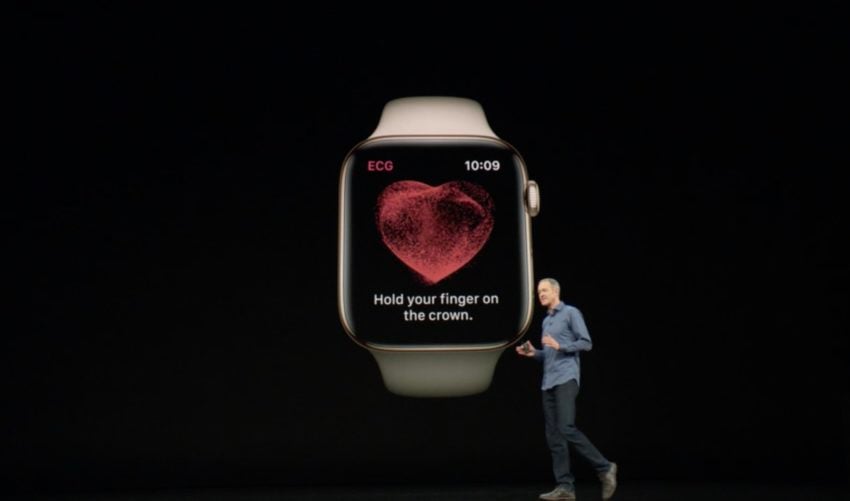 The Apple Watch 4 packs a new heart rate sensor and it also includes the ability to take an Electrocardiogram right on your wrist at any time.
Typically you need to go to a doctor to get an ECG, and it might not capture the heart issues that happen throughout the day.
With the Apple Watch 4, you can take an ECG by placing your finger on the digital crown and the Apple Watch does the rest. This is an FDA Approved mobile ECG, and it is potentially life saving.
This joins a host of other Apple Watch heart features that are available on other models including low heart rate alert, afib alert and more heart health record keeping and tracking. You can easily share the health information to your doctor from the Health app on your iPhone.