How to Add a GIF to the Galaxy S8 Always On Display
In this guide we'll show you how to customize the Galaxy S8 always-on display. In fact, you can add a GIF right to your screen and see it even when you turn the screen off. Samsung's always-on display is a popular feature people love, and with the Oreo update, they made it even more customizable.
The always on display gives you small bits of information at a glance even when the screen is "off". Information like the time, date, battery level, and incoming notifications. However, along with dozens of clocks and hundreds of customization combinations, now you can add a GIF to it.
Read: How to Turn Off the Galaxy S8 Always On Display
To get started, go to Settings > Lock screen & security > and scroll down to Lock screen & Always On Display. Then, check out our quick video for more details on customizing the Galaxy S8 AOD.
Samsung recently changed how and where you go to change and customize the Galaxy S8 always on display. As you can see in our video above, it's no longer in the "display" section of settings. And, customization is somewhat hard to find. If you can't watch our video, here are the step-by-step instructions.
How to Customize the Galaxy S8 Always On Display (Add a GIF)
You can select from over a dozen different clock styles for the Galaxy S8. Then, each style has different options, fonts, colors and more. In the end, there are hundreds of possible combinations when it comes to customizing your screen. And with the introduction of GIF support, you can add even more. That includes downloading a GIF from the internet and using it on your always on display. Here's how.
Open Settings in the app tray or hit by hitting the gear-shaped settings button in the pulldown bar
Find and select Lock screen & security
Scroll down to the Always On section and tap Clock and FaceWidgets
Choose Clock Style
Now choose from the many options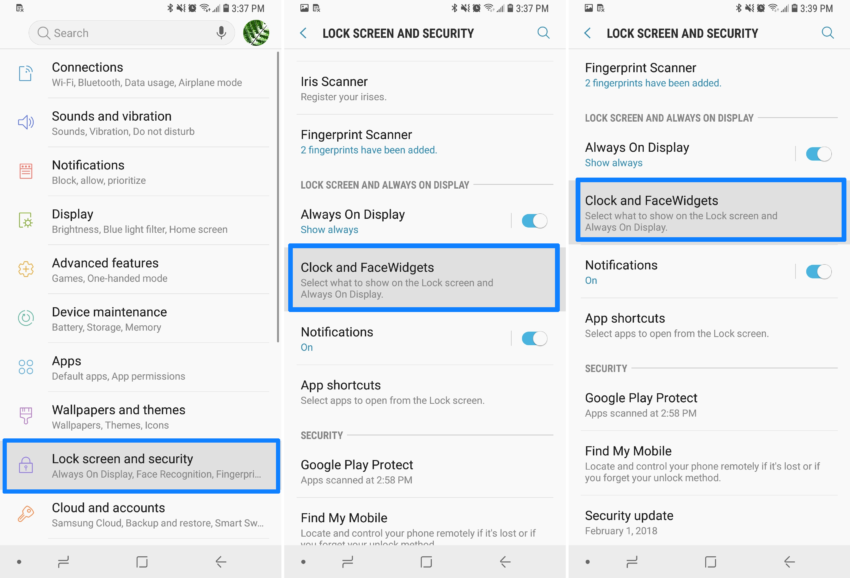 From here you can scroll through a wide selection of customization options on your Galaxy smartphone. Samsung has clocks, calendars, background images, moving wallpapers, and yes, GIF support. Click the 11th square at the bottom, then select add GIF from the middle, and you're all set.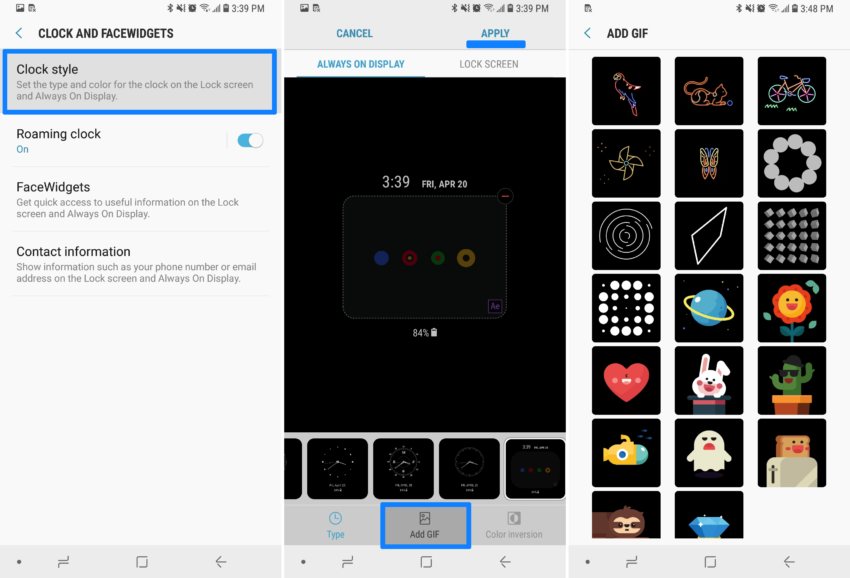 As you can see, we added a GIF to the always on display on the Galaxy S8. Now, every time you turn off your screen a small area will turn back on, and you'll see that GIF.
Other Details
When you tap on "add GIF" you can select the red minus sign in the middle of the screen, then tap the big PLUS sign. This lets you add a GIF right from your phone. This way you can use a clip from the internet, or from a video you took with the Galaxy S8 camera. The choice is yours.
Keep in mind that this is on the lock screen, so the GIF can't be too long. Otherwise, you'd get significant battery drain. It also only loops the GIF once, likely to reduce battery usage. Still, it's one more neat thing you can do on the Galaxy S8. Before you go, take a peek at these 10 other cool things your phone can do. Or, get a new case from our roundup of the 25 best Galaxy S8 cases.

As an Amazon Associate I earn from qualifying purchases.