How to Automatically Sync iPhone Photos with Your Computer
The iPhone camera takes great shots and shoots high-quality video, but how do you get your photos or videos off the phone and back them up to your computer? We'll offer a few automatic solutions so you can confidently takes photos and now they'll end up on your laptop or desktop computer within minutes.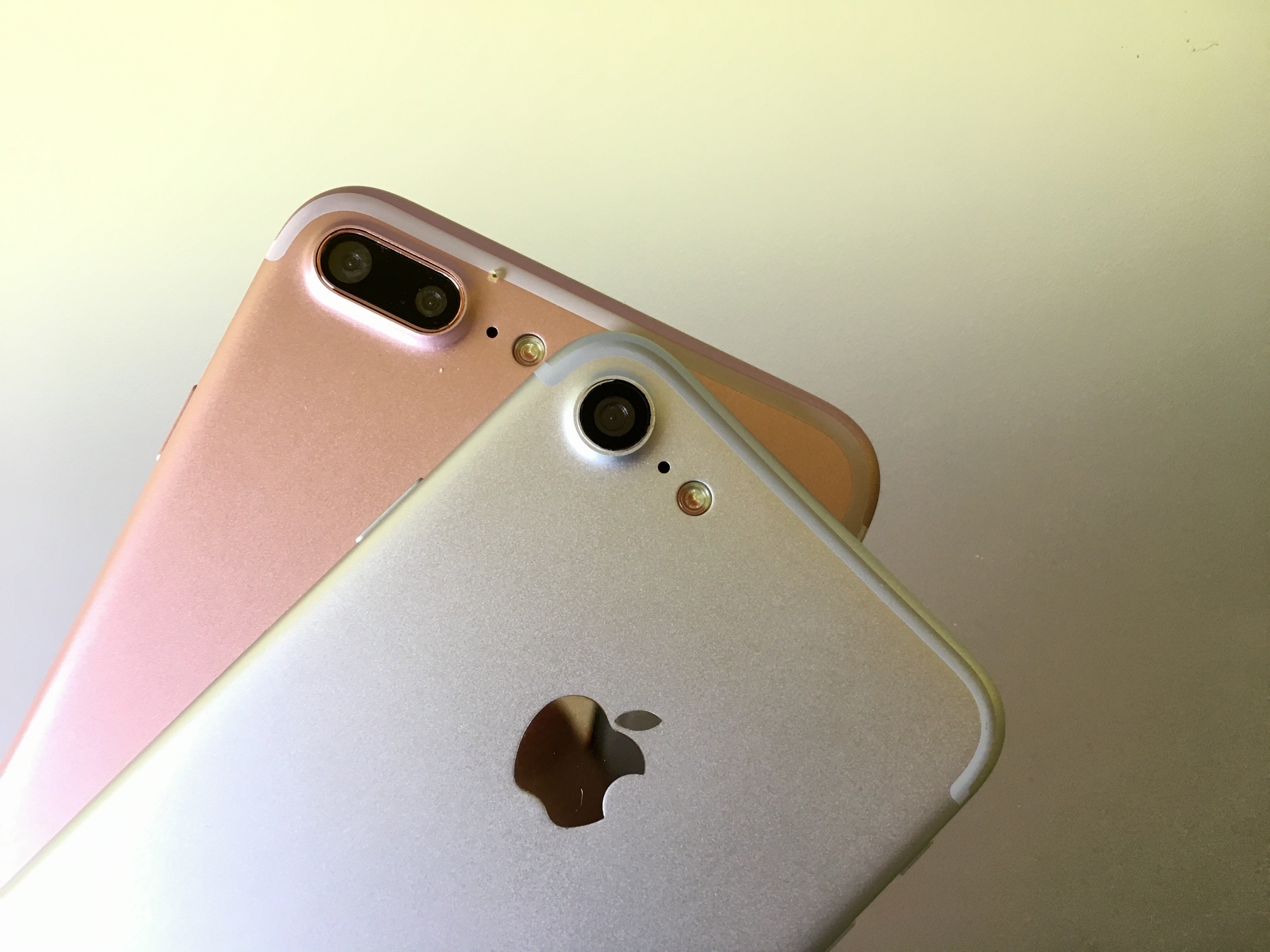 The key word in this process is "automatically" syncing photos. Anyone can plug their phone into their Mac or PC and back up the photos manually from the phone to the computer. Mac uses the Photos app for this and on Windows you can set it up to back up to Windows. Follow the steps listed on Apple's support site to do that on either platform manually.
Upload iPhone Photos to Photo Sharing Sites
You can upload iPhone Photos to photo sharing sites like Flickr, Facebook, 500px and others. Many may not know that a lot of these services offer an automatic back-up for iPhone photos. For example, Flickr is the best service left in the Yahoo universe. The Flickr iOS app has a setting that lets users automatically upload their photos.
Install Flickr and sign into your Yahoo account. Then select the last tab on the right across the bottom of the app. It shows your account and photos uploaded to Flickr already. Tap on the settings icon in the upper right corner. The first item in the settings screen says Auto-Uploadr. The next screen shows two settings buttons. Turn them both on so they turn blue. The first one says Auto-Upload photos, which does what it says. The second one does this over cellular. You can keep that off if you don't want to use your data plan. It will only upload when you're connected to a Wi-Fi network.
Other apps work similarly. Lightroom from Adobe can automatically backup photos to your Adobe Creative Cloud account. It takes some setting up, but works really well.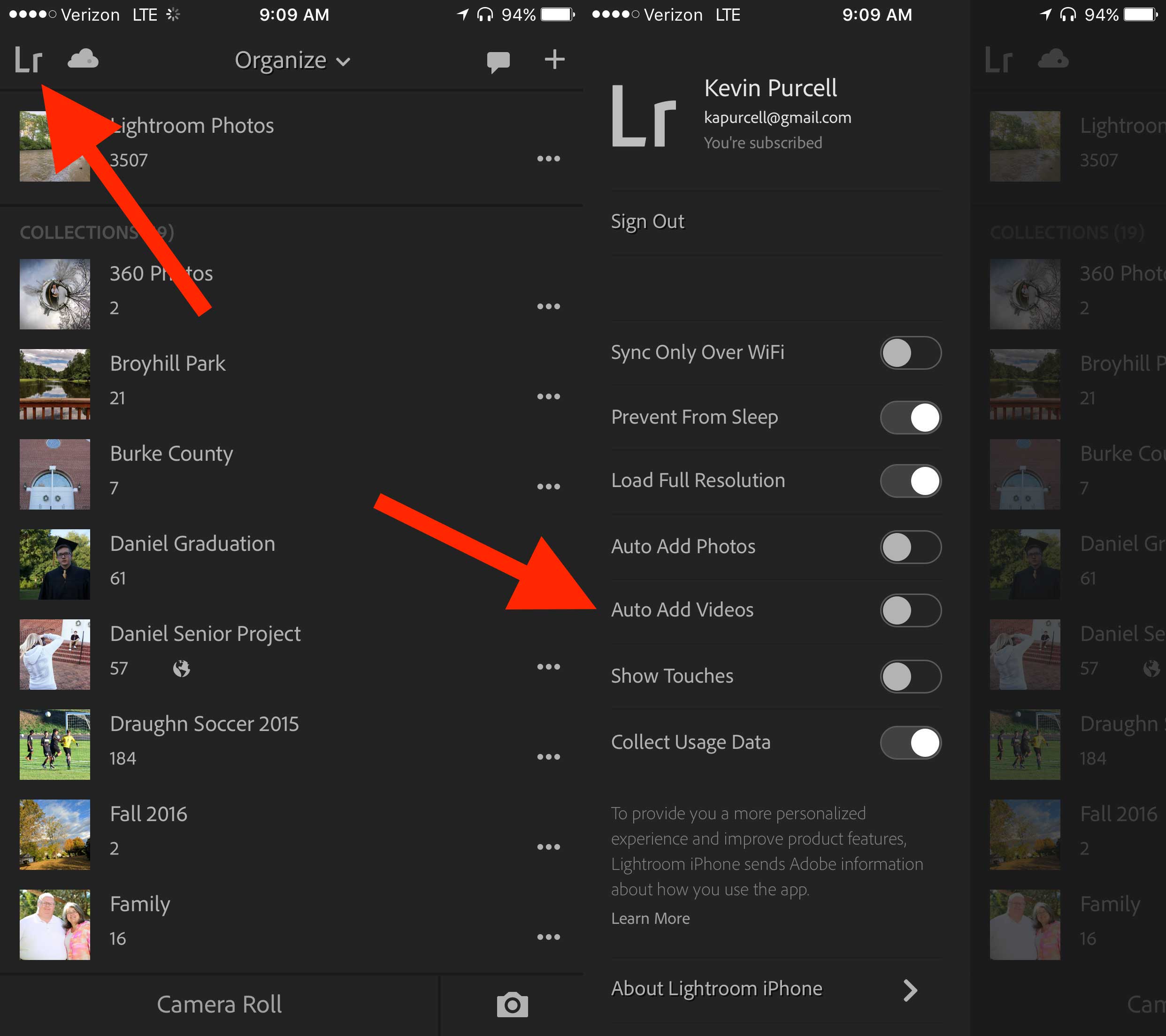 Open Lightroom for iPhone and sign into your Adobe Creative Cloud account. Do this by tapping on the Lr icon in the upper left corner. After signing in, turn on Auto Add Photos. If you don't want to sync using your cellular data connection, then turn on Sync Only Over Wi-Fi as well.
Exit the settings area by tapping on the right edge of the screen. Now tap on the Plus icon in the upper right corner and create a new Collection. Name it something like "iPhone Backup" and tap on OK.
Scroll down to the new Collection you just created and tap on the three horizontal dots icon to the right of the name of your Collection. Tap on Enable Auto Add.
Lightroom and Flickr offer two great services to automatically backup your iPhone photos. If you use another online service, then you can probably set it up to automatically backup iPhone photos. Facebook stopped supporting this within the Facebook app, but their Moments app still does.
Using these services means you can find your photos by going online to the service you chose. If you install Lightroom on your Mac or PC, then the iPhone Backup Collection will sync automatically to the computer or you can use the online version of Lightroom.
Let iCloud Handle iPhone Photos Backup to Mac or PC
The iCloud Photo sync gives users a simple way to upload and back up photos to Apple's services. The user can then open their Mac's Photos app or even sync them to Windows using the Windows iCloud sync client. On a Mac follow our guide to setting up iCloud, part our new Mac setup guide on Notebooks.com.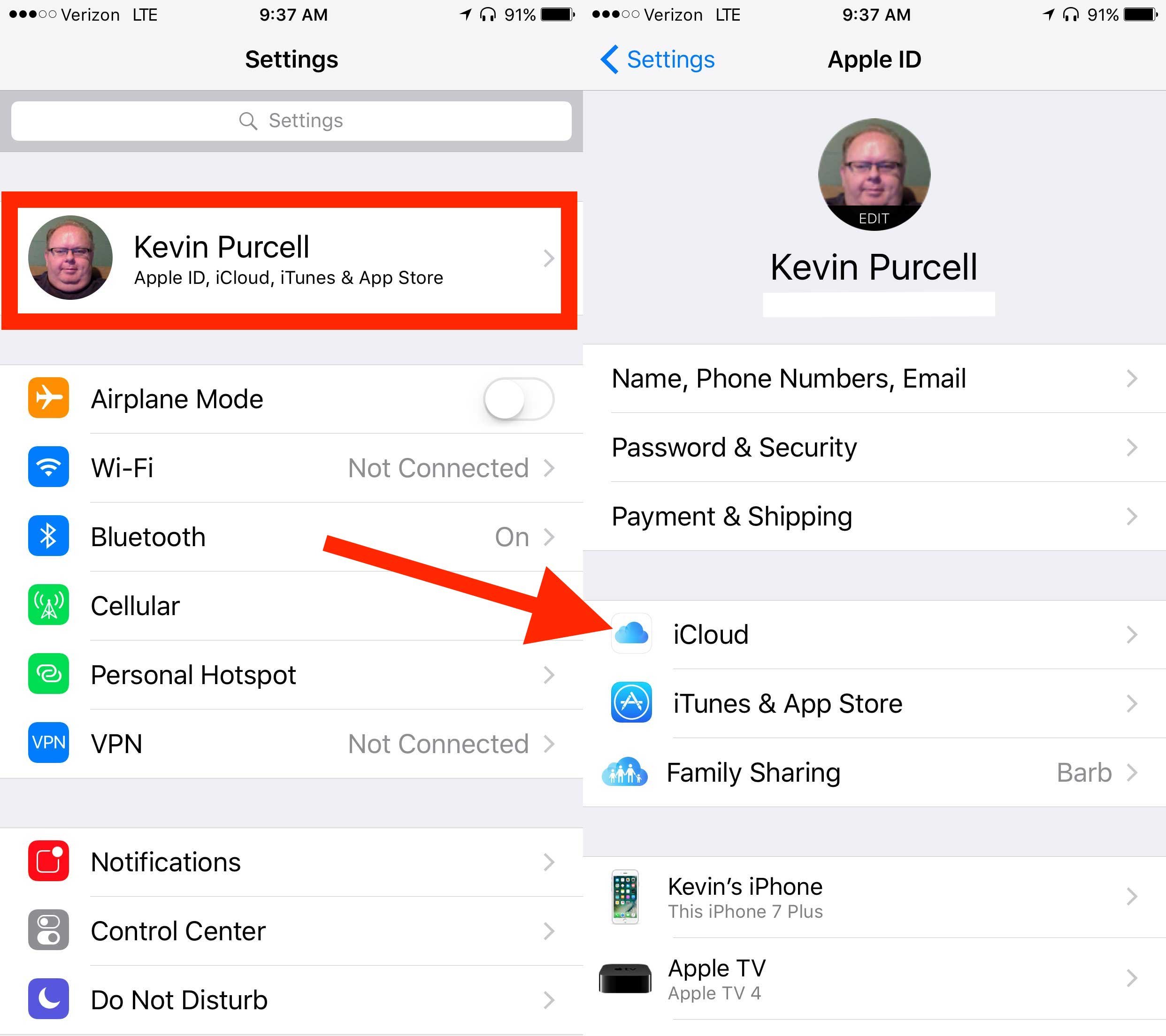 On the iPhone go into Settings and tap on the Apple ID at the top of the screen. Tap on iCloud in the middle of the next screen. The Photos sync settings show up at the top of the list. Tap Photos.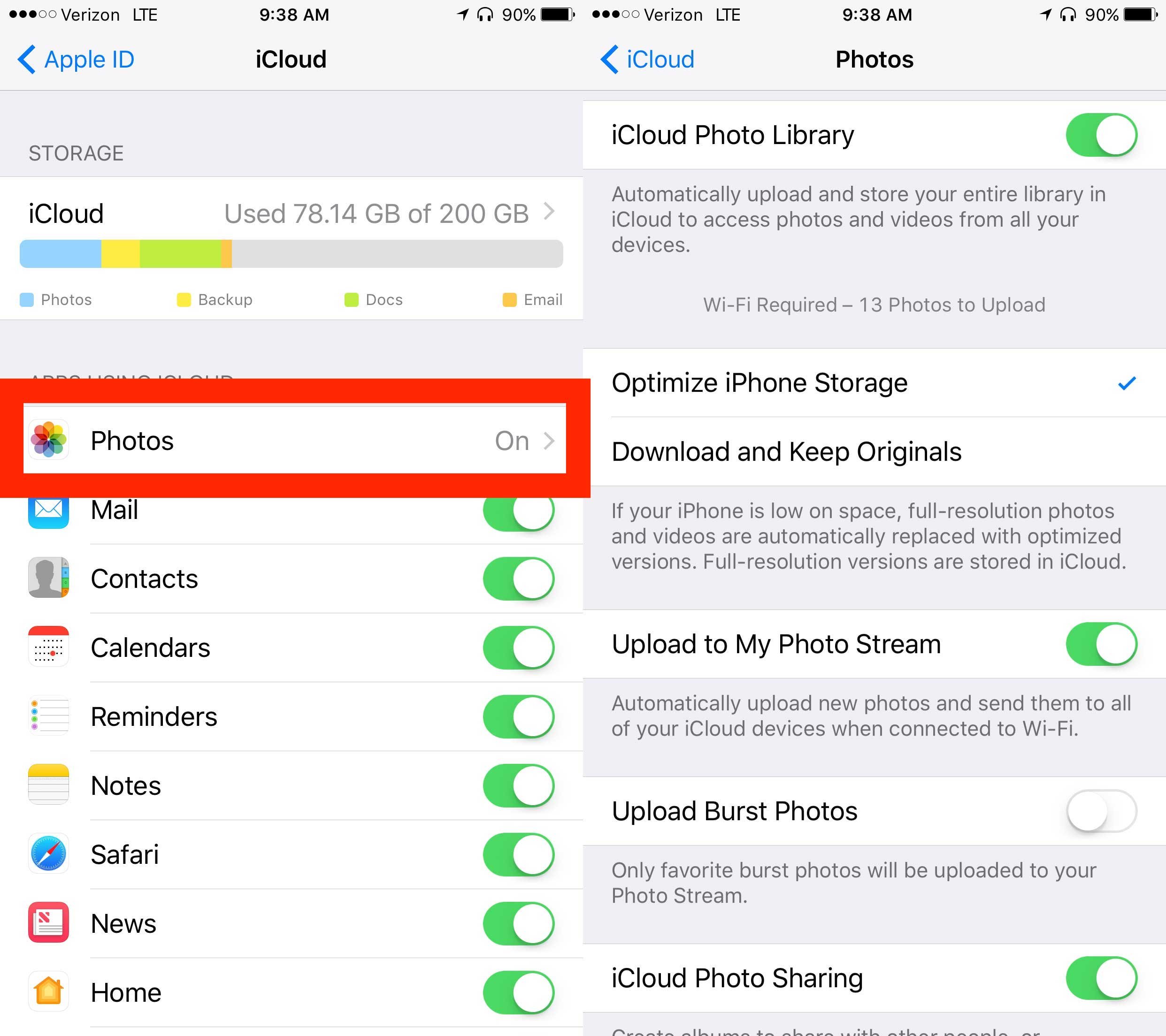 Turn iCloud Photo Library to On so it looks green. You probably want to choose Optimize iPhone Storage instead of Download and Keep Originals. This preserves storage space on the iPhone so you don't over fill it with your Photos library. You can see thumbnails of your photos in the Photos app, but the full-size originals stay on iCloud.
You should now turn on Upload to My Photo Stream. This automatically backs up all your photos to iCloud. If you like to take Burst shots (taking multiple shots by holding down the shutter release button in the Camera app) and want to save them, turn on Upload Burst Photos, too.
The last item on the list of settings lets users share their Photos by turning on iCloud Photo Sharing. Turn this on if you plan to share photos with others.
These settings will keep all your photos backed up to iCloud so you can open them on your Mac or PC.
AirDrop iPhone Photos to a Mac
If you don't like the idea of automatically sharing Photos to a cloud service or even iCloud from Apple, then you can manually send photos to your Mac without ever connecting the iPhone via cable. AirDrop does a nice job of quickly moving photos from the iPhone to a Mac.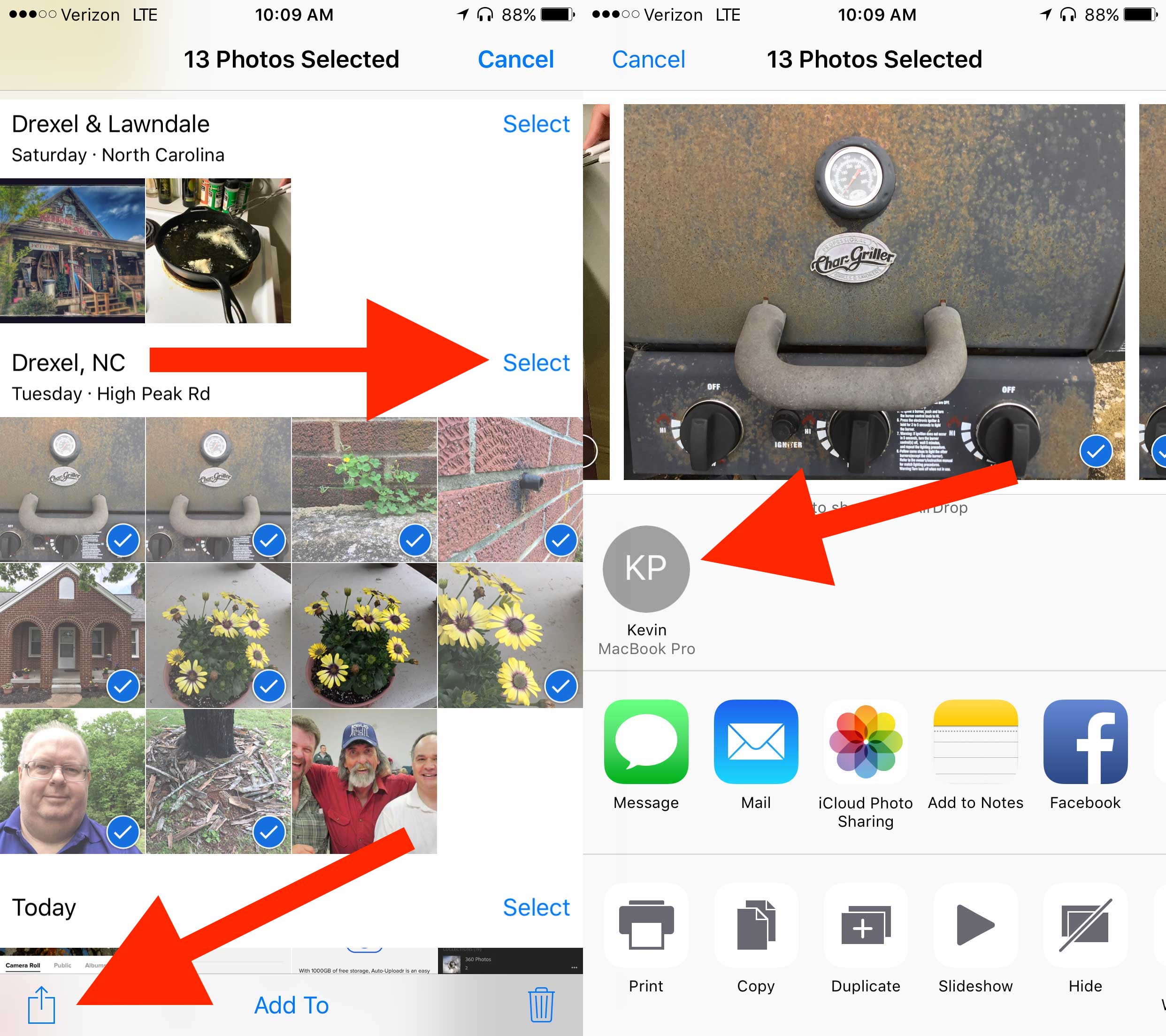 Open up Photos on the iPhone and select some photos. You can tap on the word Select above a group of photos to quickly Select all the photos in the group. Or tap on each photo you want to share using AirDrop.
In the lower left corner you'll see an icon that looks like a box with an arrow pointing up. That's the sharing icon. Tap it and then find your Mac on the next screen in the middle of the screen. Tap on it and the photos will quickly copy over to the Mac's Downloads folder.
There's An App for That
Multiple apps will also automatically upload photos backing them up to various syncing and backup services. Here's a list of the most notable apps that include automatic photo uploading and backing up. We've already mentioned Flickr and Adobe Lightroom above.

As an Amazon Associate I earn from qualifying purchases.