How to Use Galaxy S7 Night Mode Filter
The Samsung Galaxy S7 Android Nougat update delivers multiple exciting new features for users. One of which is the Blue Light Filter, also known as Night Mode or Night Shift for recent iPhone converts. Put less strain on your eyes and sleep better at night by using this feature. Below are some more details and how to enable the blue light filter.
Studies have been back and forth as to whether or not this feature is worth using. The thought being that blue light from our display causes eye strain. Not to mention keeps us awake at night by causing brain stimulation and reduces melatonin. As a result Samsung, Apple and many others have filters to remove any blue light.
Read: 10 Common Galaxy S7 Problems & Fixes 
With the Samsung Galaxy S7 and S7 Edge Android Nougat update, this exciting feature is now available. Previously only available on the recalled and canceled Galaxy Note 7. So without further delay, below are the simple instructions to enable the blue light filter, and even setup an automatic on/off schedule based on sleeping habits.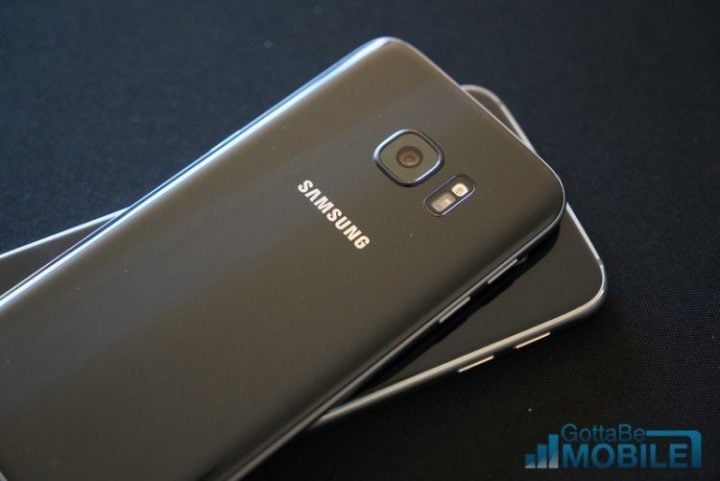 At this point almost all users with a Galaxy S7 or Galaxy S7 Edge should be on Android 7.0 Nougat. It rolled out in February, and more are receiving it as March continues. So if you haven't yet, you'll need to wait for the update before enjoying this feature.
For those who are on Android Nougat, below are the quick and simple instructions to enable or disable the blue light filter. In addition to setting up a schedule so you don't have to mess with settings every day in the morning and evening.
How to Enable Galaxy S7 Blue Light Filter
The settings menu received a nice overhaul with the latest update. As a result, you'll probably see this feature right inside the settings menu under display. If not, our image below will show you where to go. Here's how to enable the night mode filter.
Instructions
Head into "Settings" from the notification bar or app tray
Select "Display" from the list
Choose the 3rd option labeled "Blue light filter"
Click the "Turn On" toggle, adjust slider to your preference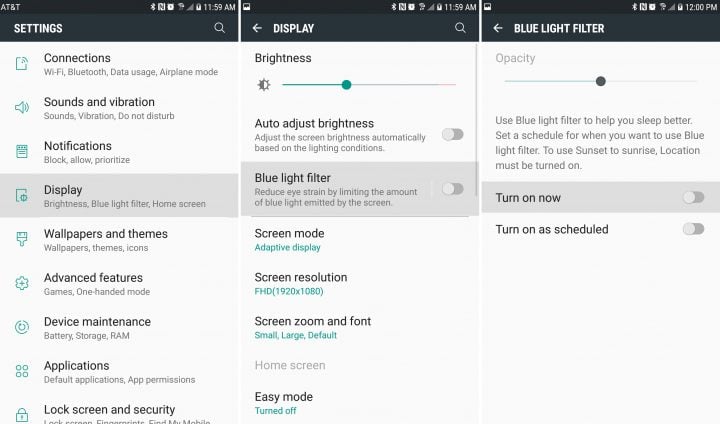 Once done you'll instantly notice a dramatic change on your screen. Everything will have an orange to red hue to it, and there will no longer be any blue light. Changing the opaque slider to the right will further reduce blue lights, and turn the screen very red.
This will remain turned on until you choose to disable the blue light filter. This can be done in the same settings menu, or with the notification pulldown bar. Slide down twice, and tap the Blue Light Filter icon.
Set a Blue Light Filter Schedule
However, the best method is to set a schedule. This way users will not have to do anything or change settings. The Galaxy S7 will just automatically filter blue light at night, and revert back to default colors in the morning. Perfect for setting an automatic schedule to your exact sleeping patterns.
Instructions
Head to Settings and choose "Display"
Tap "Blue light filter"
Select "Turn on as scheduled"
Tap "Sunset to sunrise" or "Custom"
Choose your Start and End time
And that's it
Once this has been set you don't have to do anything. Simply continue on with your day and when the time comes your Galaxy S7 will automatically change. The Blue light filter will activate at night and help you sleep better. In addition to causing less eye strain.
Then, come morning it will instantly revert back to default display settings at the time selected in the settings menu. That's all you need to know. Those who are still waiting for the Nougat update can bookmark this guide for later use. While you're here, take a look at these 45 Galaxy S7 Tips and Tricks.

As an Amazon Associate I earn from qualifying purchases.