How to use Night Shift on iPhone and iPad
This guide will show you how to use Night Shift on your iPhone or iPad with iOS 9.3 or higher. You may also know this as the new iPhone night mode or iPad night mode, but the official name is Night Shift.
Apple announced the new iOS 9.3 update on stage in early 2016 as a free update to the iPhone and iPad. You will need to download and install the iOS 9.3 update, or higher, on your iPhone or iPad to use this feature.
Once you install the latest software you can turn on Night Shift on iPhone or iPad from the Control Center, but it is best to look at your settings first to understand what the options are and to configure Night Shift to your personal preference.
What is Night Shift?
Night Shift for iPhone and iPad is a new setting that changes the warmth of your iPhone screen. The warmer the screen is the more orange it will look. Normally the screen is more blue, which can make it hard to go to sleep after using the iPhone or iPad at night.
With the new night mode turned on, your eyes and body will better react to going to sleep after you put the iPhone down and try to go to sleep. You don't need to use this, and you can completely turn it off, but many users should at least try the new feature.
How to Use Night Shift on iPhone and iPad
We'll show you how to use Night Shift on iPhone and iPad and how to change important Night Shift settings to match your use of the night mode on your device.
The first thing you should do is go to Settings on your iPhone or iPad. This will allow you to change the options before you rely on the schedule or before you use Control Center to turn it on or off.
Once you open Settings, tap on Display & Brightness to go into the main area of display settings.
Now tap on Night Shift in the middle of your screen. This opens up the Night Shift settings on your iPhone or iPad.
Here you can choose to use the Sunset to Sunrise schedule or set the time that this turns on and off. It is useful to set the time if you work third shift or have an otherwise out of the norm sleep schedule.
At the bottom of this screen you can choose to change the warmth of the screen. Warmer is a more orange color while Less warm is a blue brighter color. Warmer is better at night.
You can also choose to manually turn on Night Shift from this screen. Another option is to swipe up from the bottom of the iPhone or iPad and then turn this on with Control Center.
What's New in iOS 9.3 & iOS 9.3.5
Night Shift for iPhone Promises Better Sleep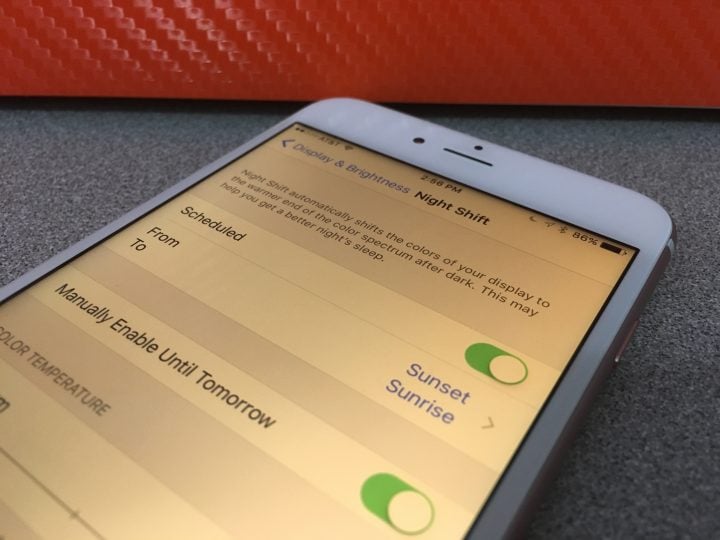 The free iOS 9.3 update adds Night Shift. With Night Shift the iPhone uses your iPhone's clock and your location to automatically shift the colors to a warmer, less blue, mode so that it is easier on your eyes. In the morning the display automatically returns to normal.
iOS 9.2 does not include any features to adjust the warmth of the display to make it easier to fall asleep after using your iPhone.
One of the biggest reasons to jailbreak the iPhone for the past several years has been for access to f.lux. This tweak adjusts your iPhone or iPad display to deliver a warmer light at night so that it is easier to fall asleep after using your iPhone or iPad.
Here's how to use Night Shift in iOS 9.3 to get a better night of sleep.
This is important because using bright blue light at night can interrupt your circadian rhythms, making it hard to fall asleep. This is part of why you may lay down exhausted but are unable to sleep after wasting 20 minutes on your iPhone or iPad in bed.

As an Amazon Associate I earn from qualifying purchases.