How to Find a Parking Spot with Google Maps
This guide explains how to find a parking spot with Google Maps, and how to take advantage of the latest Maps features. Earlier this year Google added a "parking difficulty" meter to Google Maps, giving users one more tool while traveling. However, now the app will help you find a spot to park too.
Each year Google Maps gets a little better. From saving maps offline to sharing your location with friends and family while traveling. Today, Google expanded its "parking difficulty" and find a parking spot feature to 25 more locations.
Read: 5 Hidden Google Maps Features You Need to Try
Once you enter a destination there's a new easy, medium, or limited icon on the bottom of the screen, near the estimated travel time. This information comes from "historical parking data" and Google's "machine learning magic" to help you travel with ease.
This can help you decide if you need to leave earlier for an event, or even pass the typical parking areas to find more parking. Or simply take public transportation instead, if parking is extremely limited. Here's how to use Google Maps to help you find a parking spot.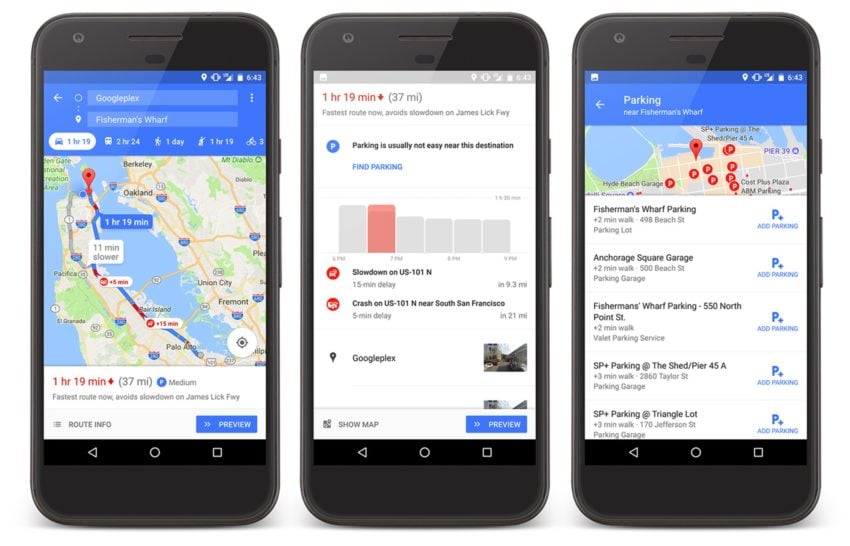 Google just announced that both of these features are rolling out to 25 more cities, bringing the total to nearly 50 popular destinations in the US and around the world.
How to Find a Parking Spot with Google Maps
Maps can tell you how much parking is available, and when the busiest times of the day are, so you'll know what times to avoid. Then, once you're in route to a destination use it to easily find a parking space. This feature is only available on the Android version of Google Maps, at least right now.
Open Google Maps and begin navigation to your destination
Swipe up on the white directions card at the bottom of the screen
Look for the Find Parking icon and select it
Next, choose from a list of parking garages or parking lots
Maps will automatically add it to your trip navigation instructions
With Google Maps open and sharing travel information simply swipe up on the white "navigation card" at the bottom of your screen. Here you'll find a new option labeled "Find Parking" near the top. Simply tap here, and Google Maps will show you a list of parking garages and public lots near your destination.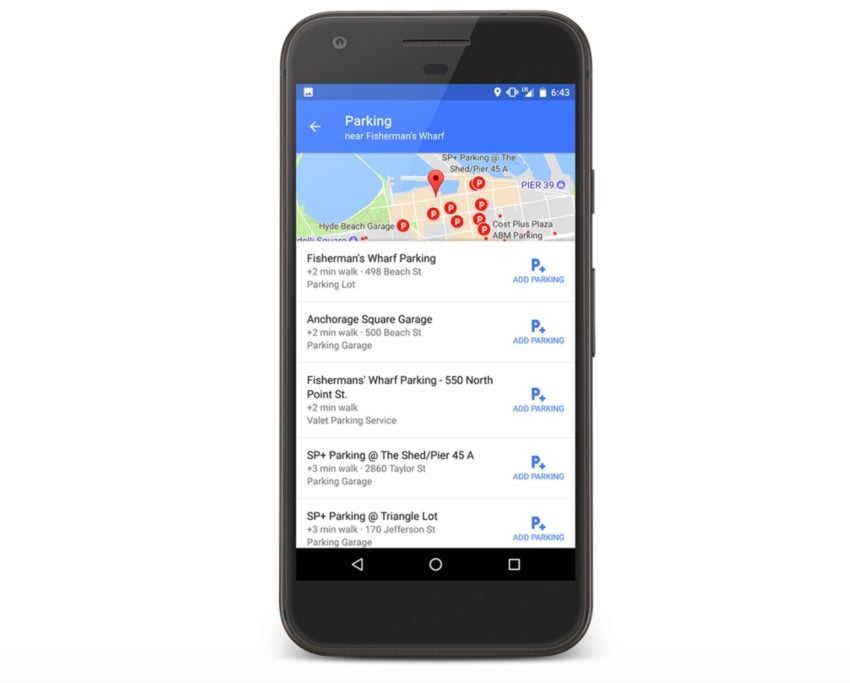 Next, simply tap the parking location you're interested in. Again, you'll get information about the levels of parking available, and the option to confirm that's where you want to park.
Once you tap and confirm the selected option, it's instantly added to your trip navigation. Once you park, Google Maps automatically offers walking directions from where you parked to your final and original destination. It's what Google calls, "door to door service".
You can even select a destination and parking locations ahead of time, before actually hitting "start navigation". We recommend doing so before you're actually driving, so you can keep your hands on the wheel and eyes on the road.
Where is Google Maps Parking Available?
Currently, Google's offering these features in just 25 major cities in the United States, and 25 other locations around the world. However, the company plans to expand this to more locations in the near future. Here's where it is available so far.
Google Maps Parking in the US: Atlanta, Boston, Charlotte, Chicago, Cleveland, Dallas/Fort Worth, DC, Denver, Detroit, Houston, Los Angeles, Miami, Minneapolis/St. Paul, New York City, Orlando, Philadelphia, Phoenix, Pittsburgh, Portland, San Diego, Sacramento, San Francisco, Seattle, St. Louis, Tampa.
Google Maps Parking Elsewhere: Alicante, Amsterdam, Copenhagen, Barcelona, Cologne, Darmstadt, Dusseldorf, London, Madrid, Malaga, Manchester, Milan, Montreal, Moscow, Munich, Paris, Prague, Rio de Janeiro, Rome, Sao Paulo, Stockholm, Stuttgart, Toronto, Valencia, Vancouver.
If this feature is available in your city or an upcoming vacation spot, give it a try today. Stay tuned for more details and we'll update this list once more locations are available. While you're here, try these 12 Google Maps Tips & Tricks.