How to Find Spider-Man 2 Collector's Edition in Stock
Spider-Man 2 pre-orders are set to go live soon and if you want the game's Collector's Edition, you'll probably want to order as soon as possible.
The Spider-Man 2 release date is set for October 20th and pre-orders are set to begin on June 16th ahead of the game's highly anticipated arrival. As a reminder, this game is exclusive to Sony's PS5, it won't come to the PS4.
When Spider-Man 2 goes on sale, you'll have to pick between three editions: a standard edition, a Digital Deluxe edition, and a Collector's edition. Each has a different set of bonuses.
The Spider-Man 2 Collector's edition is the most expensive bundle ($229.99), but it comes with a bunch of bonuses including a high-quality 19-inch statue featuring the Spider-Men battling Venom.
Pre-orders haven't started yet, but we're confident the price tag won't scare folks away. In fact, there's a very good chance this bundle sells out quickly.
There's no telling how much additional stock there will be. It could remain sold out all the way up until the game's releasee date in October. If that occurs, you probably won't be able to find the bundle available for release day delivery for $229.99.
This is precisely while you'll want to stay on top of the Spider-Man 2 Collector's edition stock this week and beyond. It could help you secure the bundle and save money in the process.
How to Find Spider-Man 2 Collector's Edition in Stock
Unlike the other two versions of the game, it looks like the Collector's edition will only be available to order via PlayStation Direct in select regions.
If you live in a country that doesn't have PlayStation Direct, Sony and Insomniac say that you'll need to "be on the lookout for more information on how you can secure a Collector's Edition in your region."
Pre-orders for the bundle start at 10AM local time. If you want the Collector's edition, we highly recommend jumping in the queue as soon as it's live.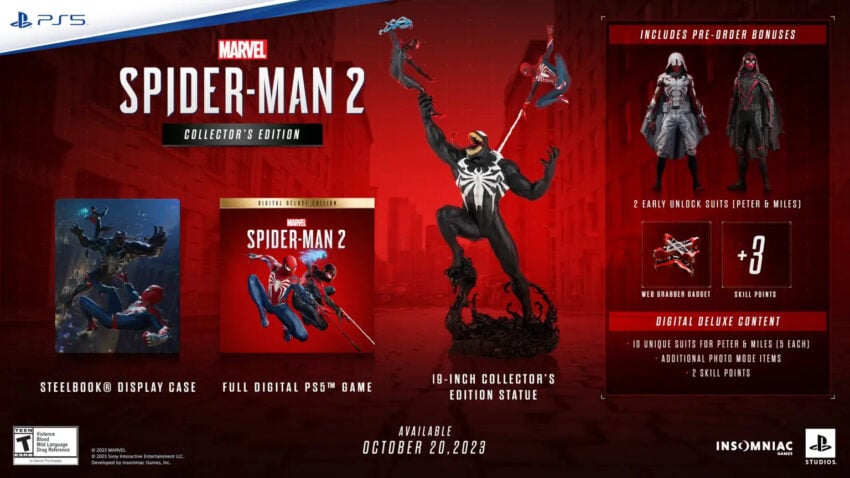 It's unclear if the bundle will be sold at third-party retailers in the United States down the road. If it isn't, and it's looking that way, you probably won't be able to use stock trackers like NowInStock to do the heavy lifting for you.
StockInformer, another site that tracks the stock of popular items, currently has a page live for the Collector's edition, but we aren't sure if it will be of any use.
Instead, you'll have to keep an eye out for announcements regarding additional stock available through the PlayStation Direct portal. Make sure you follow social accounts like Wario64 which provide stock updates for popular games and bundles like this one.
If you miss out on a pre-order via PlayStation Direct, and you start growing impatient, you'll be able to find stock at resellers like eBay.
Of course, if the bundle does sell out, you'll probably have to pay a lot more than $229.99 if you want the bundle on your doorstep on October 20th.
Before you buy the Collector's Edition on a site like eBay, make sure you dig into the sellers details to ensure you don't get ripped off. This is a high profile game and we could see scammers try and take advantage of that.
3 Reasons to Pre-Order Spider-Man 2 & 3 Reasons to Wait
Pre-Order for These Bonuses
In what should come as a surprise to no one, Insomniac and Sony are throwing in some pre-order bonuses to sweeten the deal.
The pre-order bonuses come with all three versions of the game and they're all in-game bonuses. Here's what you get if you buy a copy of Spider-Man 2 before its release date:

Early unlock Arachknight Suit for Peter with 3 additional color variants
Early unlock Shadow Spider Suit for Miles with 3 additional color variants
Early unlock Web Grabber gadget
3 skill points
The skill points in particular are a nice addition because they will give you a little bit of a head start as you progress through the game.
If you're fairly certain you plan to play, and beat, the game, you might want to put in a pre-order.

As an Amazon Associate I earn from qualifying purchases.