How to Fix Bad LG V40 Battery Life
With a huge screen and five cameras the LG V40 ThinQ has a lot to offer, but it isn't perfect. And while the phone has fast and wireless charging, the small 3,300 mAh battery simply isn't big enough. As a result, we're seeing complaints about LG V40 battery life problems.
In this guide we'll share some helpful tips, tricks or settings you can change to get the best experience possible. In fact, we have over 10 tips that will help you enjoy your phone to the fullest.
Read: 10 Best LG V40 Cases
These days most phones with a screen as big as the LG V40 have a big battery too. The Galaxy Note 9 has a 4,000 mAh battery. The OnePlus 6T has a 3,700 mAh pack, while LG's V40 only has a 3,300 mAh battery, again. It's simply not big enough, but we'll help you squeeze as much out of it as we can.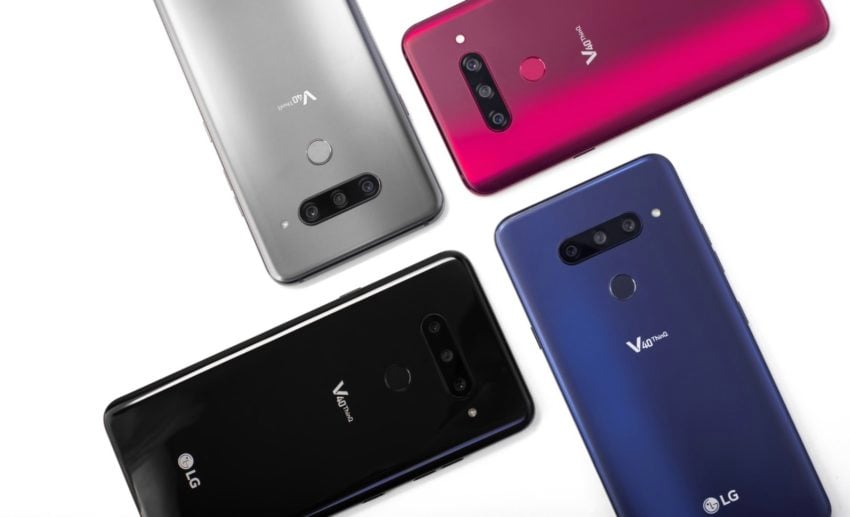 How to Fix Bad LG V40 Battery Life
Thankfully all LG phones are extremely customizable with multiple options, controls, and settings that you can change for an improved experience. Plus, when it gets the Android 9 Pie update you can expect some improvements and battery management options.
They also come with a slew of features you might not use, which could hurt battery life. Here's what you should change, how to disable features, or what you need to know so you can find what's causing bad battery life or other problems.
Reboot Your LG V40 to Fix Battery Life
Our first recommendation is usually the easiest fix, and the best one. It's simple really, reboot your phone often if not once a week. There are several things that can cause your battery to drain too fast, and a reboot is a great way to give everything a fresh start. Sometimes the easiest way to fix things or stop a problem is by rebooting the phone.
Find Apps Eating Up Your Battery
Another thing that'll drain the battery is a rogue or misbehaving app. You'll want to find these before it's too late and before your battery is dead. If you want to fix your bad LG V40 battery life, keep an eye on running apps in the settings menu.
Read: Best LG V40 Screen Protectors 
It doesn't matter if these apps come pre-installed or it's something you downloaded from the Google Play Store. Sometimes apps just don't work right, or some might even struggle with the notch. If you use an application a lot, it's going to drain your battery. At the same time, some situations occur where an app uses an abnormal amount, and that's what we're trying to avoid.
Go to Settings > General > Battery & Power saving > Battery Usage and look for apps draining too much juice, or anything near the top of the list.
When you head to the battery usage menu there are things to look out for. Expect to see Android System, Screen/Display, or the Android OS near the top of the usage list. If something else like an app is up there, that's your problem. The main operating system and that big screen should be the biggest things using your battery. Not some random weather or flashlight app.
Click the misbehaving app and select "Force Stop" or uninstall the app to prevent further problems. If this is something you use often try reinstalling it or contacting the developer on Google Play.
Disable the Always-On Display
These days every phone comes with an Always-On display. The small clock, date, notifications and battery meter on the display at all times, even after you turn off the screen. This is the customizable always-on display.
And while it's a great feature, it's also keeping the screen on (to some degree) 24/7. LG claims this feature uses under 5% battery throughout an 8-hour work day, but again, every bit helps. Try turning it off.
Go to Settings > Display > and scroll down to Always-On Display and switch the toggle to off. Now your screen will go completely black and turn off 100% when you're done using it, which could improve battery life.
Lower the Screen Resolution
Our next tip is a controversial one. The LG V40 has a big 6.4-inch Quad-HD display. It's stunning to look at, but do we really need a higher resolution than most HDTV's in our homes? Samsung phones have the same resolution, but out of the box they're set to 1080p. We can do the same on LG phones.
Head into Settings > Display > Screen resolution and lower it to 1080p and enjoy the same great experience along with a bump to battery life.
Use a Black Wallpaper
This one isn't for everyone, but using a Black wallpaper will improve battery life too. This is because of LG's new OLED display technology in the V40. OLED screens are very efficient and display black colors easily. Pixels don't need to turn on individually — or as high — to display a black image. As a result, a black image saves battery life. It's science.
After you've downloaded a nice wallpaper long-press a blank area of the screen and go into Wallpapers to apply it. This only helps a bit, but combine it with all of our tips and you'll see good results.
WiFi, 4G LTE, Bluetooth & GPS
Again, every little bit helps when we use our phones for 8-10 hours a day, or more. With that said, if you aren't using WiFi or Bluetooth, turn them off. Using WiFi is better on your battery at home, but turn it off when you leave. That way it's not searching for a signal non-stop and draining the battery.
Next, we gotta talk about GPS. Whether that's Google Maps or Facebook Messenger trying to find your location, GPS absolutely kills battery life. Disabling what uses GPS can literally add a few hours to your daily battery life.
Head into settings and tap the magnifying glass. Type "Location" then enter location settings and change the mode to battery saver. GPS isn't as accurate, but you'll notice a big increase in battery life.
Screen Brightness & Sleep Time
With a huge 6.4-inch screen display vibrant colors and beautiful images, your battery will run out quick. Especially considering most people check their phone over 140 times a day. Usually just to see the time or a notification. If the brightness is at full 100%, or too high, you're wasting battery life for no reason. Keep it at a reasonable level.
Then, make sure you hit the power/sleep button after every use, so the screen isn't just turned on for no reason when you're done using it. Most people check a notification and then just set the phone down when they're done, and the screen stays on for a few minutes wasting battery. Turn it off when you're done, or adjust what's known as the "Sleep Timer" so the phone screen dims as fast as possible when not in use.
Head to Settings > Display > Screen Timeout and set it to 30 seconds or less. Combine this with the always-on display, and we're slowing getting more and more battery life back.
Turn Off LG V40 Features You Don't Need
This is a powerful phone with a lot of neat controls or features. Many of them though, are things you'll never use or need. Basically, kill features you don't use to save the battery. Things like KnockON where you double tap to wake up the screen, a screen saver, to the floating shortcut bar that replaced the second screen on the LG V20.
Just go to Settings > Display > Advanced Features and turn off what you won't use. Or navigate to Settings > General > Floating bar and turn that off too. A lot of these are neat, but will you ever use them more than once? We didn't think so.
Use LG Smart Settings
If you're still getting poor battery life we have a few more things to try. Whether that's LG's Smart Settings and Controls, or the all-out battery saver modes. In settings, search for "Smart Settings". These advanced controls will make battery-saving changes to the V40 as and after it learns your usage habits. Basically, it'll turn sound profiles or WiFi/Bluetooth on or off automatically. Saving you a little battery here and there.
What we really like is that Smart Settings will automatically turn off WiFi when you leave the house. There are several options in here, so give them all a try.
Battery Saver Modes
And finally, we can take advantage of LG's built-in battery saver modes and profiles. These are decent, and they'll get even better with the Android 9 Pie update, whenever that arrives.
These profiles "save battery by reducing performance and restricting features and apps that run in the background". Basically, these modes lower the brightness, kill apps faster so you can't multitask, and lowers how fast the processor is inside.
Better yet, LG will let you make exclusion lists too. This means you can take full advantage of battery saver modes, but exclude certain apps or activities from those modes. That way you still have a "smart" phone while using battery saver.
Other Battery Tips & Tricks
At the end of the day, battery life always comes down to how you use your phone. Everyone is different, and some people are power users while others are very light. As a result, another app worth checking out is BetteryBatteryStats. This program shows you what apps use what, what you use the most, and will highlight potential problems. It's a pretty powerful app that will give you more insight into your usage habits.
Then, once Android 9 Pie arrives we can expect even more improvements to performance, battery life, and LG-specific changes or bug fixes. Here's what to expect from Android Pie.
Read: LG V40 vs Galaxy Note 9: Battle of the Bigscreen
Another quick tip is to use Airplane mode. When you don't need the "smart" aspects of your phone, or even need to make phone calls, turn on Airplane mode. This setting turns off all data, radios, services and more and most phones can last 4-5 days with it enabled.
And again, try restarting your LG V40 every week or two and give the system a fresh start. It helps more than you think, especially after big software or app updates.
Stay tuned for more battery-saving tips in the near future and don't forget to buy a case to keep your V40 safe.

This article may contain affiliate links. Click here for more details.