How to Fix Printers in Windows 10
All fundamental skills have something in common. Without them, you'd be lost using Windows. Windows 8 introduced some huge changes to the way you print documents and photos, and printing is a pretty fundamental skill. We may print less than ever, but not being able to get your printer working when you're short on time can be stressful. Microsoft's changes to printing in Windows 8 and Windows 10 make trying to fix printers in Windows 10 a little confusing.
Read: How to Use Google Cloud Print From Android, iPhone or iPad
Part of the issue seems to be related to the rise and fall of printing itself. Two decades ago, we printed everything from book reports to maps and birthday messages. If you wanted to share a picture you'd take, you printed and made copies for your family.
This isn't true today. We share pictures over cloud storage services. Invites are easier to manage than ever thanks to Facebook Events. Instead of sending birthday cards we simply wish the people we care about well on their Facebook wall. It seems like printers are the last thing on Microsoft's list to improve with updates. You probably haven't had to troubleshoot a printer in a log time.
Read: 9 Basic Windows 10 Problems & How to Fix Them
Here's how to fix printers in Windows 10.
Preparing Your Printer
Before diving into Windows 10's areas dedicated to printers, it's important that you take a look at your printer.
Check the power cable running from your printer and into the wall. Make sure all its connectors are in tight.
Also, check the buttons on your printer for any blinking or alert lights that indicate there is a problem with the printer.
Finally, be sure that you have some paper in your printer, and that the tray that catches what you print is fully extended. It doesn't hurt to peep inside with the printer door open to make sure that there's no paper already jamming the machine.
Fixing Printers in Windows 10 from the Settings App
You want to go to the Settings app to fix printers in Windows 10. Look for Settings in your list of installed apps and programs.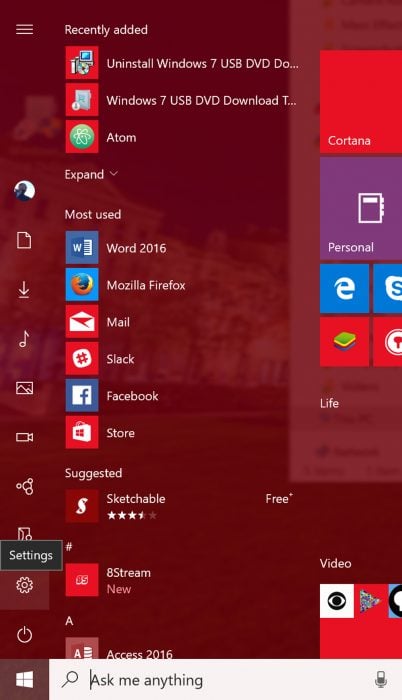 Click on Devices.
Then click on Printers and Scanners. It's the second option from the top of the menu on the left-side of the app.
If your printer isn't listed in the Printers & Scanners area, it's because Windows 10 hasn't detected it yet. Check all your connections again. Windows 10 will immediately begin trying to install any printer that's powered on and connected to your PC through USB, so make sure those connections are tight and there's power running to your printer.
If your printer is listed and you're having problems, the real work begins. Click on it in the list.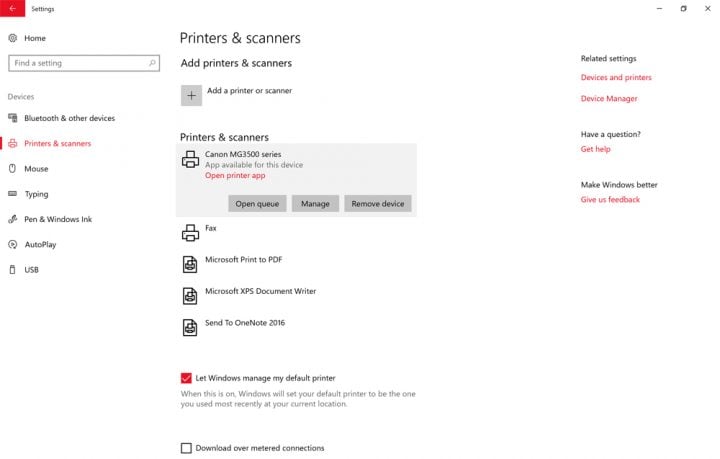 Click Mange.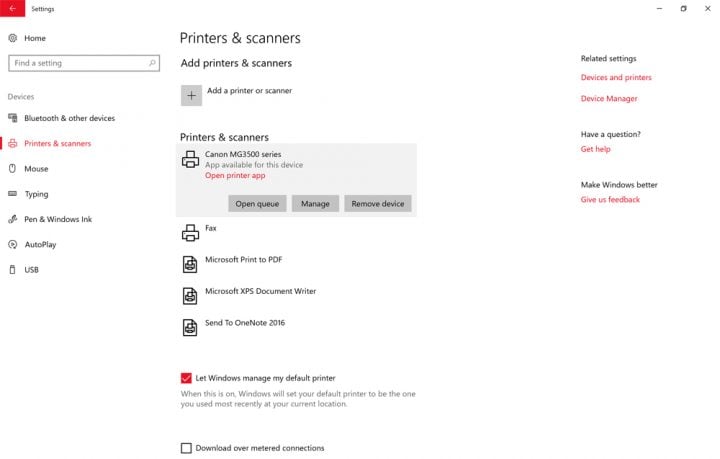 All the important areas you need to fix printers in Windows 10 are here.
First, note that Canon makes an app for managing its printers. If you see this button, tap or click on it for a detailed look at how your printer is configured. These apps often notify you of ink issues, jams and lack of paper. They provide a direct link to support for your printer too. Don't panic if there isn't an app for your printer. You may need to install a software download from your printer maker's support site.
The Queue is your place for managing the different documents and pictures that you are trying to print. Head there to add and cancel any printing jobs that you have.
Printing Preferences allows you to make changes to how you print documents.
Select Run the Troubleshooter to have Windows and the printer run a diagnostic. This diagnostic will tell you why your printer won't work, usually.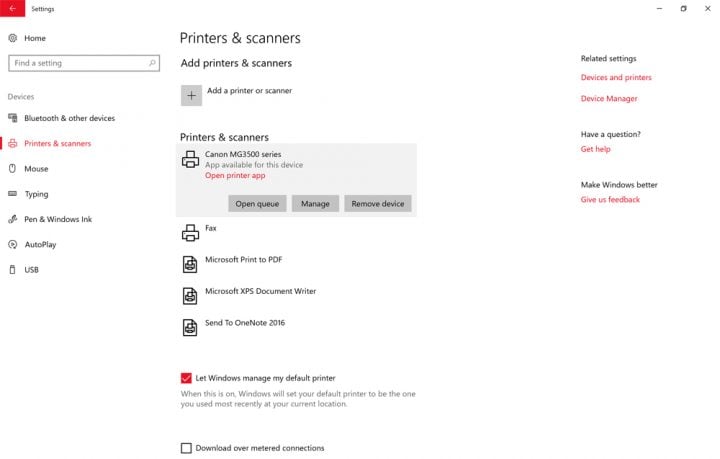 The troubleshooter will scan your hardware and software combination, then get you the fixes you need.
If the problem continues, it's a good idea to contact the company that made your printer. You could have a bad printer or a printer that's no longer supported in Windows 10. To be clear, that latter issue is pretty rare. Windows 10 supports a huge array of printers and scanners.
Good luck trying to fix printers in Windows 10.
6 Best Windows 10 Laptops in 2018
Razer Blade Stealth - $1,499.99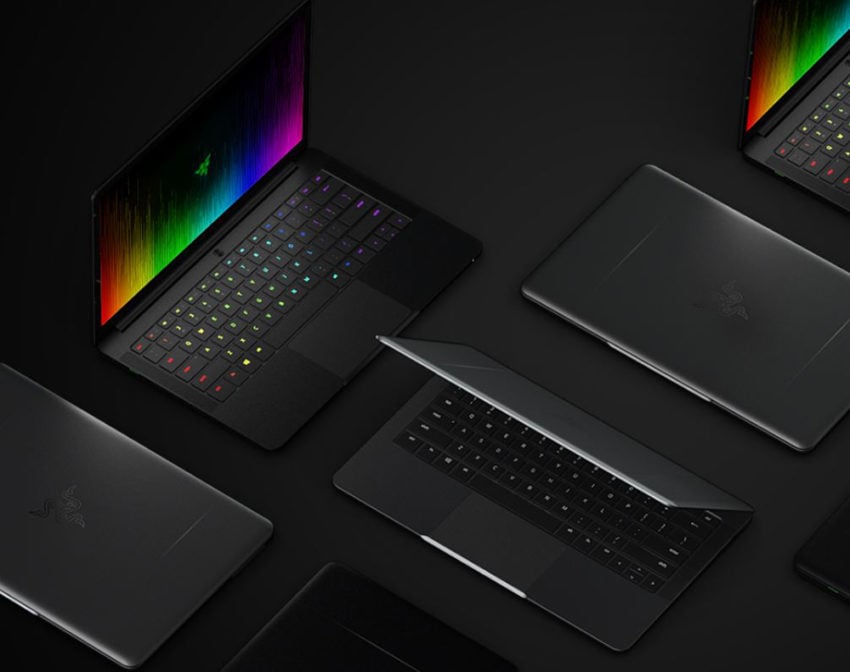 The Razer Blade Stealth is a high-end laptop that transforms into a gaming powerhouse with the right accessory.

The laptop takes its name from its black or gunmetal aluminum chassis. At 0.52 inches thin and 2.98-pounds, you won't have a hard time stuffing it in a bag. Despite that thin profile, it lasts 10 hours between charges and has a Chroma keyboard that highlights the keys you need to play your favorite games. Intel graphics are inside, but connect it to a graphics card using the Razer Core add-on and you can expect full resolution gaming even on the model with a 13.3-inch 4K display with touch.

You can order a Razer Blade Stealth with as little or as much power as you need. It supports up to a quad-core 8th Generation Intel Core i7 processor, 1TB solid state drive and 16GB of RAM. It has a 3.5mm headset jack, 2 USB 3.0 ports, an HDMI port and a Thunderbolt 3 port. That Thunderbolt 3 port communicates with the Razer Core add-on.


Read: Razer Project Valerie is a Badass Triple Monitor Gaming Laptop


The Razer Blade Stealth starts at $1499.99. A Razer Core v2, which uses the graphics cards you already own, costs $499.99.


As an Amazon Associate I earn from qualifying purchases.