How to Hide Instagram Photos & Video with Archive
In this guide we'll show you how to archive old photos and video on Instagram, instead of deleting them. Basically allowing you to hide uploads you no longer want to share with the world. The idea behind this new feature is that we evolve over time, as does what we share on the social network. This gives users more control over their account without completely removing content.
Earlier this year Instagram added an option to save live videos, and now you'll be able to save any embarrassing photo to your account and relive the memory.
Read: How to Turn Off Comments on Instagram
After being tested with a small group of users last month, Instagram Archives are available to everyone as of June 13th. You can archive photos one at a time, not to mention restore them later if you'd like. Look for a new circle rewind icon near the top right of your profile that shows all hidden archived photos and video.
How to Archive Photos and Video on Instagram
Similar to turning off comments on posts, users just need to select the image and archive it in settings. Here are the step-by-step instructions.
Open Instagram and find the photo you want to Archive
Tap the 3-dots menu button near the top right (on iOS and Android)
Select Archive from the pop-up of options as shown below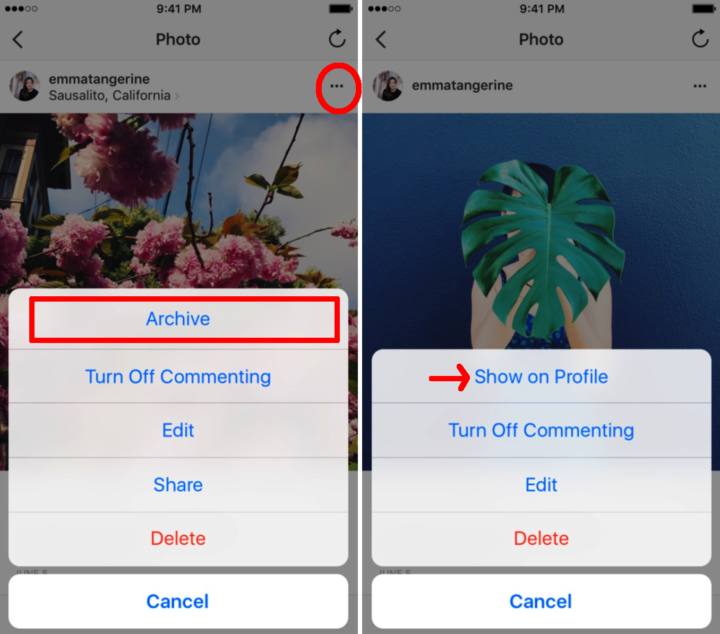 The photo or video will now be completely removed from your visible account and saved to your private Archive. No one will be able to see it. To restore a photo back to public view and your account tap the same 3-dots and select show on profile.
Archiving a post will not delete any content, so you can always return to these posts to see likes and comments. To see any and all archived uploads just select the backward circle icon in the top right corner of your profile.
Read: How to Upload Multiple Photos to Instagram at Once
Instagram hopes that by adding an Archive option users (mostly teens) won't delete old photos. Additionally, this should make people more comfortable with sharing certain photos or video to begin with, as they know it can easily be hidden. Keep in mind that Instagram will not notify followers when a photo gets archived, it just disappears. Make sure you have the latest version from Google Play or the App Store and try it today.
While you're here, check out these 8 common Instagram problems and fixes.

As an Amazon Associate I earn from qualifying purchases.