How to Install the Galaxy S9 Android Pie Update Right Now
The official Samsung Galaxy S9 Android Pie release is still weeks away, but there's a way to get the new operating system up and running on the flagship provided you've got some time, patience, and skill.
Samsung is reportedly testing Android 9.0 Pie on the Galaxy S9, but that doesn't mean the official release is right around the corner.
The Galaxy S8 Android Oreo update popped up in testing around the same time last year, but we didn't see a beta until November. The official Galaxy S8 Oreo release date didn't land until early 2018.
Samsung Galaxy S9 and Galaxy S9+ owners have a wait on their hands, but those who don't want to wait for have options.
There is a way to get Android Pie up and running on a Galaxy S9 or Galaxy S9+ right now. Unfortunately, the process is pretty involved and not without problems.
Unlike a previous leak, this is the official Galaxy S9 Android Pie update from Samsung. Before you get too excited, note that the update is still in its early stages so it could cause major problems on your phone.
That said, the unfinished software works with the Galaxy S9/Galaxy S9+ and it gives you an opportunity to give Android Pie a spin before Samsung releases the real deal.
How to Install the Galaxy S9 Android Pie Update
The update is currently limited to the Snapdragon-powered Galaxy S9 and Galaxy S9+ models. If you don't know what Galaxy S9 model you own, you can use an app like CPU-Z to quickly figure out what model and processor you've got on board.
Before you go through with the process you'll want to make sure all of your data is backed up because there's always a chance something gets lost in the shuffle. You can do this via Samsung Smart Switch or Samsung Cloud.
Once you're all backed up you'll want to head over to these instructions on SamMobile or these instructions at XDA-Developers and follow them closely.
If the instructions don't make sense or you're feeling leery, you'll want to avoid installing this software. It could be more trouble than it's worth.
There are several known problems with the Galaxy S9+'s version of the software. The front-facing camera isn't working and AR-emoji will crash. You can also expect a variety of performance issues.
According to XDA-Developers, these problems aren't present on the Galaxy S9's version of Android 9.0 Pie.
If you're on the fence about making an early move to Android Pie , here are a few reasons why you should, or perhaps shouldn't, install this version on your Galaxy S9 or Galaxy S9+:
Who Should Install Android Pie Right Now
Impatient Galaxy S9 users who don't want to wait months for Samsung's official version of Android Pie. Remember, it could take months to reach your device.
Those who feel comfortable installing leaked software.
Who Shouldn't Install Android Pie Right Now
Those who feel uncomfortable with part, or all, of the manual installation instructions.
Those who hate dealing with problems.
Those who don't know how to properly downgrade to Oreo. The developer says downgrading will be difficult.
As Samsung makes progress behind the scenes, we should see more stable versions of Android Pie leak for the Galaxy S9 and Galaxy S9+.
For now, most Galaxy S9 users should stay put on official Android Oreo software.
Samsung Android Pie Release: 6 Things to Expect & 3 Not To
Expect Android Pie to Arrive a Little Faster Than Oreo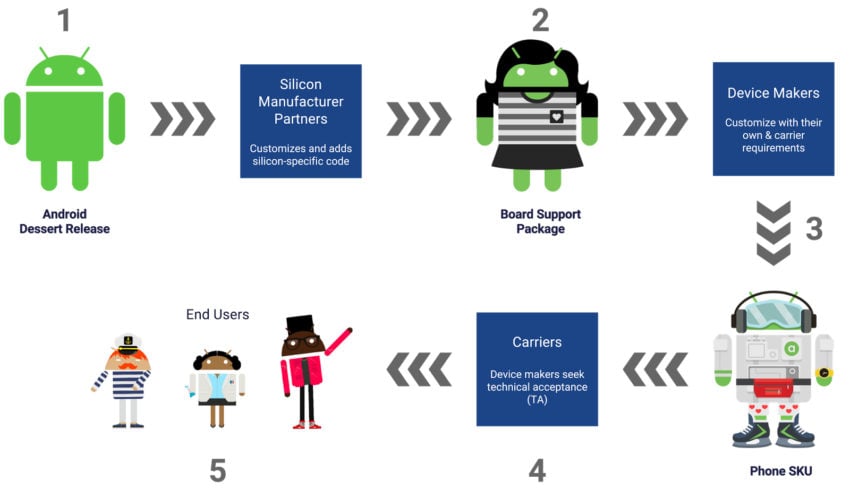 It's not on board the Galaxy S8/Galaxy Note 8/Galaxy S7 Android Oreo updates, but Google's Project Treble, one of Oreo's key ingredients, is on board the Galaxy S9 and Galaxy S9+ and that's excellent news.
In a nutshell, Project Treble's goal is to help cut down the amount of time it takes for companies to release major Android software updates. This is obviously a huge problem with Samsung and its Galaxy smartphones.
Android Oreo started rolling out for Pixel and Nexus devices back in August, 2017. Samsung's first Android Oreo update landed in early 2018.
According to Google "Project Treble separates the vendor implementation (device-specific, lower-level software written by silicon manufacturers) from the Android OS framework via a new vendor interface." A formal vendor interface doesn't exist in earlier versions of Android .
So what does Project Treble mean for Galaxy devices like the Galaxy S9 that come with Project Treble? It means Samsung will be able to release Android updates without having to wait for its chip manufacturers (Qualcomm) to send an update. And that could translate into a much faster Android Pie upgrade for the Galaxy S9 and other Galaxy devices.
Qualcomm's also promised "fast commercial availability of the next version of Android." The company says that by "having early access to Android P, Qualcomm Technologies optimized its software on Snapdragon 845, 660 and 636 Mobile Platforms to ensure readiness for OEMs to upgrade to Android P at the time of launch." The Galaxy S9 and Galaxy S9+ both utilize Qualcomm's Snapdragon 845 chip.
Samsung has reportedly started working on the Galaxy S9 Oreo update in most regions around the world, a sign that a release could indeed come faster than Oreo. An early version of the update has also leaked out for the Galaxy S9 and Galaxy Note 9.
We'll believe it when we see it, but the days of getting Android updates months and months after Nexus and Pixel devices could end with Android 9.0 Pie.