How to Play Battlefield 1 Early
The Battlefield 1 release date is confirmed for October 21st but there are several ways to play earlier than that.
In early May, EA DICE took the stage and announced the next entry in the Battlefield series. Unlike Call of Duty: Infinite Warfare which is set in the future, Battlefield 1 will be taking gamers into the past, back to World War 1.
The Battlefield 1 beta is over and done with and the game's release date is just around the corner. Needless to say many Xbox One, PS4 and PC owners are excited.
While EA DICE won't release a full demo of the game, you can still get your hands on Battlefield 1 before the October 21st street date.
Here's how.
The Battlefield 1 release date is confirmed and we currently have two more dates to look forward to. The worldwide Battlefield 1 release date is October 21st but Battlefield 1 arrives a few days early for a select group of people.
EA Access Battlefield 1 Release Date
A trial version of Battlefield 1 is now available to EA Access and Origin Access subscribers.
EA Access and Origin subscribers got access Battlefield 1 on October 13th thanks to Play First Trials. Both EA Access and EA Origin require monthly subscriptions though some Xbox One pre-orders come with a free month of access.
For more on EA Access, take a look at our full review.
Early Enlister Battlefield 1 Release Date
If you don't want to sign up for EA Access or Origin Access, the next Battlefield 1 release date lands in a few days on October 18th. That's three full days ahead of the worldwide release.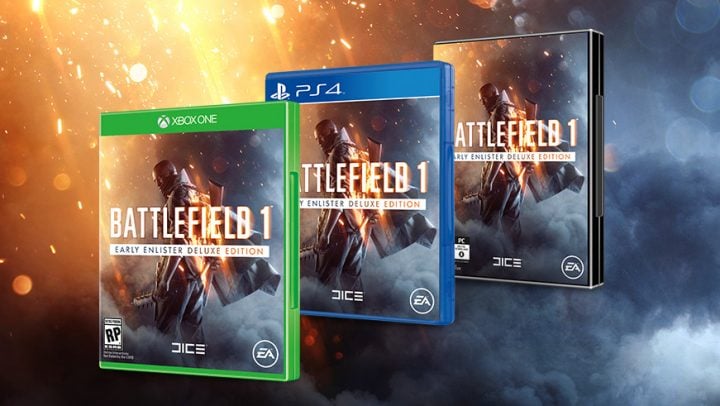 To get access on October 18th you need to pre-order the Early Enlister Deluxe Edition. This nets you the early release date and some unique items. It's $80, or, $20 more than the standard version of the game.
When you pre-order a copy you'll be given a code to unlock the full version of the game on October 17th/October 18th.
You can also go with the Battlefield 1 Collector's Edition. This bundle includes everything the Deluxe Edition offers plus some extra goodies.
The Battlefield 1 Collector's Edition is extremely expensive, $220 expensive, and it's only recommended if you're a die-hard fan of the Battlefield series.
Battlefield 1 Deals
Fortunately, you don't have to pay full price for early access if you don't want to.
Battlefield 1 deals are scarce but there are a few ways to save. One way is to take advantage of a deal on the Battlefield 1 Early Enlister Deluxe Edition and/or Collector's Edition.
If you have an Amazon Prime account, Amazon is offering deals on both the Deluxe and Collector's Edition. These deals drop the price of the Deluxe to $63.99 and the Collector's to $175.99.
If you don't have an Amazon Prime account, you can signup for a free trial and still take advantage of this offer.
Keep that in mind if you're looking to play Battlefield 1 early but aren't feeling overly enthusiastic about that $80 price point.
Is Early Access Worth It?
Everyone's situation is a little bit different but here are a few things to think about before you buy.
If you're a huge fan of the Battlefield 1 series and want to jump into World War 1 as soon as humanly possible, the early access is a no-brainer.
It's also worth it if you want a bit of an edge on everyone else. Those three days will allow you to get situated with the guns, combat, movement, maps, upgrades, vehicles, and more. There's a lot to do in Battlefield 1 which means there's a lot to learn.
While you probably won't be able to master everything in three days, you'll have a bit of a head start and that could make the early days a little more enjoyable.
Paying for early access might not be worth it for everyone though. If you're new to the Battlefield series or if you have limited time to play during the week (October 18th falls on a Tuesday), you might want to wait or buy the standard version.
If you're on the fence, it might be a good idea to wait for Battlefield 1 reviews to arrive on October 17th.
For more on the Battlefield 1 release date, take a look at our list of tips for Xbox One, PlayStation 4 and Windows PC.
Battlefield 1 Release: 10 Key Details
Battlefield 1 Problems & Update
Now that the game is out we're starting to hear about some of the early Battlefield 1 problems.
Battlefield 1 players are noticing issues with Battlepacks, issues accessing the Battlefield 1 trial, crashes, invisible players, installation issues, various issues with the weapons, texturing issues, lag, and a whole lot more. We expect complaints to continue as we push away from the game's release date.
In response to these complaints, EA DICE has issued the first Battlefield 1 update for Xbox One, PS4 and Windows PC. The latest Battlefield 1 update tackles some of the glaring issues with the game's UI, graphics, and more.
For more on the October Battlefield 1 update, take a look at our roundup.

As an Amazon Associate I earn from qualifying purchases.