How to Prepare for the Battlefield 1 Beta
The Battlefield 1 beta is live and there are a few things you can do right now to prepare.
In July, Battlefield 1 went through a closed alpha where select users were able to stress test a small portion of the game. Now, EA DICE is hosting an open Battlefield 1 beta that anyone can try on Xbox One, PS4 or PC.
The Battlefield 1 beta started August 30th for those that signed up to become a Battlefield Insider before August 21st. Everyone else will be able to download the Battlefield 1 beta for Xbox One, PS4 and PC on August 31st.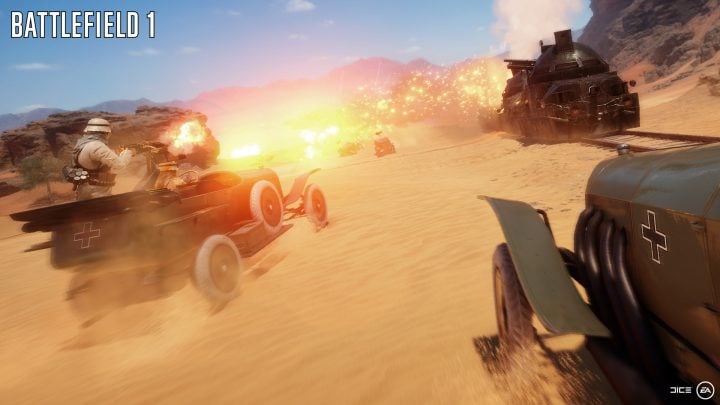 The open beta will stretch into early September (it ends on September 8th) ahead of the Battlefield 1 release date in mid-October.
The Battlefield 1 beta is now live for Battlefield Insiders and it will open up soon for everyone else. With that in mind, we want to show you how to get ready for the Battlefield 1 beta right now. This tips will help make the process go smoother if and when you decide to give it a try.
Choose Your Platform
If you managed to signup to become a Battlefield Insider before August 21st, you'll want to make sure you choose your platform of choice before invites go out. Otherwise, you won't get a code to try the beta.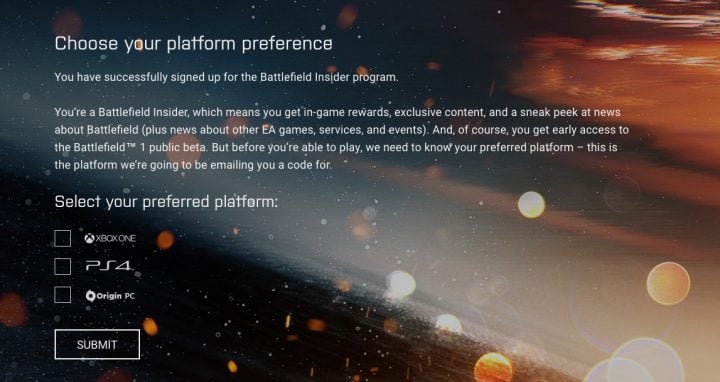 EA DICE is sending out early access codes to Battlefield Insiders. To get the proper code you must choose your platform of choice (Xbox One, PS4, PC).
To do that, head over to the Battlefield Insider website, sign in, and confirm that you've taken care of this important step.
Free Up Space
In order to play the Battlefield 1 beta you will need to download the file on your platform of choice. The Battlefield 1 beta file size is big for all three platforms.
On the PS4, you're looking at a 6.5GB file size. On the Xbox One, you'll need around 6.2GB of space to get the beta downloaded onto your hard drive. On the PC, you'll need around 7.1GB of free space but EA DICE recommends having 10GB free.
You might also want to temporarily run a wired cable to your console or PC for the beta download. This could help speed up the download process.
Download Drivers
If you're planning to play the Battlefield 1 beta on PC you'll want to download the latest Radeon/GeForce drivers. They will help with performance.
You'll find the latest AMD drivers here and the NVIDIA drivers here.
Learn About the Map, Modes & More
Now would also be a good time to get acquainted with the features coming with the open Battlefield 1 beta. Remember, the beta won't feature the entire game.
EA's outlined many of the important details on its website. It includes information about the Sinai Desert map, the armored train, horses, and more. The website also notes that your progress in the beta won't carry over to the final version of the game.
If you're looking for more than just the basic information, the video above delivers a very solid overview of the weapons and other features included in the beta. The video below also shows off the new map in great detail.
A user on Imgur has also put together an extensive look at the weapons and gadgets included in the Battlefield 1 beta. It's worth a look if you want to get a leg up on the competition.
Check Your Xbox Live Membership
If you want to play the Battlefield 1 beta online you're going to need an Xbox One Live Gold membership. Now would be a good time to make sure your membership is still active.
Yes. You will need an Xbox Live Gold account to play Multiplayer during the Battlefield 1 Open Beta.

— #Battlefield V (@Battlefield) August 29, 2016
Typically, these memberships auto-renew but there is a chance your account hit a snag. This has happened to us before.
Renewing your account should only take a few short minutes to complete though you'll want to look around for deals before you commit to the full price.
You do not need a PS Plus account to play the Battlefield 1 Open Beta on PlayStation 4.

— #Battlefield V (@Battlefield) August 26, 2016
It appears you won't need an PS Plus account to enjoy the PS4 Battlefield 1 beta.
Follow Battlefield & Join Forums
This is a beta so we anticipate an assortment of problems across all three platforms. So, we recommend following the official Battlefield account for beta updates and joining the Battlefield forums for updates and potential fixes.
The Battlefield 1 Reddit is another valuable resource. You'll find people to team up with, fixes for problems, and feedback about the game in general.
Keep these resources bookmarked and check them regularly throughout the Battlefield 1 beta.
Battlefield 1 Release: 10 Key Details
Battlefield 1 Problems & Update
Now that the game is out we're starting to hear about some of the early Battlefield 1 problems.
Battlefield 1 players are noticing issues with Battlepacks, issues accessing the Battlefield 1 trial, crashes, invisible players, installation issues, various issues with the weapons, texturing issues, lag, and a whole lot more. We expect complaints to continue as we push away from the game's release date.
In response to these complaints, EA DICE has issued the first Battlefield 1 update for Xbox One, PS4 and Windows PC. The latest Battlefield 1 update tackles some of the glaring issues with the game's UI, graphics, and more.
For more on the October Battlefield 1 update, take a look at our roundup.

As an Amazon Associate I earn from qualifying purchases.