How to Recover Lost Data on Android
This guide will explain how to recover lost data or deleted files and messages on Android. It's a question we get asked all the time, and thankfully you have options. On Android deleted files just disappear from our view, but still exist for a short while inside the memory. That's where the tools below come in handy.
If you accidentally deleted something of importance, this is how to get it back. Remember though, you need to act fast, and don't do anything to overwrite the lost data. Once you install something, send messages or take a picture, it could permanently delete those files for good.
Read: How to Backup Android in 5 Easy Steps
Thankfully there are a slew of different tools available to recover lost data on Android. Whether that's a program for your PC and Mac, or apps that do everything right on your phone. Without further delay, below is everything you need to know about saving deleted files, messages, photos and more.
The way it works is simple. Anything we delete or uninstall on Android only gets removed from our sight. It still remains on the device for a short while. However, once a user downloads an app, takes photos or starts sending messages, it gets over-written by new data. Thus losing it forever. Which is why it's important to know this ahead of time.
Our first step is to do nothing, turn off WiFi, and leave your Android phone or tablet alone. Then, simply download one of the many programs we'll detail below. It will attempt to recover files before it's too late. Alternatively, its a good idea to already have apps like DiskDigger installed.
Furthermore, apps like Dumpster are great too as it acts like a Recycle Bin for Android. The only problem is you need to have it installed before an accident happens. If you need to recover files and are reading this guide, it's too late for Dumpster. If so, read on for our full recovery guide.
How to Recover Lost Data on Android
Users have multiple different options when it comes to data or message recovery on Android. And even more if you accidentally deleted some photos. Here we'll detail two PC or Mac programs we've used in the past, as well as apps that can recover data right on your device. Lets get started.
If you deleted a file, image or message on Android and need to get it back, try FonePaw. This Android data recovery tool is available for PC, Mac, and there's even a version for iOS. According to them their service can recover deleted & lost photos, videos, audio, WhatsApp messages & photos, text messages, contacts, call logs and documents. Even better, it works with the internal storage and a microSD card. Essentially covering all of the bases with one easy to use program.
Instructions
Download FonePaw Android Data Recovery
Run the program on your PC or Mac
Plug in your smartphone or tablet with a USB cable
On Android Enable developer options and turn on USB Debugging
Now, choose what files you want to recover, and follow the prompts from FonePaw
As you can see above, FonePaw is extremely powerful and loaded with options. Once you get it plugged in and your phone is visible, just select what needs to be recovered. Whether that's deleted messages, photos, or more.
Select what you need to find, hit next, and grant access for it to do its magic. It's worth noting that most of the options need root access. Which is like jailbreak for Android. Without root you're likely only able to recover photos and video.
Now just have some patience and let it scan, find, and show a preview of files available for recovery. Once it's done view any and all files and restore anything you need. Recovered files will be saved to your computer. Now they can be transferred back to your Android, or saved safely on your desktop.
Recover Files with DiskDigger
Some may need to recover lost or deleted files and don't have access to a computer. As a result there are some excellent apps on the Google Play Store that do exactly that. Many of which don't even require root access. Our favorite is DiskDigger.
Whether you accidentally deleted a photo or video, or even reformatted an entire microSD card and deleted everything, it can save you. As a reminder, if you deleted something don't go and install DiskDigger, as it may overwrite the files and erase them permanently. You need to already have it installed. If you're already in a bind, try MobiKin Doctor detailed below.
DiskDigger is extremely easy to use. Simply launch the app and let it complete its first initial scan. Users will be able to browse internal and external (SD card) storage for deleted photos and video. You can undelete one, or do it in batches if you accidentally deleted an entire file of photos. These can be recovered right to the device, saved to external storage, or even uploaded to the cloud so you'll never lose them again. We'd highly recommend it.
There's also a paid version with more features, which also has even more advanced restore features. However, that requires root access.
Recover Deleted Messages on Android
Next, lets talk about messages. Everything from text messages, WhatsApp, Facebook and more. Our go-to tool for saving text messages (even from WhatsApp) is MobiKin Doctor. It's available for both PC or MAC, and has a free trial or a more powerful paid version.
Instructions
Download MobiKin Doctor for Android (to PC or Mac)
Plug in your Android phone or tablet
MobiKin Doctor will scan for recoverable files (takes about 15 seconds)
After you've let it scan for files the program will find everything that's able to be recovered. Users can preview all of the files, open them to view, then instantly restore anything of importance.
Navigate with the sidebar on the left for photos, video, messages, call logs, and even documents or audio files. Once you've selected everything you need to restore simply hit the big "Recover" button on the bottom right. All files will be recovered and transferred to your computer for safe keeping. It's extremely capable, and can save you in a bind.
SMS Backup & Restore
Personally, I use an app for Android called SMS Backup & Restore. It has saved me time and time again, and makes switching phones and transferring all conversations extremely easy. This program can backup or restore any and all messages. Including photo messages (MMS) and special characters like emojis.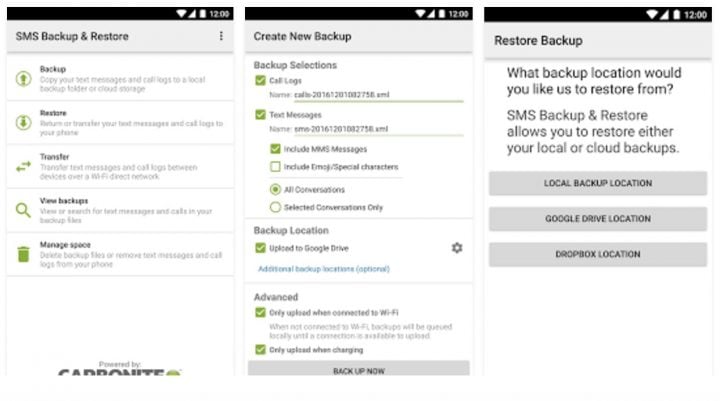 You can backup messages to local storage on your device, an SD card, or even upload them to the cloud. SMS Backup & Restore supports Google Drive, Dropbox and more. My favorite feature though, is scheduled auto-backups. I do one big backup when I switch phones, then set auto-backups to run at midnight once a week.
This ensures I always have every single text message available if needed, and saves time by saving them a week at a time instead of all at once. We'd recommend backing up text messages to an SD card. Then just put it in your new phone, download SMS Backup, and initiate a restore. It can take upwards of 1-hour if you have a ton. I recently restores over 55,000 messages to my Galaxy S7 Edge. Give it a try today.
Other Details
At the end of the day it's always a good idea to be prepared. Whether that's backing up text messages, or already having something like Dumpster or DiskDigger pre-installed on your device. Often times owners delete a file, then try to download a recovery tool. Which overwrites the deleted files on the internal storage and deletes it forever.
That's why it's always a good idea to do nothing with your phone. Leave it alone, and use one of the many restore tools detailed above as soon as possible. We'd also recommend Android users try Dr Fone Android Data Recovery, as it has some high remarks from users. Similarly, Google Photos will save every image to the cloud, and Samsung's Nougat update has a neat cloud backup option that automatically backs up important data every week once you set it up.
There are countless tools and counter-measures available, just make sure you take advantage of them before a mistake happens. If you have any other questions drop us a comment below, and good luck recovering lost data on Android.