How to Reset a Frozen LG G6
This guide shows you how to reset a frozen LG G6. If your LG G6 locks up, you can use this to restart it without going to a store for help. You will not lose data when you reset a frozen LG G6.
There is no removable LG G6 battery, so you cannot simply remove the battery if the phone locks up, freezes or becomes unresponsive. Instead, you need to use a key combo to reboot a frozen G6.
Read: LG G6 Features You'll Love and Hate
This does not erase any data, but if you are working on something in an app you may lose the last few changes you made, which is fairly normal when you reboot something using a button combo.
How to Reset a Frozen LG G6
Here are the steps to reboot the LG G6. It's the same as taking a screenshot on the LG G6, but you need to hold the buttons longer. In fact, you may take a screenshot when you are doing this.
Hold the power button and the volume down button for about 10 seconds. That is the fingerprint reader/power button on the back and the volume down button on the side of the phone.
You may see a small pop up telling you to keep holding the buttons after about five seconds, but if the phone is frozen that may not appear.
Let go of the buttons when the phone vibrates and reboots. After about 30 seconds or so the phone will reboot and if enabled you will need to enter your passcode or pattern to boot.
When this is done, you should be ready to use the LG G6 again and the problem should be gone. If you continue to experience a frozen LG G6 when you use a specific app, you may need to update the app or uninstall and re-install again. You shouldn't need to reset a frozen LG G6 very often. If you do, it is the sign of a bigger problem and you may need to back up and completely reset your phone to start over.
If you need to completely reset your LG G6 and wipe the data, you can do this from the phone being off and using the same keys.
Hold the power button and the volume down button until you see the LG logo. Let go of the power button for a second and then hold it again. 
You'll see a screen that lets you use the volume buttons to select Yes to delete all user data. This will completely remove your apps, user information and photos, so only do this if you need to start from scratch.
20 Best LG G6 Cases
Spigen Rugged Armor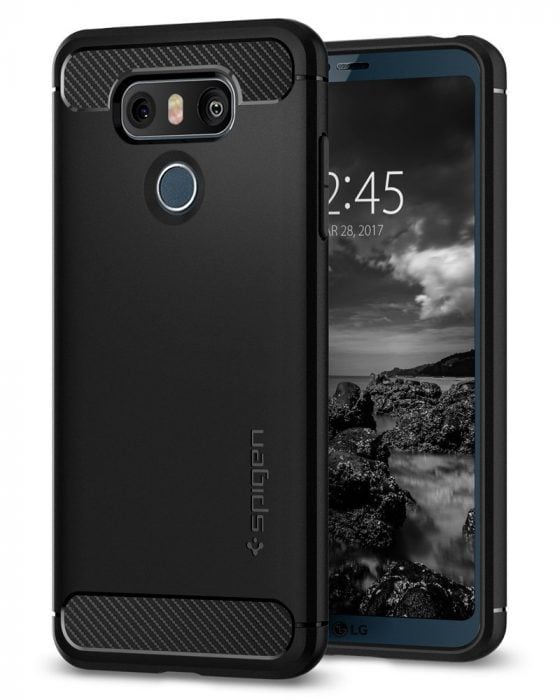 Spigen is a brand that needs no introduction as they offer cases for every phone released. One of my favorites is the Spigen Rugged Armor. It has a sleek design, two-tone finish with a textured grip on the top and bottom, and fits like a glove.
The company makes a wide assortment of cases, so we recommend choosing one that's right for you. They also come in a slew of colors, sizes, and with varying levels of protection.
With the Spigen Rugged Armor, you'll have a case that isn't too thick, but not too thin. They've added a resilient shock absorbing material to the inside edges for added drop protection. Additionally, the outside has a neat carbon fiber finish and glossy accents. This is one of Spigen's most popular cases.

As an Amazon Associate I earn from qualifying purchases.